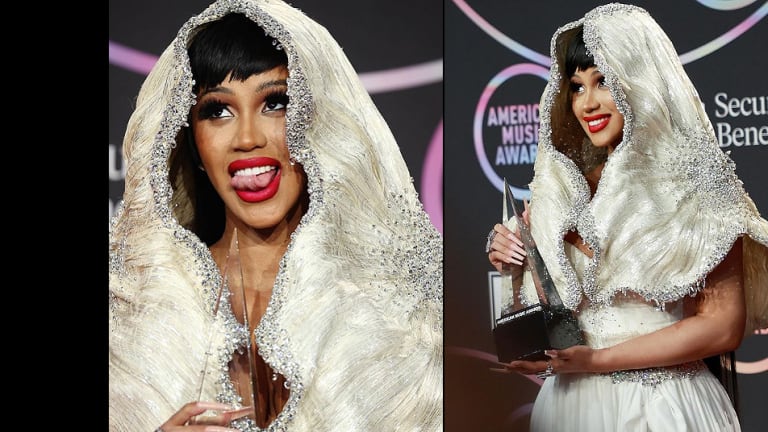 Get the Look: Cardi B's Glowing Skin at the American Music Awards
Makeup artist Erika La' Pearl is sharing the skincare products she used on Cardi B's glowing skin for a night of honoring America's music stars.
Celebrity makeup artist Erika La' Pearl is sharing how she got Cardi B's skin glowing for her American Music Awards 2021 hosting gig on Sunday, November 21st, in Los Angeles. Plus, La' Pearl reveals how she ratcheted up Cardi's expression factor.
It's nearly impossible to have beautiful makeup if the skin underneath isn't cared for first (and always). As a result, La' Pearl prepped Cardi's skin with products by one of UPTOWN's favorite skincare brands, Algenist, which is revered for its 100 percent vegan plant-based skincare that delivers visible results within 10 days.
"I am loving Algenist products!" said La' Pearl in a release. "I especially love the new Algenist Blue Algae Vitamin C Skinclarity Brightening Serum, it's great for brightening the complexion."
La' Pearl gave Cardi's skin a glowing base with the Algenist Blue Algae Vitamin C Skinclarity Brightening Serum ($72), which contains pure and potent vitamin C made from spirulina (a blue green algae) to help enhance skin's tone and texture. She followed the serum up with the Triple Algae Eye Renewal Balm ($68) because "it really helps moisturize while reducing puffiness before priming the rest of the skin," said La' Pearl. The balm is actually a multitasker; not only does it reduce puffiness, but it also addresses dark under-eye circles, bags, lines, wrinkles, and crow's feet.
Next, La' Pearl hydrated the "Up" rapper's skin because you can't glow without moisture. She used the lightweight Algenist Algae Niacinamide Moisture Veil ($65). This moisturizer employs alguronic acid and niacinamide to help skin stay hydrated, but it also — and this is a big deal for any performer or host — reduces the look of surface oil and shine. She followed that up with the Algenist GENIUS Anti-Aging Cream ($112), which firms, smoothes, brightens, nourishes, and hydrates skin with vegan collagen, algae, and microalgae oil. And yes, this rich moisturizer works under makeup. "It's a great moisturizer that leaves the skin super soft, but not greasy and can be used under makeup," said La' Pearl.
Finally, La' Pearl prepped Cardi's enticing pout with the Algenist GENIUS Liquid Collagen Lip ($35). This lip treatment also contains the brand's vegan collagen and visibly restores fullness and contours for supple lips that appear more youthful in as little as 10 days. "I love this for its plumping effect," said La' Pearl. "It's the perfect base for all other lip products."
BONUS: La' Pearl amped up Cardi's expressive eyes with KISS Lash Couture Strip Lash Adhesive in Clear ($5.99), which is infused with biotin to promote the growth of eyelashes and blueberry extract to moisturize the aging skin around the eyes, and KISS Lash Drip Lashes in Drop ($4.99 at KISSusa.com). The entire KISS Lash Drip Collection, which Doja Cat's makeup artist Ernesto Casillas also loves, features lashes with a soft glow that gives the appearance of being wet.