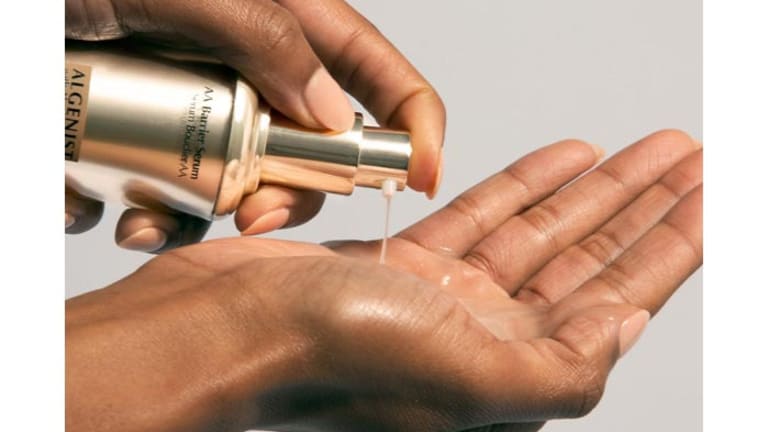 Editor's Pick: Algenist AA Barrier Serum
Environment stressing your skin? Algenist has a serum for that, and dullness, uneven texture, dark spots, and redness!
We all know that our skin is our largest organ and last defense against our harmful environment. And boy, do we pamper our skin. We clean it, we moisturize it, we slather it in anti-aging creams, we add color to it, and we take color from it. Yet the only protection we give our skin on a regular basis is sunscreen. But what if I told you Algenist has created a serum that will protect your skin from the nasties in the environment?
Once again, Algenist has harnessed the power of algae with its AA Barrier Serum ($85). Like all Algenist products, the serum contains Alguronic Acid (that's where the AA comes in), which is basically a compound that allows an algae cell to regenerate and guard against the harshest environments, and even thrive. And since Alguronic Acid has out-performed other anti-aging ingredients, I was really excited to learn how it could benefit my skin.
On Aug. 15th, I attended the Sephora Mega Event at 5 Times Square in New York, where Algenist launched the AA Barrier Serum and treated me to a mini facial to demonstrate the efficacy of the serum and its other top products. Retail sales executive Markea Brown introduced me to the Alive Prebiotic Balancing Mask ($38), as well as the Genius Liquid Collagen for face ($115) and lip ($35). But the real star was the AA Barrier Serum because nothing else matters if your skin is showing wear and tear.
Not only does the serum form a barrier between your skin and environmental aggressors like pollution, but it also helps to improve dullness, uneven texture, dark spots, and redness. All of this in a lightweight liquid formulation that is also vegan. Check out the other standout ingredients below:
Patented Alguronic Acid: Helps fortify skin barrier and visibly smooth fine lines and wrinkles.
Phloretin: An antioxidant that works to protect skin while visibly soothing skin and evening tone.
Niacinamide: Helps boost barrier performance and improve the appearance of redness and dull, sallow skin.
Ergothioneine: Large spectrum antioxidant that neutralizes ozone pollution and recycles vitamin C.
The AA Barrier Serum is appropriate for normal, dry, combination, and oily. I have a tendency to get a cystic pimple here and there, but since using the serum, I haven't had one breakout and the texture of my skin is smoother. If you're like me and have found an acne medication that works for you, then think of the serum as extra protection that locks in your benzoyl peroxide, salicylic acid, or whatever so everything can do its job. Oh, and don't worry about parabens, formaldehydes, formaldehyde-releasing agents, phthalates, mineral oil, oxybenzone, coal tar, hydroquinone, triclosan, and triclocarban (oh, my) because the Algenist AA Barrier Serum has none of that.