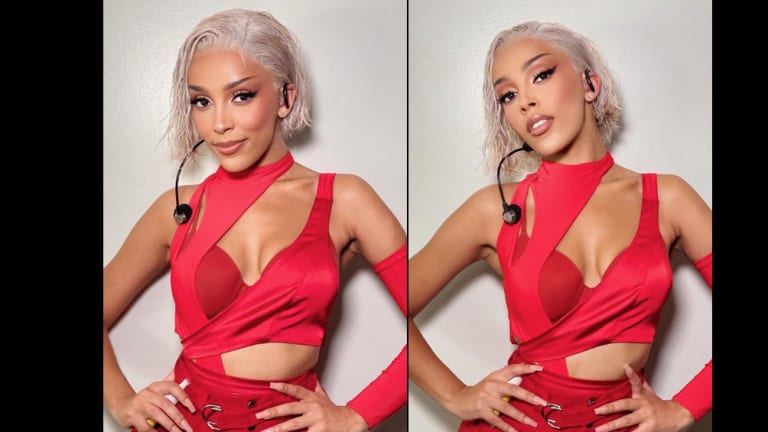 Get the Look: Doja Cat's Drippin' Lashes for the MTV VMAs
Celebrity makeup artist Ernesto Casillas easily created a drippin' wet effect on Doja Cat's eyes for the MTV VMAs, and now you can too for less than $15.
Celebrity makeup artist Ernesto Casillas knew MTV Video Music Awards host and nominee Doja Cat had to come to the ceremony with the drip, so he looked no further than the new KISS Lash Drip Lashes in You Dew You. Find out how you can bring the drama to your peepers for less than $15.
If you didn't know, celebrities and their glam squads love a bargain just as much as we do, but they also want the product to be effective and long-lasting, especially if it's in the realm of beauty. The KISS Lash Drip Lashes are the first lashes on the market to have a wet effect and cost only $4.99 for a set. This collection uses 3D volume technology to present thicker, bolder, and darker lashes with a soft glow that makes the lashes appear to be wet. Each lash style — You Dew You, Drenched, Icy, and Drop — has a universally flattering wispy and spiky lash pattern that brings the drama and glam. 
The KISS Lash Couture Strip Lash Adhesive is also affordable at $5.99 per tube of black or clear. The contact lens-friendly and dermatologist-tested adhesive doesn't contain latex yet has super-strong hold. It is infused with biotin and blueberry extract to soothe thin skin along the lash line, and has an easy to manipulate brush tip applicator. KISS products are available at KISSusa.com, Walmart, Walgreens, Ulta, and CVS.
"This makeup looked called for a lash moment, and I knew I needed a Lash Drip," said Casillas about Doja Cat's dewy beauty look, in a release. "The individual spikes in this style (You Dew You) are striking and really open up the eye."