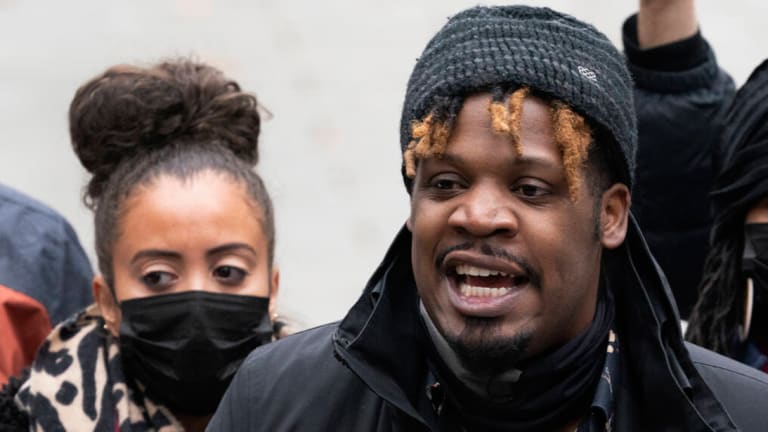 Parents of Keyon Harrold Jr. Are Suing 'SoHo Karen' Miya Ponsetto and Arlo Hotel
The parents of Keyon Harrold Jr. are suing Miya Ponsetto and Arlo Hotels for racial profiling after an incident in which Ponsetto accused their son of theft.
The parents of a Black teen who was wrongly accused of stealing a cell phone in a New York hotel in December 2020 are suing the woman who made the accusation and the hotel where the incident occurred.
Kat Rodriguez and Keyon Harrold Sr. announced during a press conference today that they are suing Miya Ponsetto and the Arlo Hotels for racially profiling their 14-year-old son Keyon Harrold Jr. Civil rights and personal injury attorney Ben Crump is representing the family.
Harrold Sr. recorded the incident on video and it quickly went viral, with people dubbing Ponsetto "SoHo Karen."
The parents say the manager of the SoHo Arlo empowered Ponsetto by requesting that Harrold Jr. show his cell phone to prove it wasn't Ponsetto's misplaced mobile. They also say the hotel management didn't support them after Ponsetto allegedly tackled the teen to the floor, despite the fact that the father and son were guests of the hotel and Ponsetto wasn't. Her cell phone was later found in an Uber and returned to her.
"What Arlo did to perpetuate the system of bias and bigotry was apparent on videotape," Harrold Sr. said, reports ABC7NY. "I showed them the video before anybody else ever saw it, and you know what they told me? 'She was just having a bad day, don't worry about it.'"
SoHo Arlo released a statement of apology after the altercation and acknowledged that they could've done more to help Harrold Jr. and his father.
Ponsetto is also facing criminal charges, two counts of attempted assault, attempted robbery, grand larceny, and endangering the welfare of a child, in New York. However, the family says they've yet to hear whether the Manhattan District Attorney's office will charge Ponsetto with a hate crime.
Ponsetto's attorney, Paul D'Emilia, released the following statement regarding the lawsuit:
"My office, together with the Manhattan DA's Office, are diligently working towards a resolution of this case. Our goal remains to handle this matter through the proper judicial channels and not through various media outlets. Ms. Ponsetto remains at her home in California and has not been informed of any pending civil lawsuit in which she has been named."
Rodriguez says the incident will have a lasting effect on her son. During an interview with CBS This Morning's Gayle King, she recounted an incident in which she attempted to hug Harrold Jr. from behind and he tensed up and recoiled. He also asked her not to do that again.
"Because this young lady, which I will not say her name — she does not deserve that — this young lady blindsided him in the hotel," Rodriguez told King. "He keeps on asking the question, 'Why, like why me, Mom? You know I wouldn't steal anything. I didn't know her. Why?' As a mother, to have to answer that question …"