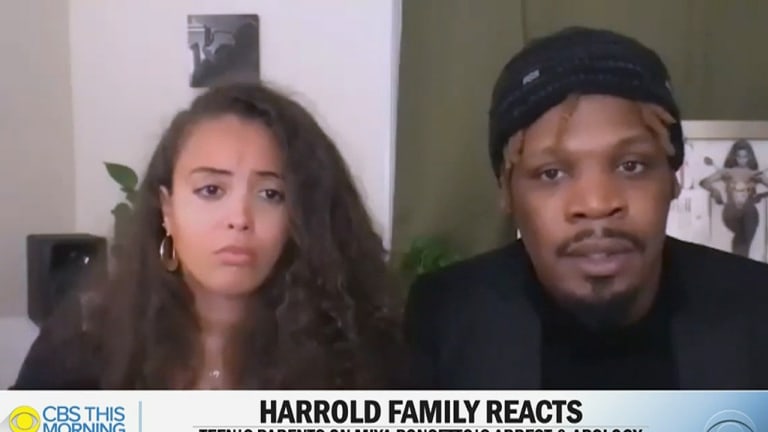 Parents of Keyon Harrold Jr. React to Miya Ponsetto's Arrest and Apology
Despite Miya Ponsetto's claims otherwise, Keyon Harrold Jr.'s parents believe her attack was racially motivated.
"I'm happy that she's been arrested, but that's only the first step in a very big conversation that needs to happen here in America that has to do with racial profiling," said Keyon Harrold Sr. to Gayle King about the traumatic hotel incident 22-year-old Miya Ponsetto caused with his teenage son. "If I had done that, what Miya [Ponsetto] had done to my son, I'd be in jail now. If I had hurt her in any way, I'd be in jail now. We wouldn't even be able to have this conversation. As a Black man, every day I walk outside I have to play the perfect game, almost like doing a no-hitter just to be believed."
Both Harrold Sr. and Kat Rodriguez sat down virtually with the CBS This Morning anchor for an exclusive interview during which they shared their reactions to Ponsetto's arrest and apology for falsely accusing their son Keyon Harrold Jr. of theft and attacking the 14-year-old.
The father recorded the Dec. 26 encounter at the SoHo Arlo boutique hotel and it quickly went viral with most agreeing that Ponsetto was racially profiling the teenager. In a previous interview that was recorded on Thursday shortly before her arrest, Ponsetto, who has been dubbed "SoHo Karen," told King she's a "super sweet girl" and apologized to Harrold Jr. and his father without acknowledging the physical attack nor using their names.
"But I do sincerely, from the bottom of my heart, apologize that if I made the son feel as if I assaulted him or if I hurt his feelings or the father's feelings," Ponsetto said in the interview that aired in part on Jan. 8.
King told Rodriguez and Harrold Sr. that Ponsetto said in her interview that race had nothing to do with her targeting their son, and she claims that she couldn't have been racially profiling him because she's Puerto Rican and a "woman of color."
"No one has to say the n-word for it to be an act of racism," responded Harrold Sr., who also added that he works very hard to be able to give his son the chance to be a "whole Black boy."
Harrold Sr. also addressed Ponsetto's version of the incident in which she claims she was attacked. He admits to pushing the woman off his son after she tackled Harrold Jr. to the floor. "I'm a man who [doesn't] believe in hurting women, first of all," Harrold Sr. said. "Second of all, I do believe in protecting my son, so that is what I did."
When asked what they thought of Ponsetto's apology, Rodriguez let out a sigh of presumed exasperation and Harrold Sr. said, "I feel like her apology was, you know, as genuine as when she shushed you." He was referring to when Ponsetto said, "Alright, Gayle, enough," during the first part of her interview.
Harrold Sr. continued, "I have an issue with the idea of entitlement versus character. It's all been tragically consistent, I'll say that."
Understandably angry, Rodriguez said, "'Yeah, I apologize. Can we move on?' Those were the exact words that she used with you. Does that sound like an apology? She knew she assaulted a 14-year-old boy, not a guy, not a man."
Rodriguez was referring to the way Ponsetto referred to Harrold Jr. as a "guy" and herself as a "girl" in her interview, despite being eight years older than him.
The teen's mother also agreed with the SoHo Arlo hotel that the situation should've been handled differently, especially since the Harrolds were guests and Ponsetto wasn't. "I'm so angry, I'm so angry at that hotel because this could've been deescalated," Rodriguez said. "This could've been deescalated a long time ago."
Rodriguez recounted a moment after the incident during which she went to hug her son from behind and he tensed up and asked her not to do that again. When King asked why Harrold Jr. asked her not to embrace him in that manner, Rodriguez said, "Because this young lady, which I will not say her name — she does not deserve that — this young lady blindsided him in the hotel. He keeps on asking the question, 'Why, like why me, Mom? You know I wouldn't steal anything. I didn't know her. Why?' As a mother, to have to answer that question …" her voice trailing off.
The family is a musical one. Rodriguez is a singer and saxophonist for Beyoncé, and Harrold Sr. is a Grammy-winning Jazz trumpeter. So they turned to music therapy to help Harrold Jr. heal after the traumatic encounter. Harrold Jr. wrote a song titled "Unjustified Times," and he recorded it with friends while he played the drums, reported King.
Ponsetto was arrested Jan. 7 in California by Ventura County deputies and extradited to New York. She was charged in Manhattan on Jan. 9 with two counts of attempted assault, attempted robbery, grand larceny, and endangering the welfare of a child.
"It's tough to look at her being arrested as more than what it is because the person who killed Trayvon Martin is free, the person who blamed Emmett Till is still alive," said Harrold Sr. "Things could've gone another way."
When King asked what does justice look like for their family, Harrold Sr. said, "Justice, I think the idea of justice, just like the idea of the apology, is so much more than just saying 'I'm sorry,' because people can say 'I'm sorry' and it's empty. Justice has to do with change."