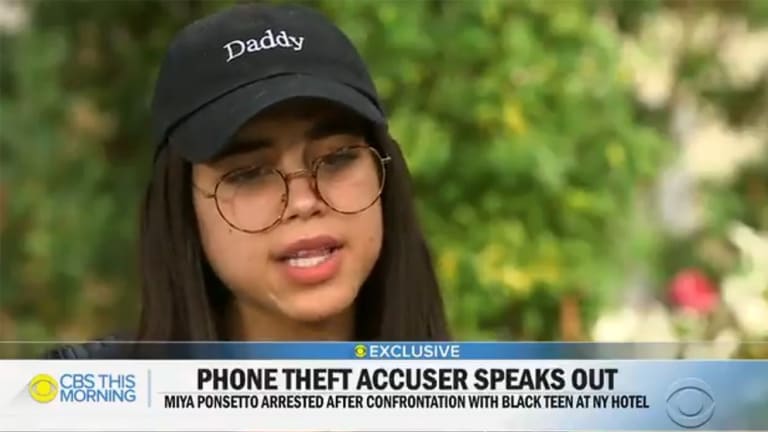 'SoHo Karen' Miya Ponsetto Has No Remorse, Says She Was Attacked
Despite Gayle King's best effort, Miya Ponsetto refused to admit complete culpability in her attack of Keyon Harrold Jr.
Miya Ponsetto, the 22-year-old woman who has been dubbed "SoHo Karen" for falsely accusing a 14-year-old Black teenager of stealing her phone and accosting him at a New York hotel, spoke virtually yesterday with Gayle King. The exclusive CBS This Morning interview occurred hours before police arrested Ponsetto last night.
Ponsetto was caught on camera falsely accusing Keyon Harrold Jr. of stealing her iPhone and attacking him at the Arlo SoHo boutique hotel. The teen's father, Jazz trumpeter Keyon Harrold, recorded the now-viral video and posted it on social media on Dec. 26, 2020. Hotel surveillance video was also released. The father and many others who viewed the footage felt it was another incidence of racial profiling against Black people. However, Ponsetto and her attorney, who sat in on King's interview, claim there was no racial motivation. In fact, Ponsetto says it was she who was attacked by the elder Keyon Harrold.
When King asked Ponsetto why she thought Keyon Harrold Jr. had her phone, she responded that she assumed anyone who was exiting the hotel was the person in possession of her phone. However, King follows up by asking if she stopped everyone in the lobby of the hotel to ask about her phone. Ponsetto said she didn't stop everyone, "just the people that in the meantime while the hotel manager was checking the footage, I just wanted to do my part as best as I could."
In addition, Ponsetto only acknowledges screaming at Keyon Harrold Jr., not physically attacking him. "I admit, yes, I could've approached the situation differently, or maybe not yelled at him like that and made him feel, you know, maybe some sort of, uh, inferior way," Ponsetto said, while wearing a black baseball cap with the word "Daddy" embroidered on it. "Making him feel as if I was hurting his feelings because that's not my intention. I consider myself to be super sweet. I really never ever meant for it to hurt him or his father either."
King responds that she didn't seem "super sweet" during the confrontation, and Ponsetto claims to have been "alone in New York" visiting family for the holidays and she lost the one thing that has all her "access to get back home." King says that she knows Ponsetto said she could've handled the situation differently, while adding that she wouldn't have randomly attacked people in the manner in which Ponsetto did. Then King asks Ponsetto what she sees when she watches the video, to which Ponsetto replies that she doesn't think one mistake should define her. "But I do sincerely, from the bottom of my heart, apologize that if I made the son feel as if I assaulted him or if I hurt his feelings or the father's feelings," said Ponsetto while not bothering to use Keyon Harrold Jr.'s name or his father's name, if she actually knows it.
Keyon Harrold Jr.'s mother Kat Rodriguez, who is also a musician, told CNN's Don Lemon that her son is "traumatized and confused about why this happened to him."
The exchange between Ponsetto and King turned a bit contentious towards the end of part one of the interview, as King attempts to get Ponsetto to admit she physically attacked a child.
When King asks Ponsetto whether she also sees that she physically accosted Keyon Harrold Jr., Ponsetto said, "At the end of the day, the dad did end up, like, slamming me to the ground and pulling my hair. And throwing me and dragging me across the ground, so I will say that."
"The video we saw, it looked like you had just attacked his son," responded King.
"Yeah, the footage shows me attacking his son, uh, attacking him how?" countered Ponsetto. "Yelling at him? Yes, I apologize. Can we move on?"
King responds that she knows Ponsetto wants to apologize and move on, but there should be some context to Ponsetto's actions that day.
Ponsetto stumbles over her words as she responds, "OK, so basically I'm a 22-year-old girl … Racism is … How is one girl accusing a guy about a phone a crime. Where's the context in that? What is the deeper story here?"
King reminds Ponsetto that she attacked a boy who didn't even have her phone, and that she's old enough to know better at age 22. She's eight years older than Keyon Harrold Jr.
Then, Ponsetto says, "Alright, Gayle, enough," while gesturing with her hand for King to settle down, much to the obvious chagrin of her attorney.
The second part of King's CBS This Morning interview is expected to air Monday morning. It doesn't seem as if Ponsetto can redeem herself after refusing to admit complete culpability in her attack of Keyon Harrold Jr., a child.
The NYPD had issued a warrant for Ponsetto's arrest and detectives had traveled to California to question her about the attack.
Hours after the interview concluded, Ventura County deputies attempted to arrest Ponsetto near her home, but she kept driving. Police say she refused to exit her vehicle when she arrived at her home. Capt. Eric Buschow told the Associated Press that Ponsetto tried to slam her car door on one of the deputies, so they reached in and forcibly removed her.
The New York Post reports that Ponsetto was booked and is being held without bail for the fugitive warrant at a pre-trial detention facility in Ventura. She will remain there pending a hearing about her extradition to New York.