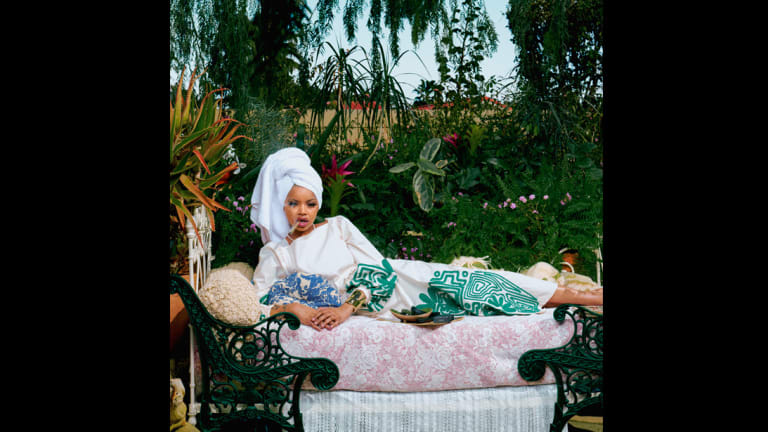 Jay-Z's MONOGRAM & Hype Williams Redefined 'The Good Life' With a Nod to Weed
Jay-Z's cannabis brand teamed up with Hype Williams to reimagine photog Slim Aarons's iconic photos of "the good life" to further push weed into the mainstream.
MONOGRAM, Jay-Z's cannabis brand, tapped photographer and director Hype Williams to reimagine renowned lensman Slim Aarons's iconic mid-century photos that captured "the good life," for a three-part campaign that launched just in time for 4/20.
For those who are new to the world of photography, Aarons described his four decades-long life's work as "attractive people, doing attractive things in attractive places." Williams, who continues to leave his imprint on Hip Hop culture through his music videos, films, and photography, masterfully recreated the luxury vibe of Aarons's timeless photos, while also proving that cannabis deserves to be a part of the modern good life. For "The Good Life, Redefined," Williams reimagined several of Aarons's photos, including Keep Your Cool; Desert House Party; Poolside Glamour; and Leisure and Fashion, for the series that was shot at the stunning Frank Sinatra House in Palm Springs.
"The perception around cannabis has shifted a lot since the 20th Century," said Williams in a release. "If you were to ask me and my peers how we'd define the good life today, weed would definitely be a part of it. Whether we're smoking to inspire creativity or to celebrate an achievement, cannabis has a rightful place in modern day culture. HOV has a vision for the industry that he's bringing to life through MONOGRAM. His focus for this campaign was to showcase how beautifully cannabis fits into the good life today, and I am honored to be a part of it."
In addition to solidifying cannabis's place in "the good life," the campaign also features a spot-on cast of muses — Best New Artist Grammy nominee Chika, New York-based culinary experts and activism trio Ghetto Gastro, rapper/songwriter Curren$y, designer and stylist Aleali May, and fashion/beauty model Slick Woods — in the poolside vignettes. High Snobiety Fashion Director Corey T. Stokes styled each shot and perfectly balanced the timeless looks from Aarons's source material with modern accents and pops of streetwear.
Take a look at Williams's interpretation of Aarons's "Desert House Party." Everything just feels right and fits into its respective place, from the grandeur of the hills in the background, to the nostalgia-evoking architecture, to the mix of iconic 1950s and '60s fashion with today's style. But this campaign isn't a mere recreation of an iconic photographer's work. It evokes an emotional response that calls to mind a bygone era while reminding you to stay in the present. It also recalls a the time when Williams said he'd rather decline working on a project than to feel nothing from his work. "If I didn't feel any emotion from the project, then more times than not, I would decide to not do the project," he told the Red Bull Music Academy.
This is the first installment of "The Good Life, Redefined," and it is currently on display on billboards and wall-scapes across the U.S., including New York which legalized adult-use of cannabis last month. By installing the campaign in well-traveled areas, like New York's Times Square, SoHo, and Brooklyn, MONOGRAM aims to push cannabis further into the mainstream and drive the industry forward.
"On the heels of legalization, seeing creative like this become a natural part of the fabric of New York City only reinforces that cannabis has a right to exist within our customs, arts, and social institutions," shared Jay-Z in a release. "New York's decision to legalize is a victory for the entire industry, and I'm excited to have MONOGRAM play a role in bringing that message to life in my own backyard."
The release of another campaign installment will coincide with the debut of Slim Aarons: Style, Shawn Waldron's deep dive into the fashion and style present in the photography shot by Aarons. Waldron collaborated with MONOGRAM to select imagery from the Slim Aarons archive to bring Jay-Z's vision for the campaign to fruition. Abrams will release Slim Aarons: Style, which features 50 previously unpublished photos from Aarons's archive in London, on Sept. 21, 2021.
"Slim Aarons defined a lifestyle and an era, and this campaign is proof that his imagery, style, and taste still resonate," said Waldron, who is also a curator for Getty Images, in a release. "Hype Williams creatively pays homage to Slim's incredible talent while updating the setting and personalities in a truly inspired way."
MONOGRAM tapping Williams to redefine "the good life" that Aarons depicted with his lens and make cannabis a part of the lifestyle was genius. The images pull you in and make you curious to experience what MONOGRAM has to offer — where weed is legal, of course. Happy 4/20!