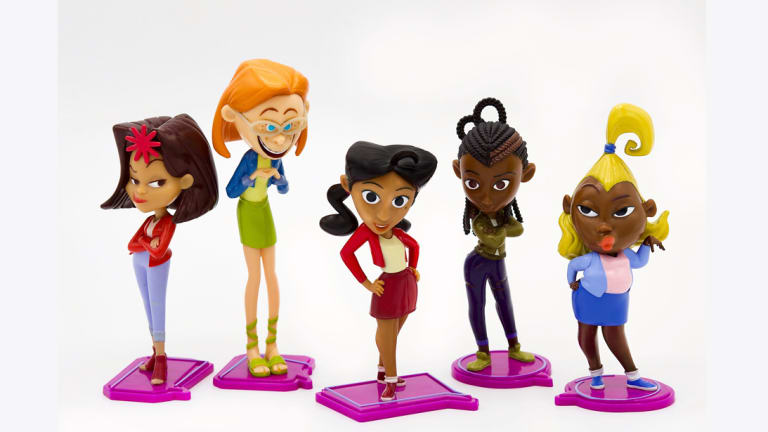 Black-Owned Toymaker World of EPI Is Creating Toys for Disney & Marvel Shows
Disney has tapped Dr. Lisa Williams's World of EPI to produce toys for The Proud Family revival and Marvel's Moon Girl and Devil Dinosaur.
Releasing toys based on the characters of an animated series is nothing new, but Disney tapping a Black woman-owned company to create and produce said toys is an extraordinarily big deal. 
World of EPI is a toy manufacturer that has become known and beloved for its ethnically diverse toy lines The Fresh Dolls, The Fresh Squad, and Positively Perfect Dolls. World of EPI founder and CEO Dr. Lisa Williams's commitment to provide children with dolls that authentically represent our racially-diverse world likely caught the attention of Disney Consumer Products, Games and Publishing. Now, the two companies have collaborated on fashion dolls, collectible figurines, and accessories for the new Disney+ series The Proud Family: Louder and Prouder and the upcoming Marvel's Moon Girl and Devil Dinosaur series on Disney Channel.
"You know, it's one of those things where, in a way, it was kind of bound to happen," said Dr. Lisa (as she's affectionately known in the doll enthusiast world) in an exclusive interview with UPTOWN. "Disney has a legacy of creating magical stories that focus on inclusion and diversity. Our whole career, our whole mission, our vision is all centered around inclusion, diversity, and authentic representation. So I think it was just literally and truly just an idea whose time has come. So it is a magical moment, I will tell you that, to be working with Disney on projects, like The Proud Family: Louder and Prouder."
World of EPI has already released the Penny Proud & Crew Mini Figurines Pack ($19.99), which includes detailed representations of The Proud Family protagonist and her four friends, as well as a box that doubles as a diorama of Penny's room for playing and displaying. Penny, Dijonay, Lacienega, Maya, and Zoey are serving their signature facial expressions and attitudes while wearing their molded #wecute outfits. The company checked all the boxes that are important to kids, parents, and doll collectors when it designed The Proud Family Louder and Prouder Penny Proud Fashion Doll ($19.99). The 10-inch doll has 11 points of articulation so she can strike fierce poses, an outfit that includes a faux suede skirt and real knit sweater, and rooted hair complete with Penny's signature cowlick.
For Dr. Lisa and World of EPI it was most important to make toys that resembled the characters the Disney and Marvel animators created. To that end, the figurines have diverse skin-tones and the fashion doll has a complexion that matches Penny Proud's, not just a generic brown. The fashion doll also has a quirky smile and a physique to represent that Penny Proud is now a teenager. And since hair texture is as important as skin-tone when it comes to a doll representing a race or ethnicity authentically, World of EPI didn't simply choose hair that was commercially available to toy manufacturers. Instead, the company worked directly with the hair fiber makers to create textured, thick, and long hair that the child can style.
"You can give a child a toy, but if they don't relate to it, if there's no connection to it, then it doesn't really allow them to see what they can achieve," explained Dr. Lisa. "They can imagine that doll achieving it, and they can imagine people who look like that doll achieving it. [...] If the doll has blond hair and blue eyes, they can imagine blond-haired, blue-eyed children achieving something, but they can't see that they can achieve it. So when they have a doll that looks like them, they relate to it. It becomes a part of them."
The attention to the ethnic details that make Penny Proud a Black character is quite a feat because the show's approaching premiere prevented World of EPI from having the typical 18 months to design the doll. Dr. Lisa and her team spent four months alone getting the doll's hair right and a year total to design the entire doll.
There are definitely more fashion dolls and toys in the works from The Proud Family series. World of EPI has also created dolls, collectible figurines, posable plushes, and role play accessories for the series, Marvel's Moon Girl and Devil Dinosaur, which will premiere on the Disney Channel this summer and tells the adventures of 13-year-old super-genius Lunella Lafayette (voiced by Diamond White) and her 10-ton T-Rex, Devil Dinosaur (voiced by Fred Tatasciore). 
"What we're creating for Disney and for Marvel will actually create an entire toy play experience for the child," Dr. Lisa teased. "So there will be dolls, there will be toys, there will be accessories, there will be all the things that allow a multi-level dimension for play."
Dr. Lisa's work through World of EPI has also gained the attention of Women in Toys, Licensing & Entertainment (WiT), which recently honored her with the Wonder Women Rising Star Licensee/Manufacturer award.  
"It was unbelievable in many ways and still is because when I came into the toy industry, as you know, I did not know anything about toys, or dolls, or anything like that," said Dr. Lisa about WiT acknowledging her achievements. "It was that little girl who said the doll's (brown) skin-tone was nasty that started me on this journey. Then I went to a Women in Toys event and I saw other women entrepreneurs. I saw other Wonder Women winners, and they had all created such major, major things in the toy industry. And I was in awe of them [...] So now, fast forward a certain number of years, and I'm being considered one of those women who's done something groundbreaking."
Dr. Lisa's collaboration with Disney and Marvel has been one of her "pinch myself moments," and she credits her commitment to authentic inclusion with making World of EPI stand out in the toy industry, even though it's not a large company.
"What we have done, what our contribution is, is that we created an entire category of dolls that didn't exist. And that category is authenticity," said Dr. Lisa. "Before you didn't have authenticity. There were not people of the ethnicity or of the race making dolls for children of color. It didn't happen. We are the ones who are doing that, and we're so honored to be able to provide authentic dolls. So again, it goes back to that little girl she helped create an entire new category in the doll industry."