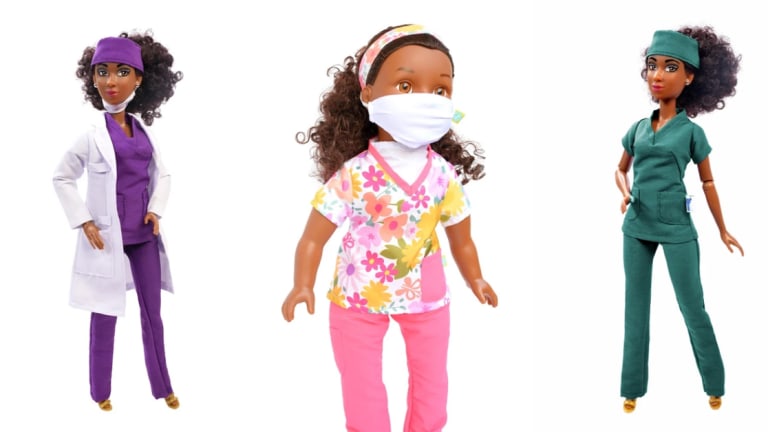 Editor's Pick: Fresh Dolls and Positively Perfect Dolls Salute Essential Workers
The Fresh Dolls and Positively Perfect Dolls are celebrating essential workers and their sacrifices with new scrubs fashion packs.
World of EPI, which is committed to enhancing Black and Brown children's self-esteem by showing their beauty through inclusive and diverse dolls, is spotlighting essential workers through The Fresh Dolls and Positively Perfect Dolls toy lines.
Dr. Lisa Williams and her team at World of EPI have released doll fashions that celebrate essential workers, like surgeons, nurses, doctors, and lab technicians. Now your child, or favorite adult one-sixth scale enthusiast (hey, we don't judge), can outfit their Fresh Doll or Fresh Doll Squad member in scrubs for hours of play. The "Fresh MD" Female Doll Scrubs Purple Passion Fashion Pack ($13.99), Surgeon in Charge Female Doll Scrubs Fashion Pack ($13.99), and Surgeon in Charge Male Doll Scrubs Fashion Pack ($13.99) include a hat, top, pants, and that all-too-important nowadays face mask. And for those days when the doll is seeing patients at her private office instead of the hospital, there's the "Fresh MD" Female Doctor's Lab Coat Fashion Pack ($11.99).
As an adult fashion doll enthusiast myself, I can attest to the quality of The Fresh Dolls fashion packs. Not only do they feature true-to-life details like working pockets, but they are also made of real clothing fabric, which is a big deal in the one-sixth scale world. The quality is truly exceptional so the men and women of the doll world can continue to save lives well past the global pandemic.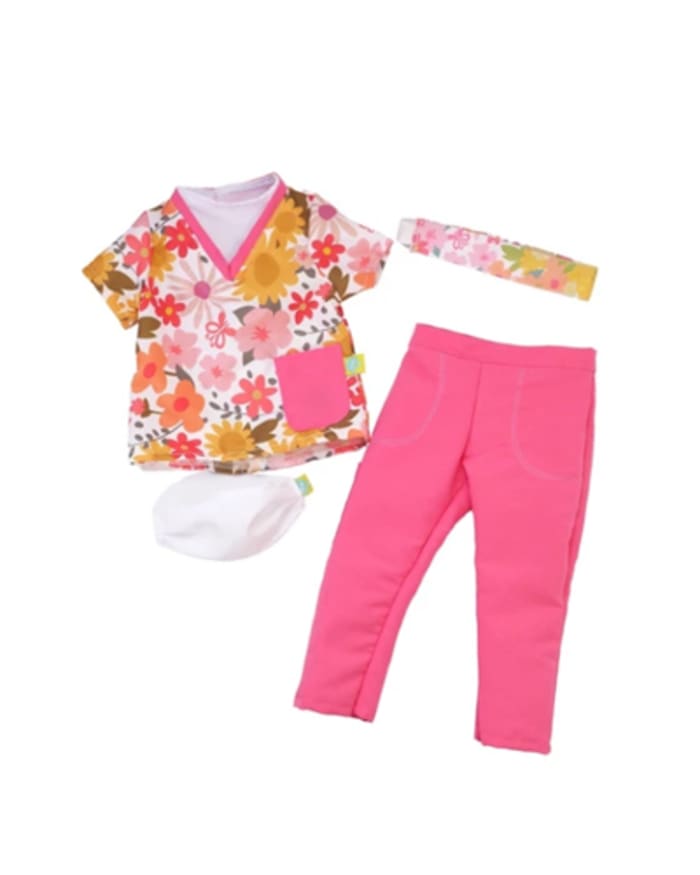 If the enthusiast in your life prefers 18-inch dolls, then look no further than the line of Positively Perfect Dolls, which like The Fresh Dolls and Fresh Dolls Squad, highlight a range of brown skin tones and hair textures. Positively Perfect Zair, Kennedy, Diana, and Abrielle only need to suit up in their 18" Doll Scrubs + Face Mask ($17.99) to make everyone feel better. The fashion pack contains a flower power top and matching headband, pants, and a crisp white face mask. To give the doll a more Afrocentric vibe, there are the 18" Doll Scrubs with Green Pants + Face Mask Fashion Pack ($17.99) and the 18" Doll Scrubs with Orange Pants + Face Mask Fashion Pack ($17.99). These feature a top and headband in a fabric meant to depict kente cloth. And of course, EPI also doesn't slouch on the quality of the Positively Perfect fashions.
Whether worn by a fashion doll or baby doll, these scrubs sets will initiate hours of play while highlighting the sacrifice of essential workers. They, along with a Fresh Doll or Positively Perfect doll, make a perfect gift for a child still grappling with how much time the essential worker in their life spends away from home.