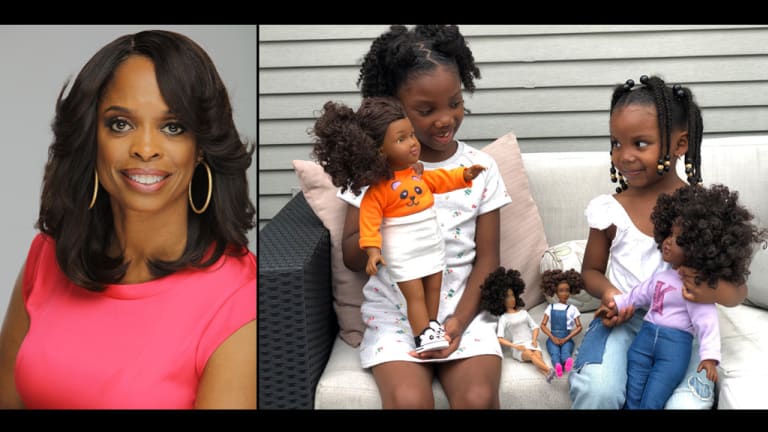 Dr. Lisa Williams Is Making the Toy World a More Inclusive Place to Play
Dr. Lisa Williams is making the doll industry more diverse, inclusive, and inspirational to Black and Brown children.
Dr. Lisa Williams is continuing to change the toy game by offering dolls that represent diversity, promote inclusivity, and enhance children's self-esteem. Her company World of EPI (Entertainment, Publishing, and Inspiration) produces the Positively Perfect Dolls, The Fresh Dolls, and The Fresh Squad.
Dolls weren't always Dr. Lisa's (as she's affectionately known) passion. In fact, she previously taught marketing and supply chain management as a tenured professor at an esteemed institution, earned two multi-million dollar endowed chairs, and had written several business books and academic articles. She had no intention of leaving academia until she witnessed an update of the now-infamous doll study, or doll test, on television in 2009 or '10. Considering the time, the Black First Family living in the White House, and Black celebrities covering magazines and starring in TV shows, Dr. Lisa said she assumed the little Black girl in the study would choose the brown doll. But Dr. Lisa was wrong and the girl picked the white doll. "What was even more heartbreaking [was] why she picked the white doll," Dr. Lisa recalled. "She said because the brown doll skin was nasty, and then she touched her own hand as to indicate that her skin was nasty. And that broke my heart." That's when Dr. Lisa, who had written the book Leading Beyond Excellence: Learn 7 Practical and Spiritual Steps to Spiral Yourself to the Top, says she realized she had another calling to help Black children see themselves positively.
After resigning from her tenured professorship, much to the chagrin of family and friends who she says thought she was insane for striking out on her own and leaving a guaranteed salary, Dr. Lisa wrote a line of children's books that were sold at Walmart, which encouraged her to create dolls to accompany the books. And in 2009, the World of EPI released Positively Perfect Dolls, its line of baby dolls that authentically represents the beauty of Black and Brown children. There certainly were Black baby dolls on the market long before Dr. Lisa came around, but those toys lacked quality and authenticity, said Dr. Lisa.
"The dolls that were there, the facial features were basically Caucasian sculpt faces," explained Dr. Lisa. "It typically had a brown paint attached to it, and the brown paint wasn't even authentic. It would either have too much red and it was ruddy, or too much pink and it was kind of orangey, or it would have too much grey and it looked kind of ashy. […] So there was nothing that was truly authentic, and nothing that I felt that was conscientious and meaningful, and, and, and purposeful.," Dr. Lisa continued.
When designing the Positively Perfect Dolls, Dr. Lisa paid close attention to the face sculpts so they resembled real Black and Brown children, and the dolls possessed "beautiful full lips and high cheeks and brown eyes and beautiful curly hair and braided hair, twisted hair." In addition, she was mindful of the message the dolls and "positive play" gave the children.
"I want them to be able to see that they can do anything," said Dr. Lisa. "And that they are powerful, beautiful, and brilliant."
While the Positively Perfect Dolls gave young Black and Brown children a toy that represented their features and skin-tone, Dr. Lisa set her sights on appealing to older children too and released, in 2017, The Fresh Dolls, a line of edgy fashion dolls modeled after adult women. Not only are The Fresh Dolls available in a myriad of skin tones, but they also sport full lips, thighs, and butts, along with a realistic waistline, giving that other popular fashion doll competition. Even though it's more expensive to produce and ship a thicker doll, Dr. Lisa knew it had to be designed that way in order for it to authentic.
"When I look at my body and I look at the bodies of Black and Brown women … that I see, we tend to have thicker thighs and thicker hair and thicker waists, and I could not in all consciousness create a doll that didn't reflect that," said Dr. Lisa.
In 2018, the World of EPI changed the toy game again by releasing The Fresh Squad, a line of male dolls with 13 points of articulation. Until that point, there weren't many 12-inch articulated male dolls available on the toy level. Like The Fresh Dolls, The Fresh Squad also represents the diverse real world.
"I wanted to portray Black men how I see them and I see them as powerful, as strong, as chivalrous and handsome," Dr. Lisa explained. "And so our face — I think the face matters too, not just the sculpt — [so] I've spent a lot of time with each of our dolls making sure the sculpt is authentic and looks real, but also the facial hair. We have goatees on some of our dolls. We have braids on some of our dolls. ... And then we got brown dolls that are bald. So we really try to focus in on men of color, in this particular example, and making sure that they are portrayed like the men of color I know and [who] are in my life, not what I see kind of mis-portrayed."
Young children are definitely fans of the Positively Perfect Dolls, but the World of EPI and Dr. Lisa have also gained the attention of adult doll collectors and enthusiasts with The Fresh Dolls and The Fresh Squad. The dolls' articulation, fashion-forward streetwear, and hair textures allow for realistic play no matter the age of the storyteller. Dr. Lisa says sales of The Fresh Dolls are either 50/50 children to adults or 60/40. The Fresh Squad, she says, is skewed more towards the adult collector. It's the attention to detail and the authenticity that has made adults fans of The Fresh Collective.
"You can look at a doll and you can see if it's authentic, you can see if it's made by a person of color," said Dr. Lisa. "You can look at my dolls, you can look at their faces and the way that they're dressed, and say, 'Yeah, that looks like something a Black woman [or man] would do.'"
Dr. Lisa is not only a proponent of more inclusion in the toy aisle, but also in the creative space behind the scenes. "I can't go and create, say, an Asian doll, right," Dr. Lisa explained. "It wouldn't be authentic because I don't live in the culture, I can't see the subtleties, so I can't do that doll justice. Likewise, I think of someone who does not have the sensitivity, that is not a Black or Brown person and can't see the subtleties in the beauty and aesthetics, and they can't design the fashions to make them truly look authentic. So in order for the toy industry to continue to move forward in authenticity, it has to back-fill the pipeline with creative talent."
The World of EPI dolls can be found currently in the U.S., Australia, Dubai, and Switzerland. However, Dr. Lisa recently inked a broader distribution deal with toy giant Just Play that will bring her another step closer to achieving her mission to create a #FreshMovement that inspires and uplifts Black and Brown children across the world. Ideally, the Fresh Movement will create a "sacred space" in which children are surrounded by their beauty and they're reflected in every aspect of their lives — from bedspreads, comforters, shower curtains, towels, backpacks, T-shirts, toothpaste, and more — so society can't tell them they're not beautiful or worthy.
"These dolls are very much a part of that," said Dr. Lisa. " I want to get [to the children early], so that before society gets to put a stamp on them about who they are and what their aesthetic is, I want [them] to already see it. So they already know my dark brown, beautiful skin and full lips are gorgeous. They already know, so you can't dissuade that. And I know that there's so many parents who are committed to that. I just want to be a part of a parenting toolkit. So as a parent is looking for what products, what book, 'What can I do to show my child how amazing they are?' I want them to be to say, 'You know what, I can come to Dr. Lisa and The Fresh Dolls, and I can find something to support my parenting mission.'"