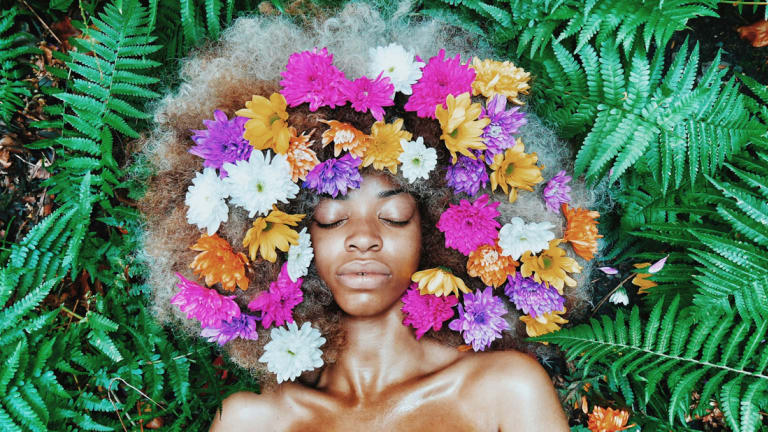 Hair Care That's Good for You and the Planet
These hair care collections from Suave and Love Beauty & Planet prove you don't have to sacrifice the Earth to have healthy beautiful tresses.
Two new personal care brands have released products that are not only good for your hair, but are also good for the planet by offering refillable options or reusing existing plastic.
One of the largest generators of plastic waste is discarded and empty personal care products. Most shampoos and conditioners, deodorants, and shower gels are contained in plastic because it's just not safe to use glass in our showers and bathrooms, in general. However, Suave and Love Beauty & Planet have developed products that help to maintain the health of our hair while also helping the health of the Earth with containers that are made from recycled plastic and/or are refillable.
Suave recently released the Suave Nature-Inspired Collection of shampoos and conditioners that add volume, moisture, or shine to hair with clean ingredients that are housed within bottles made from 100 percent post-consumer recycled content. The new collection is Target Clean Beauty certified because it doesn't contain parabens, dyes, silicones, or artificial fragrances. Instead, Suave uses ingredients, including water, that are naturally derived, meaning its "unchanged from nature or has a natural source and undergone some processing but keeps more than 50 [percent] of its original structure." In addition, the Suave Nature-Inspired Collection is PETA-Certified cruelty-free. There are three formulations in the line: The Suave Hydrating Coconut Shampoo & Conditioner contains coconut to moisturize and visibly repair hair without weighing it down; the Suave Shine Cactus Flower Shampoo & Conditioner gently cleanses hair so it's refreshed and shiny; and the Suave Volumizing Papaya Shampoos & Conditioner contains papaya to nourish hair and help it look fuller and thicker. Each 11 oz. bottle of shampoo and conditioner sell for $3.99 (SRP).
Love Beauty & Planet is the first mass beauty brand to debut aluminum reusable shampoo and conditioner bottles at retail stores. The brand's bestselling Coconut Water & Mimosa Flower shampoo and conditioner and Murumuru Butter & Rose shampoo and conditioner are available in 16 oz. refillable aluminum bottles for $9.99 (SRP) each and 32.3 oz. refills for $14.99 (SRP) each at Target. The refills are made of 100 percent post-consumer recycled content, and even though they're two-times the size of the regular bottles, they actually have 40 percent less plastic. The Coconut Water & Mimosa Flower variant is known for adding volume and bounce to fine hair. The coconut oil and water are natural, and the mimosa flower is ethically-sourced. The Murumuru Butter & Rose variant maintains the vibrancy of color-treated hair and adds a healthy-looking gloss. It contains natural Amazonian murumuru butter and ethically-sourced rose. Like the Suave Nature-Inspired Collection, the Love Beauty & Planet products don't contain parabens, silicones, or dyes.
In addition, Love Beauty & Planet has committed to net zero emissions by 2030 from sourcing to sale. The brand will examine and alter, if necessary, its manufacturing, distribution, packaging, and ingredients in order to reduce emissions. It will also explore additional nature-based solutions to maintain the health and regenerate land, forests, and oceans.
"Since our launch in 2018, we've been on a journey to help make you and the planet cleaner, greener, and more beautiful," said Co-Founder and Global Brand Director at Love Beauty and Planet Sonika Malhotra in a release. "As a brand that means taking strong steps in our business and setting big audacious ambitions, while celebrating and championing all the small actions anyone can take for a more sustainable future. We're focused on making thoughtfully crafted beauty accessible to everyone, but we know there is a lot more work to do. We're proud to continue driving benevolent innovation within our portfolio, championing Unilever's climate commitments, and pushing ourselves to go further where we can."
Both the Suave Nature-Inspired Collection and Love Beauty & Planet's line of refillable shampoo and conditioner are proof that you don't have to sacrifice the Earth for healthy beautiful hair. Remember, every small act makes a difference.