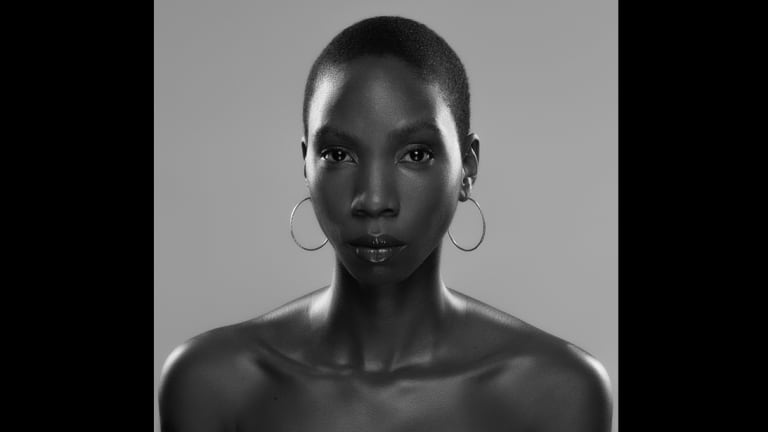 Celebrity makeup artist Etienne Ortega was inspired by the recently released Deck of Scarlet Dual Drama Liquid Eyeliner to create an eye-catching and out-of-this-world beat that simultaneously draws from the past and focuses on the future (scroll down to see the look).
The Dual Drama Liquid Eyeliner ($28), which was released in April, has a classic inky noir eyeliner on one side and a duo-chrome shade that shifts depending where the light hits on the other. The product is vegan and clean. It also contains skin-friendly active ingredients, moringa oil; peptides; and biotin, to promote the health of eyelashes. These ingredients and the fact that the eyeliner is easy to remove means the Dual Drama Liquid Eyeliner won't damage precious eyelashes. Plus, it's easy to apply in a fine line or a thick cat eye thanks to the firm yet flexible silicone brush.
We likely won't have to wear our PPE masks as more people get vaccinated, but we'll still have to wear them some places. So it makes sense to opt for a makeup look that draws attention to the eyes rather than the lips. No one wants a bright lipstick smeared across their face, as a result of wearing a mask while shopping in a store, taking a flight, or in another crowded area.
Ortega's makeup look, which he created using all Deck of Scarlet cosmetics, blends the classic cat eye with an interstellar zhuzh. The rest of the makeup is stunning, but also lets the eyes stand out. Keep reading to learn how to get the look at home.
How to create the face look:
Spray the [MIST]ake Proof Blush in Relentless onto the back of your hand then pick it up with the Double Take Face Brush. Add this the high points of your cheeks with the angled end and blend outward with the fluffy end.
To complete the look, apply Threeway Solid Lip Oil in Nude Ambition to your lips for a touch of natural color to keep the focus on your gorgeous eye look.
How to create the eye look:
Use the bold black side of the Deck of Scarlet Dual Drama Liquid Eyeliner in Dark Matter, to create a cat eye that is thin on the inner corner, and gets thicker towards the outer corner.
Next, use the Interstellar shade on the inner part of the eye right above the black liner and along the inner bottom lash line.
Follow this up with Retrograde on the top and bottom of the black liner on the outer part of the eye.
To finish the eye, add four small dots using Dark Matter right above the Retrograde shade to give it an intergalactic look.
If you're still not convinced the Dual Drama Liquid Eyeliner is a do, just try it on using the new Deck of Scarlet Instagram Filter.