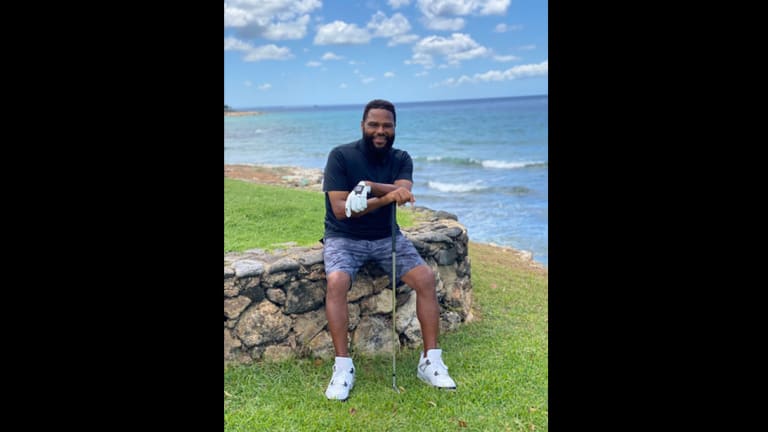 Anthony Anderson is Ready to Get Back to Living After Unusual Vaccination Journey
Anthony Anderson explains why he chose to get vaccinated and what others can do if the potential temporary side effects are making them apprehensive.
Anthony Anderson, 50, is sharing his vaccination journey story through Advil's #AfterMyShot initiative, in order to help others learn how to manage their post-vaccination side effects, so they can safely get back to the joys of life, like he is hoping to.
Many people are apprehensive about getting a COVID-19 vaccine. There are many reasons for the reluctancy, but a major one is fearing the potential side effects. According to the CDC, though, temporary side effects are normal and are proof that the body is building a defense against the virus. The agency recommends patients talk to their doctor about taking an over-the-counter pain reliever, like ibuprofen, to relieve post-vaccination side effects, such as aches, pains, and fever. As a leading ibuprofen brand, Advil created the #AfterMyShot campaign to let people know that it is a tried and true pain and fever reliever should they experience any temporary side effects. Through a new video series, Anderson is sharing his unique vaccination journey, which included getting the vaccine with a large group of family and friends, in an effort to let others know that their post-vaccination life is waiting for them.
Black and Brown communities were disproportionately affected by the virus, and that was one of the reasons Anderson says he felt it was important to get the vaccine. The other reasons that factored into his decision were his age, having the preexisting condition type 2 diabetes, and his desire to travel again, especially since his SnapChat series, Road Trippin', was put on hold as a result of the global lockdown.
"I wanted to be fully-vaccinated whenever the world did open back up, so I could travel and play golf," Anderson explained in an interview. "And that is one of the main reasons why I was vaccinated, you know, to protect myself, my family, and my community."
He continued, "The pros outweighed the cons for me. And I thought if I could be vaccinated as someone who's had a pre-existing condition, that was a chance that I was willing to take, given the fact that you were looking at people who looked like me, who were of my age, and from my community, who were not surviving this virus. By then, I was willing to take that chance for survival, and that's why I'm here."
The Emmy-nominated actor and producer put together a group of 20 to 25 relatives and friends to get the vaccine. Los Angeles City Council Member Mark Ridley Thomas helped facilitate the large group getting vaccinated safely and responsibly. 
"I just wanted to make sure that we were all as safe as we could be," said Anderson. "… Not only because we wanted to do it, but also to show the community that this is what we're doing. And hopefully, in doing so, we change the minds of people who may have been on the fence, just because of past history with vaccines, and things of that nature, especially within our community." 
The comedian said he didn't experience any side effects from the vaccine, but had "popped a few Advil" right after the second shot and every few hours after as a precaution. He chose Advil because it "was a pain reliever that was a staple in our household growing up and still is."
The actor who plays Andre "Dre" Johnson on ABC's black-ish has some advice for anyone trying to discuss getting the vaccine with a reluctant loved one, considering he helped encourage more than a dozen folks to get it. He said to remind them of their vices.
"The things that we put into our bodies for recreational use, we don't think about the side effects of that," asserted Anderson. "That has no medical benefit for us at all. It impairs us, you know, whatever it may be. … But when it comes to like, 'Oh, well, we have this vaccine that can combat this virus. Oh, man, I don't know how that's gonna make me feel.' I was like, 'Well, did you think that about what you just smoked, which isn't great? What you were just putting up your nose? Well, you weren't thinking about the side effects of that!'"
He continued, "So those are the type of conversations that I've been having, and hopefully, it swayed them to just think differently. I'm not trying to force this vaccine on you but I really just want you to get information and learn for yourself. As opposed to, 'I'm not gonna do that. I don't know what's in it.' Well, find out what's in it. Find out what the benefits are and make a choice."
The To Tell the Truth host says being fully-vaccinated has "opened up all of our lives a little bit more than what it has been in the last year and a half," and he's eager to get back to playing golf on top-notch courses across the world. In addition, the Maldives and Greece have been calling his name. "Any island with turquoise waters, and warm pink, black, or brown sand," he said, will do.
In addition to releasing Anderson's video on AfterMyShot.com, Advil will also celebrate life after the vaccine by collecting post-vaccination stories or aspirations from content creators. In addition, the brand is encouraging others to share the activities they're most excited to do after getting vaccinated via the hashtag #AfterMyShot.
As an executive producer, Anderson helped bring black-ish spin-offs grown-ish and mixed-ish to our screens. Considering that grown-ish continues Zoey Johnson's (Yara Shahidi) story, mixed-ish explores Rainbow Johnson's (Tracee Ellis Ross) backstory, and Dre Johnson has reminisced quite a bit about his childhood and his adolescence, one wonders if black-ish fans will also get to see Dre as a youth.
"You're asking for Dre's Wonder Years? … Do I have to give you credit for this if it happens?" Anderson asked with a laugh.
He continued, "I don't feel it's necessary, but it would be interesting to see that perspective, to see that story, to see the dynamic of Ruby (Jenifer Lewis) and young Dre's relationship. You know, we've hinted at it along the way of these last seven years on black-ish. But I think it'd be interesting to have a series devoted to that. So if you see it, just know that you were the catalyst for sparking that idea. And I got you!" 
Anderson also revealed that he especially loves working with Marsai Martin and Miles Brown, who play twins Diane and Jack Johnson, respectively, on black-ish. "They keep me young, and they keep me on-point, and they keep me informed. So it's always something new with them. ... Those are my favorite moments rather at work, learning from them, as they think they're learning from me."