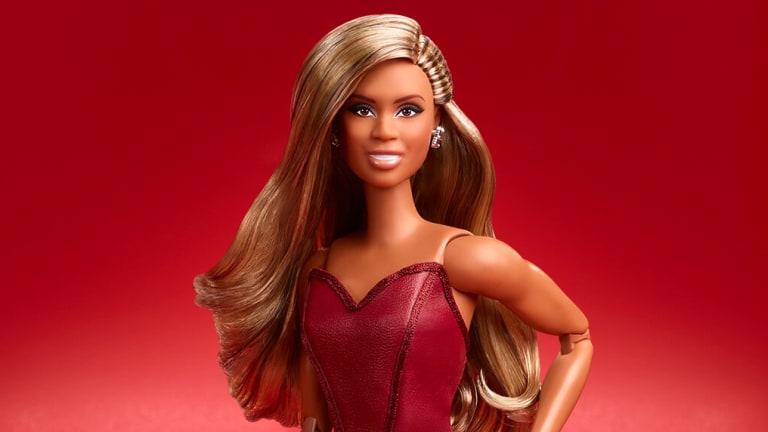 The Barbie Tribute Collection Laverne Cox Doll Celebrates Authenticity
Barbie Signature is honoring visionary Laverne Cox with the Barbie Tribute Collection Laverne Cox Doll for her encouraging message to live authentically.
Mattel Creations and Barbie Signature released today the Barbie Tribute Collection Laverne Cox Doll to celebrate how Laverne Cox uses her platform as an LGBTQ+ advocate, four-time Emmy-nominated actress, and Emmy-winning producer to encourage people to live authentically, rather than by societal expectations.
Cox is the first transgender woman of color to have a leading role on a scripted TV show, Orange is the New Black, and she continues to positively shape and impact our culture through her work in front of and behind the camera, as well as through her Instagram. Mattel Creations says Cox "embodies the values of the Tribute Collection, and we're thrilled to make her a part of it." 
The Barbie Signature team, which included designer Carlyle Nuera, and Cox employed video conferencing, email, and traditional mail to design the Barbie Tribute Collection Laverne Cox Doll ($40) when the pandemic made in-person meetings impossible. (Dr. Lisa Williams of World of EPI, which produces The Fresh Dolls, says it typically takes two years to design a fashion doll.) Mattel sent out doll body and skin tone samples to progress the process. 
Cox is known for her red carpet moments and her doll displays the same flare for fashion. She wears an original design of a sparkly silver, sweetheart neckline bodysuit that is topped with an oxblood red faux leather corset and an oxblood red tulle dress. The Barbie Signature team calls it a "triple-threat ensemble" because it is meant to create multiple looks through layering and removing the pieces. High heel boots and silvery earrings complete the red carpet look.
The doll also sports a coiffure that is reminiscent of Cox's signature honey blonde with darker roots tresses. The Barbie Signature team blended different blonde shades and added different brown shades for lowlights to get the doll's hair just right. Her beauty look is one Cox loves to wear herself, a classic smoky eye and nude lip.
With the articulated superhero physique, the Barbie Tribute Collection Laverne Cox Doll has body, ody, ody for days!
The highly-detailed Barbie Tribute Collection Laverne Cox Doll certainly helps to amplify Cox's "message of moving beyond societal expectations to live more authentically."