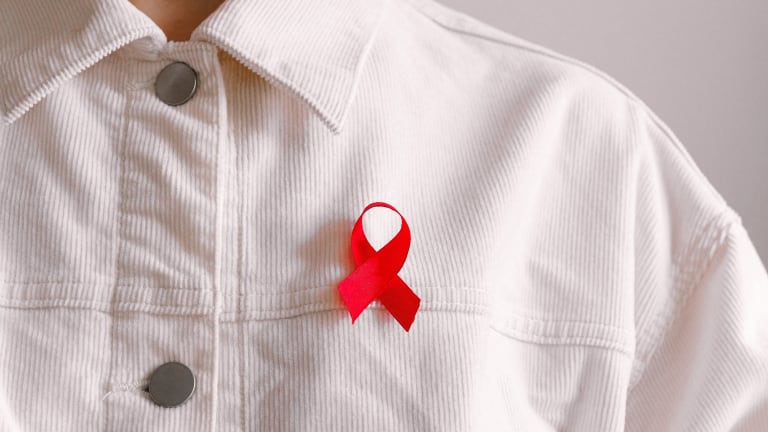 IMG Helps & Artist ESPO Have a Message for World AIDS Day
IMG Helps and Stephen "ESPO" Powers have found a unique way to promote sex education, as well as HIV and STD testing, during World AIDS Day and Art Basel.
To commemorate World AIDS Day on December 1, IMG Health Clinic's philanthropic arm IMG Helps (IMGH) has joined forces with contemporary mural artist Stephen "ESPO" Powers to spread the message of safe sex during Art Basel in Miami.
IMG Health Clinic offers sex education in Florida's underserved Black and Brown communities and tests for and treats HIV (including PrEP), hepatitis C, and STDs at its standalone and mobile clinics. The collaboration between IMGH and ESPO aims to promote safe sex during the revelry of Art Basel and beyond. Brooklyn-based artist ESPO created three prints in which the message of "safe sex" is personified into some cheeky situations – from a romp in the sack to bondage play. The numbered and signed prints will be available for sale exclusively at the Museum of Graffiti, in Miami's Wynwood neighborhood, on World AIDS Day. All proceeds will go to IMGH in support of IMG Health Clinic's core testing (which is often free) and treatment initiatives.
"A lot of the advertising for these diseases targets a specific community, like the LGBTQ community," explained IMG Health Clinic COO Steve Vixamar to UPTOWN earlier this year. "So people assume these diseases only affect the LGBTQ community. IMG spends a significant amount of time educating people in Black and Brown communities about the risk factors for catching HIV and how to protect yourself."
In addition to the prints, IMG Helps will conduct complimentary testing at its mobile clinic – which, of course, will be wrapped in an ESPO graphic – outside the museum through December 4.
On December 1 at the Museum of Graffiti, IMGH will bring together a diverse group of medical professionals, culture creators, thought leaders, advocates, community influencers, and media for a panel to discuss sexual wellness and how to eliminate the stigma associated with getting tested for HIV and STDs.
This initiative with ESPO follows IMGH's partnership with the Arthur Ashe Institute for Urban Health, which continues to leverage each entity's relationships and resources to provide education, sexual wellness, and overall health to underserved communities.