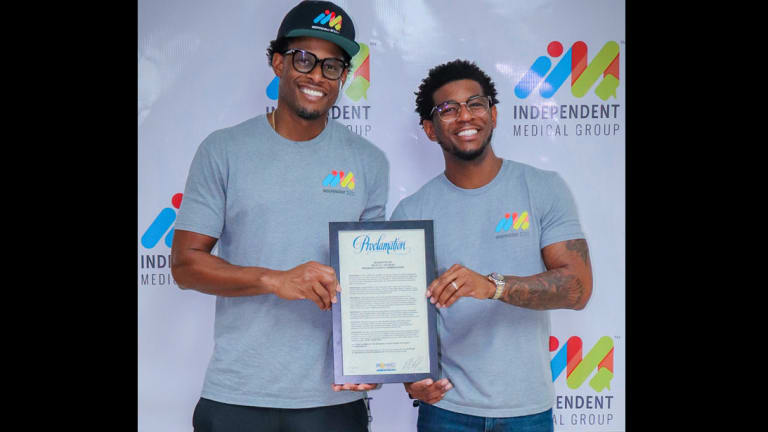 IMG Health Clinic's Founders Are Committed to Florida's Underserved Communities
IMG Health Clinic offers free HIV, Hepatitis C, and STDs testing, treatment, and education to the underserved Black and Brown communities in Florida.
Health care equality is the foundation on which Clifford W. Knights II and Steve Vixamar built their IMG Health Clinic. Through firsthand experience of not having access to basic medical and wellness care and realizing that was the plight of many Black and Brown people in underserved communities, these high school friends turned entrepreneurs set their focus on creating comprehensive healthcare solutions in South Florida. But they didn't go the physician route. Instead, Vixamar and Knights employed their business acumen, which they honed while providing pharmacy concierge services for physicians and to HIV patients, to found IMG Health Clinic, which provides fast and free testing of HIV, Hepatitis C, and STDs in some of the most vulnerable and marginalized communities across the state of Florida.
"We started out in the medical field in high school, so we didn't really choose the industry, but the industry chose us to some degree," explained Knights, who handled the development of their concierge business. "We worked in an HIV pharmacy right out of high school and that's where we started our journey. We didn't even know that you didn't have to be a doctor to own a pharmacy. We fell in love with helping our community and we have continued that journey for the last 20 years."
Knights and Vixamar, who became a pharmacy technician, eventually progressed their concierge service into owning and operating independent pharmacies that supplied health clinics with medicines and other health tools.
"It was a natural transition for us to get into the clinic space, which allows us to do more," said Vixamar.
Through its brick and mortar clinics in Orlando, Miami, Coconut Creek, Bonita Springs, Plantation, Palm Bay, and Tampa, IMG Health Clinic offers testing and treatment for HIV, Hepatitis C, and STDs, as well as HIV prevention care or PREp. And its 12 mobile clinics are able to address these concerns in other underserved Black and Brown communities throughout Florida. 
"Those are our four modalities that we focus on because those are the ones that have the most stigma in the underserved community that no one is talking about and no one is taking care of," said Knights, who is the CEO of IMG. 
Along with testing and treating these infectious diseases, Knights and Vixamar also have the goal of removing the shame or stigma that is often associated with these conditions and providing education on the risk factors.
"Part of the stigma is just miseducation and people being misinformed," explained COO Vixamar. "Unfortunately, we still have this old mentality about HIV and where it derived from."
He continued, "A lot of the advertising for these diseases targets a specific community, like the LGBTQ community. So people assume these diseases only affect the LGBTQ community. IMG spends a significant amount of time educating people in Black and Brown communities about the risk factors for catching HIV and how to protect yourself."
Diabetes, high blood pressure, high cholesterol, asthma, and heart disease are some of the other conditions patients seeking care at IMG Health Clinic are dealing with. In those cases, patients with immediate need receive medication, while others are referred to a specialist or primary care physician who has partnered with IMG. Vixamar and Knights have also recognized the need for mental health care in the communities IMG serves and are currently figuring out how to implement that into their line of services.
IMG's mobile clinics are a crucial part of providing care in areas where a clinic doesn't exist or people are reluctant to see a doctor, have lifestyle needs that take priority over health care, or don't have transportation. The mobile clinics also addressed the dilemma of people needing medical care while a pandemic was hitting Black and Brown communities in the U.S. the hardest. 
"During the pandemic, most places were shut down and the COVID protocols were stringent, so our mobile clinics allowed us to go to the community and give people care while still adhering to COVID protocols. It allowed us to continue providing services when the cities were shut down," Vixamar explained.
In addition to continuing to provide its four core services, IMG's mobile clinics also provided testing for COVID-19. "One of the biggest issues during the pandemic was the drive-through testing locations, but what about those without a car or even money for public transportation? What happens to those people? Our fleet of mobile clinics provided a solution for them!" said Knights.
Although IMG Health Clinic was the brainchild of Knights and Vixamar, they aren't the only ones making decisions to further their mission, of course. In late January of this year, IMG announced the promotion of Chief Clinical Officer Dr. Kishma Victor to president of IMG Health Clinic. Using her extensive background in hospital management and operations, Dr. Victor streamlined IMG's clinical operations, which led to more efficiency when treating patients, and expanded the mobile unit's efforts throughout Florida in just over a year of being with the organization.  
"The IMG team is a passionate group of professionals dedicated to fighting the stigma associated with HIV, Hepatitis C, and STDs, and I am truly honored to lead them. Under my leadership we will utilize new scientific developments to focus on geographical areas of need and vulnerable populations that need care," said Dr. Victor in a press release. "I am energized by my plans and initiatives to partner with organizations that align with our vision to end the HIV epidemic globally, while providing increased access to healthcare solutions."
For the second year in a row, IMG Health Clinic will sponsor Miami Beach Pride, which will take place from April 1st through 10th. The healthcare organization will offer free COVID rapid tests, PCR tests, vaccinations, and boosters at the Queer Art Showcase on April 4th, the Legends Ball on April 7th, and the Miami Beach Pride Festival on April 9th and 10th.
Although Knights's and Vixamar's roots are in Florida, they have plans to expand IMG Health Clinic to other states because the HIV crisis is a national issue.
"1.2 million people are living with HIV who have been tested, but a lot of people still don't know that they have HIV or take care of their HIV," stated Knights. "There's 2.4 million people with Hep-C and half of them aren't getting treated or know how to get treated, so there's a lot of room to get this work done and a lot of that work is done in the underserved community, unfortunately."