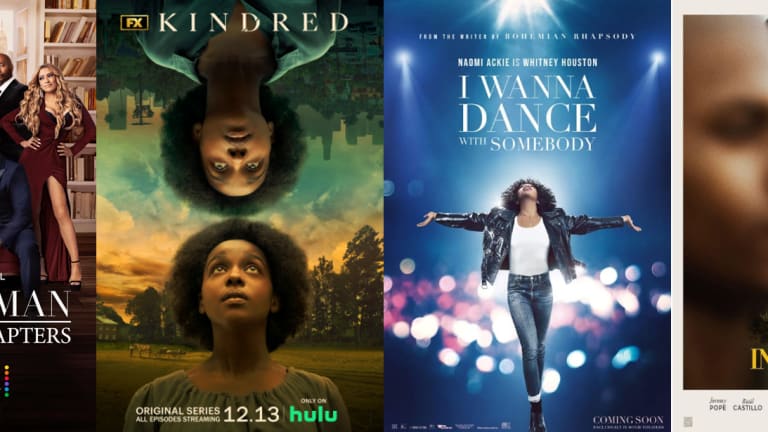 Trailer Load: What to Watch This December
The latest spate of films and series offer entertainment for holiday rom-com lovers, drama consumers, history buffs, true crime followers, and horror watchers.
There's just something really magical about grabbing your favorite snack, cozying up under a blanket, and watching a holiday movie, like OWN's A Christmas Fumble and The Great Holiday Bake Off. If you prefer a little nostalgia with your holiday romances, then The Best Man: The Final Chapters limited series is for you. Those who like to save the family drama for the screen, rather than their gatherings, get into Riches on Prime Video and WE tv's Love After Lockup. Interrupting Chicken and Puppy Place offer entertainment for the kiddos, while documentaries about indigenous peoples, the Buffalo Soldiers of WWII, and the death of Denver Bronco star Darrent Williams strike serious tones. If you're willing to venture to a movie theater, the Whitney Houston biopic I Wanna Dance with Somebody, The Inspection, and Emancipation should certainly be on your list. In addition, the highly-anticipated series adaptation of Octavia Butler's Kindred novel hits FX and Hulu this month. Here's what to watch this December ...
The Best Man: The Final Chapters
Synopsis: Based upon the eponymous Universal film franchise written and directed by Malcolm D. Lee, the series will catch up with Harper, Robyn, Jordan, Lance, Quentin, Shelby, Candace, and Murch as relationships evolve and past grievances resurface in the unpredictable stages of midlife crisis meets midlife renaissance.
Release date: December 22
Where: Peacock
Starring: Morris Chestnut, Melissa De Sousa, Taye Diggs, Regina Hall, Terrence Howard, Sanaa Lathan, Nia Long, and Harold Perrineau
A Christmas Fumble
Synopsis: The "queen of crisis management," Nicole Barnes gets the toughest assignment of her career when she's asked to handle a breaking scandal for former pro footballer-turned-TV-commentator Jordan Davies, whose network contract isn't going to be renewed because of a violation going back to his college days. However, Nicole fails to disclose that she and Jordan were once boyfriend and girlfriend -- a conflict of interest that could end her own hopes of being made partner at her firm. To make matters worse, Nicole's efforts to rehabilitate Jordan's image are constantly undermined by Jordan's shallow entertainment reporter fiancée.
Release date: December 10
Where: OWN
Starring: Eva Marcille, Devale Ellis
Synopsis: Inspired by a true story, one man fights through unthinkable terrors in an attempt to reunite with his family.
Release date: December 2
Where: Select theaters (12/2) and Apple TV+ (12/9)
Directed by: Antoine Fuqua
Cold as Balls, Season 7
Synopsis: Season seven will bring us back to the locker room with deeper conversations that will lead to jaw-dropping revelations from the biggest names and personalities in sports. As always, host Kevin Hart will deliver the chilling, hard-hitting questions that have catapulted Cold as Balls to over 1.3B views, helping fans get to know their favorite athletes better.
Release date: November 29
Where: LOL! Network
Starring: Kevin Hart
Disenchanted
Synopsis: It has been more than ten years since Giselle and Robert wed, but Giselle has grown disillusioned with life in the city, so they move their growing family to the sleepy suburban community of Monroeville in search of a more fairy tale life. Unfortunately, it isn't the quick fix she had hoped for. Suburbia has a whole new set of rules and a local queen bee, Malvina Monroe, who makes Giselle feel more out of place than ever. Frustrated that her happily ever after hasn't been so easy to find, she turns to the magic of Andalasia for help, accidentally transforming the entire town into a real-life fairy tale and placing her family's future happiness in jeopardy. Now, Giselle is in a race against time to reverse the spell and determine what happily ever after truly means to her and her family.
Release date: November 18
Where: Disney+
Starring: Amy Adams, Patrick Dempsey, Maya Rudolph, Yvette Nicole Brown, Jayma Mays, and Gabriella Baldacchino, with Idina Menzel and James Marsden
Riches
Synopsis: Riches follows the exploits of the stylish, privileged, super-successful Richards family. When Stephen Richards passes suddenly, the family's world comes crashing down. As his business hangs in the balance, his different sets of children are about to collide as they vie for control.
Release date: December 2
Where: Prime Video
Starring: Abby Ajayi, Nadine Marsh-Edwards, Amanda Jenks, Alison Owen, Alison Carpenter, with Hugh Quarshie
Harry & Meghan
Synopsis: Across six episodes, the series explores the clandestine days of Prince Harry and Meghan Markle early courtship and the challenges that led to them feeling forced to step back from their full-time roles in the institution.
Release date: Coming soon (reportedly December 8)
Where: Netflix
Directed by: Liz Garbus
Our America: Reclaiming Turtle Island
Synopsis: To raise awareness and elevate the conversation around Native American sovereignty, the inherent authority of American tribes to govern themselves and honor and preserve their cultures and traditions, ABC Owned Television Stations has produced Our America: Reclaiming Turtle Island as we commemorate Native American Heritage Month this November.
Release date: November 19
Where: ABC Stations and Hulu
Who: The program is told through the lens and imagery of National Geographic Explorer and photographer Kiliii Yüyan - the special is produced by Nzinga Blake, Race and Culture executive producer at ABC Owned Television Stations, and edited by Tracy Quezada. Featured in the documentary are Taboo, a cultural activist and Marvel comic creator, writer, and global music icon known for 1/3 of the pop group Black Eyed Peas; Quannah Rose Chasinghorse, a model and activist known for appearing on the 2020 Teen Vogue list of Top 21 under 21 and more; Jody Potts-Joseph, traditional tattoo practitioner and subject of the National Geographic series Life Below Zero: First Alaskans; historian and Native American artist G. Peter Jemison, whose art is featured in the documentary; and traditional corn grower Angela Ferguson.
I Wanna Dance with Somebody
Synopsis: A joyous, emotional, heartbreaking celebration of the life and music of Whitney Houston, one of the greatest female R&B pop vocalists of all time, tracking her journey from obscurity to musical superstardom.
Release date: December 21
Where: Theaters
Starring: Naomi Ackie, Tamara Tunie, Stanley Tucci
Love After Lockup
Synopsis: This season four new couples plus two franchise favorites who were JUST released after their stints on "Love During Lockup" take the drama to the next level with deeper love, bigger doubts, even more mystery, and unique firsts - from first touch and kiss, to moving in together, to meeting the family. As viewers go along for the wild ride of maintaining romance beyond prison walls, they will once again debate if it's true love or just another convincing con. Although every journey begins with a long-awaited prison release, each of our lovebirds and jailbirds have their own winding path to the altar… or an explosive breakup.
Release date: December 16
Where: WE tv
Interrupting Chicken
Synopsis: Based on the 2011 Caldecott Honor-winning book series written and illustrated by David Ezra Stein, Interrupting Chicken introduces children to the joy of creative writing - starting with a young little chicken named Piper who has a habit of interrupting story time! Every time Piper hears a story, she can't help but jump in, ask questions and let her imagination run wild.
Release date: November 18
Where: Apple TV+
Starring: Sterling K. Brown as "Papa," Juliet Donenfeld as "Piper," Sarah Elizabeth Thompson as "CJ," Maximus Riegel as "Benjamin," Luke Lowe as "Duckston," and Jakari Fraser as "Theodore"
Puppy Place
Synopsis: Based on Scholastic's best-selling book series written by Ellen Miles, Puppy Place chronicles the adventures of dog-loving siblings, Charles and Lizzie Peterson, and the puppy pals they foster in search of forever homes.
Each of the eight episodes in season two continues to tell the story of a puppy who finds their way to the Peterson family. Charles and Lizzie, whose different approaches complement, inspire and occasionally confound one another, do whatever it takes to find a happy, loving home for each and every dog. Discovering what makes each puppy special offers a unique perspective that helps the pair overcome their own individual hurdles.
Release date: December 9
Where: Apple TV+
Starring: Riley Looc, Brooklynn MacKinzie
With One Tied Hand: The Buffalo Soldiers of World War II
Synopsis: Based on the book by Ivan J. Houston and Gordon Cohn, this touching film recounts the true stories of a group of brave young African-American soldiers who fought fearlessly against the Nazi war machine, the Italian fascists, and the deep-rooted racism of their own white officers.
Release date: December 6
Where: Digital and On Demand
The Territory
Synopsis: The Territory provides an immersive on-the-ground look at the tireless fight of the Indigenous Uru-eu-wau-wau people against the encroaching deforestation brought by farmers and illegal settlers in the Brazilian Amazon.
Release date: December 1 and 2
Where: National Geographic Channel (12/1) and Disney+ (12/2)
Directed by: Alex Pritz
Murder Under the Friday Night Lights, Season 2
Synopsis: Building off of its gripping freshman season, new episodes take an unflinching look at the shocking and tragic cases of deception, obsession and murder surrounding towns across the country where football bonds communities together. Dark and deadly cases of crimes tied around America's sacred pastime of spending evenings under the bright glow of stadium lighting.
In the season 2 premiere episode, "A Killer's Secret Play," a beloved high school football coach is found shot 11 times in his Texas home. No one can imagine who would possibly want him dead until investigators discover a secret world of women and underground parties. Featured cases this season range from a 7-year-old cheerleader who is abducted from the sidelines of her brother's pee-wee football game to the devastating death of Denver Bronco star Darrent Williams and the diabolical case of a serial predator who was a rising star during Joe Paterno and Penn State football's most defining season, among others.
Release date: November 16
Where: Investigation Discovery and discovery+
To the End
Synopsis: Filmed over four years of hope and crisis, To the End captures the emergence of a new generation of leaders and the movement behind the most sweeping climate change legislation in U.S. history. Award-winning director Rachel Lears follows four exceptional young women — Rep. Alexandria Ocasio-Cortez, activist Varshini Prakash, climate policy writer Rhiana Gunn-Wright, and political strategist Alexandra Rojas— as they grapple with new challenges of leadership and power and work together to defend their generation's right to a future.
From street protests to the halls of Congress, these bold leaders fight to shift the narrative around climate, revealing the crisis as an opportunity to build a better society. Including up-to-the-minute footage that culminates in 2022's landmark climate bill, To the End lifts the veil on the battle for the future of our world, and gives audiences a front seat view of history in the making.
Release date: December 9
Where: Theaters
Directed by: Rachel Lears
The Great Holiday Bake War
Synopsis: When former pastry school rivals Julian and Brianna meet years later in a TV baking competition, the sparks -- and the flour -- fly! Each has their own plans for the winning prize money, but only one can win ... unless they work together. While Brianna struggles to support her daughter Willow and Julian longs to escape his mother's shadow, they learn that collaboration can create a new recipe for success -- and love.
Release date: December 3
Where: OWN
Starring: LeToya Luckett, Finesse Mitchell
Kindred
Synopsis: Adapted from the celebrated novel Kindred, by Hugo Award-winner Octavia E. Butler, the FX series centers on "Dana James," a young Black woman and aspiring writer who has uprooted her life of familial obligation and relocated to Los Angeles, ready to claim a future that, for once, feels all her own. But, before she can settle into her new home, she finds herself being violently pulled back and forth in time. She emerges at a nineteenth-century plantation, a place remarkably and intimately linked with Dana and her family. An interracial romance threads through Dana's past and present, and the clock is ticking as she struggles to confront secrets she never knew ran through her blood, in this genre-breaking exploration of the ties that bind.
Release date: December 13
Where: FX and Hulu
Starring: Mallori Johnson as "Dana James," Micah Stock as "Kevin Franklin," Ryan Kwanten as "Thomas Weylin," Gayle Rankin as "Margaret Weylin," Austin Smith as "Luke," David Alexander Kaplan as "Rufus Weylin," Sophina Brown as "Sarah," and Sheria Irving as "Olivia"
The Inspection
Synopsis: In Elegance Bratton's deeply moving film inspired by his own story, a young, gay Black man, rejected by his mother and with few options for his future, decides to join the Marines, doing whatever it takes to succeed in a system that would cast him aside. But even as he battles deep-seated prejudice and the grueling routines of basic training, he finds unexpected camaraderie, strength, and support in this new community, giving him a hard-earned sense of belonging that will shape his identity and forever change his life.
Release date: November 18
Where: Theaters
Starring: Jeremy Pope, Raúl Castillo, McCaul Lombardi, and Aaron Dominguez, with Bokeem Woodbine and Gabrielle Union