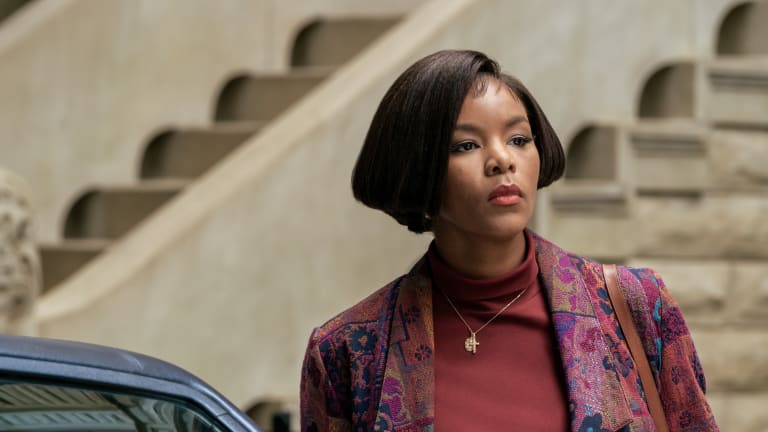 LeToya Luckett Is at the Intersection of Motherhood and 'Raising Kanan'
LeToya Luckett may not judge the parenting decisions of her Raising Kanan character, but that doesn't mean she doesn't have advice for Kenya Pierce.
LeToya Luckett has mastered the skill of wearing multiple hats. We've witnessed the Texan juggle multiple roles, from chart-topping superstar to dynamic actress, for more than 25 years. A new title the multi-hyphenate has added to her list of credentials in recent years is that of motherhood. While the fictional characters she portrays can be vastly different from Luckett herself, "mother" is actually a title she shares with her latest role of Kenya Pierce in Power Book III: Raising Kanan. Pierce, the mother of Laverne "Jukebox" Thomas (Hailey Kilgore), has caused quite a stir online among fans of the Starz series for her aggressively religious parenting.
While Luckett may be an active and doting parent to 3-year-old Gianna Iman and 2-year-old Tysun Wolf, that's certainly not Pierce's parenting style. The most challenging part of playing such a role, says Luckett, is doing her best to not judge the choices Pierce has made when it comes to parenthood.
"Being a mom of two and not judging the fact that she left her child and went to pursue her career. I think that was the biggest challenge, not judging her for her decisions. There was so much beauty in finding out and getting to understand such a complex person like this, who honestly felt like she had her child's best interests at heart and was making the right decisions," Luckett told UPTOWN. "Her intentions were really good, for the most part, but at the end of the day, they ended up costing her, her relationship with her daughter, and the time that she will never get back with her. So I think that that was probably my biggest challenge. Oh, and the accent."
When it comes to parenting, the concept of the perfect parent is a myth. This rings true, fictional or otherwise. While Pierce's relationship with her daughter has been tumultuous to say the least, Luckett's advice for her would be to acknowledge that her daughter has an identity of her own.
"I think because Jukebox is older and she's coming into her own, I would recommend going into reconnecting with her, knowing that she has her own voice and that she's come this far without you. And she deserves respect for that. I think that I would have a listening ear and try and learn as much about my daughter as possible so that I could get to experience her," Luckett said. "I think the one thing that pollutes the relationship is when Kenya starts to get comfortable in the space of being a mom again with her and starts to want to bring her beliefs and what she thinks is best, which all moms do. I don't think that there was enough time spent getting to know her to approach that properly. I think things could have been approached differently if she would've taken the time to get to know her and given their relationship more time."
While Luckett's portrayal of Pierce brings about an aspect of understanding, there's another Raising Kanan character that the Torn singer relates to. Like Jukebox, Luckett was raised by a single parent, which is something she's been candid about in the past. For that reason, she is adamant about showing grace to the young character as she navigates the circumstances of the series plot.
"I have so much grace as LeToya for Jukebox because she is just pushing through, honey. To have a huge void in her life, like her mother not being there, and trying to get some understanding of that, you can just feel her trying to understand herself. You can see it," Luckett told UPTOWN. "She's just trying to make it and push through as best she possibly can with the cards that she's been dealt. I know that has to be tough for her and hard on her, which is why she turns into the Jukebox we've come to know."
One can only imagine all of the knowledge and gems that Luckett has picked up on journey. As she continues to navigate life as a single mother, after she and Tommicus Walker announced their divorce in 2020, one lesson from her mother still resonates to this day ...
"I would say don't give up and to be present. My mom has always been present. If I call on her for something, if I want to have a conversation with her, there's nothing that can distract her. I always know I have her full attention and she tries to understand me. What I also respect about my mother is that I know she's a woman of faith, but for you to allow your child at the tender age of 12 to go off and pursue her dream, your faith has to be different," Luckett explained. "She's never stood in the way of me becoming who God has truly called me to be and I'm so grateful to her. For her to allow me to step into that, my life wouldn't be what it is without her allowing me to do that, and I'm forever grateful for it."
As a mother herself, one lesson that Luckett wants to impart on her own children is to have compassion.
"I want them to understand love, friendship, and their value. I want them to have compassion, to be true to themselves and to have accountability and to know that they're enough. I tell my son all the time, 'It is your job to protect your sister, as a man.' We're learning how to protect women early around here," Luckett said. "There's so many lessons. I might not get it right all the time – I know I don't – but I am doing my very best."