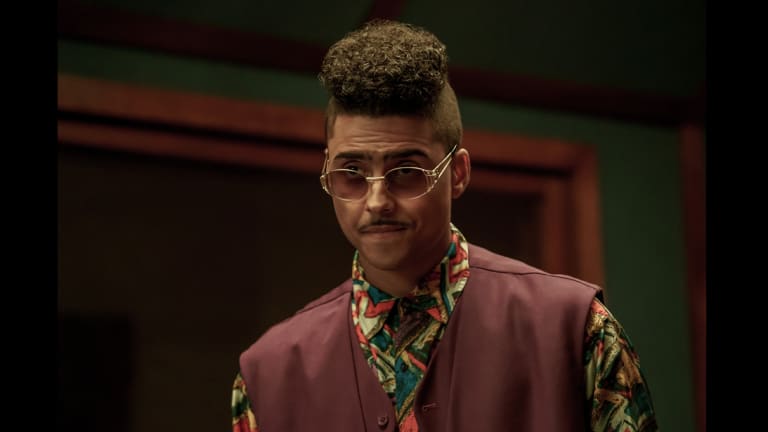 Quincy Brown Is Building His Own Empire, One Brick at a Time
The death of Crown Camacho in Power Book III: Raising Kanan isn't the last we'll hear from multi-hyphenate Quincy Brown.
To be a multi-hyphenate is to be an individual who excels in various disciplines while still retaining that through line of undeniable talent. We've seen individuals like Queen Latifah and Jamie Foxx exemplify what it really means to possess this talent and use it in a way that inspires others to do the same. That kind of star power can't be duplicated or replicated; it's something that one can only be achieved through hard work and discipline. One person who has showcased his ability to do so, time and time again, is none other than Quincy Brown. Whether it's acting, modeling, or singing, Brown has proven that his artistry transcends the narrow confines that have long attempted to box in entertainers of color.
The year may be coming to a close within the next few months, but Brown's megawatt career is heating up by the day. The New York native's portrayal of Crown Camacho in the STARZ hit series Power Book III: Raising Kanan presents Brown like never before. In this role, he brings to life the story of a music producer whose career begins to intertwine with many of the series' characters and storylines. For Brown, this opportunity has been nothing short of a blessing.
"I think just being a part of the Power universe has been a blessing. My co-stars were incredible, and I feel like I have an experience that I'll never forget, as it was a deep dive into the the year I was born," Brown told UPTOWN. "To then be able to live vicariously through Crown was, for sure, incredible."
In episode six of the high-octane drama, Brown's character met his demise at the hands of Lou-Lou Thomas (Michael M. Mays), one of protagonist Kanan Stark's (Mekai Curtis) uncles. With tensions already running high due to a strained working relationship in the music business, the end result happened to be the ending of Camacho's life. For Brown, he feels that the character's eventual death resulted from his being pushed into a corner with limited opportunities for ascension.
"Crown was pushed into a corner, and that was the downfall of everything. When it rains, it pours, and right when it started to rain, it only got worse. I feel like there was maybe some room to correct some of the things that were happening. However, once he just felt like he had no control of his entire label, he felt like he was being cut out," Brown said. "That drove Crown to make decisions that really showed his passion. But of course, when certain buttons were pushed, it really threw things off and drove people to extremes, and that's obviously what happened here with Lou and Crown."
While Brown's role in Power Book III: Raising Kanan has seemingly ended, quite the opposite is happening for his music career. Earlier this year, the entertainer released his EP Q Side B Side. While this may not be his first foray into R&B music, it does provide an opportunity for his fans to get to know him on a personal level.
"I'm sharing stories and experiences in a way where people understand that I'm just like them, so they can really understand who I am as an artist. I'm going through the same things you go through; we live the same life," Brown said to UPTOWN. "And with the body of work, my versatility as an artist, it's not always about, 'Oh, I have to make the best song.' That shouldn't be the intent. What you want to make sure is present in your music is feeling, whether that's coming through the lyrics or whether that's coming through the production."
What Brown essentially wants his listeners to take away from this project is his versatility as an artist, which happens to be who he is as a person.
"The versatility of it is what I really want to be taken away because that's who I am as a person, even through my life and my career choices. I was a passionate baseball player, and then I shifted to music and acting while tapping into the fashion space," Brown said. "There are many layers of who I am as a person, and music is like my personal space. To be able to showcase all of that in the music is kind of how I live my life."
As Brown continues to embark on his tour of worldwide domination, he's clear about one thing in particular — more music is coming at a rate where supporters can really get a feel of his artistry.
"The consistency of the music is about to start coming at a rate that people may not be able to keep up with, but I have patience. Putting this body of work together has for sure set the tone for the creative process in which I want to continue to do, and the beauty is in the collaboration," Brown explained. "Nothing is done on your own, and I feel like once people really strike the iron hot with collaboration and knowing what to do and how to do it, it feels great, and the possibilities are endless."