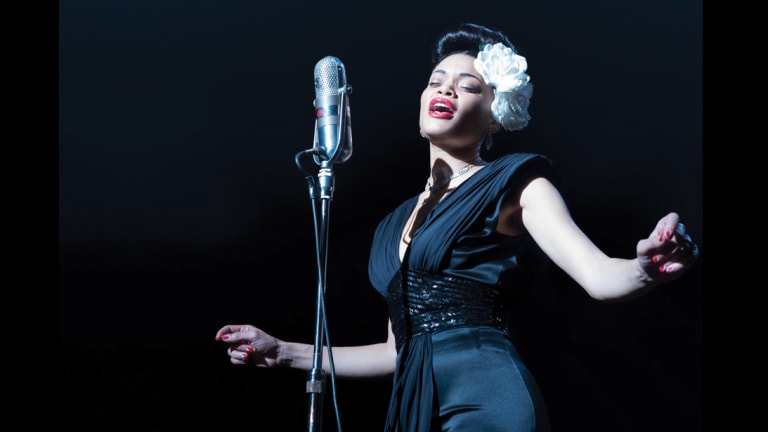 Lee Daniels Has the Midas Touch
Lee Daniels's grit and grandeur scorches the screen in The United States vs. Billie Holiday. The director talks with UPTOWN about who Holiday is underneath it all.
The spark was lit more than four decades ago, when Lee Daniels sat in a Philadelphia movie theater mesmerized by the captivating chemistry between Diana Ross and Billy Dee Williams in Lady Sings the Blues. The imagery of Ross and Williams ignited his world with his life's purpose—to become a director. Long before he became the first African American to solely produce an Oscar-winning movie, he wanted to bring audiences along for the soul-stirring ride that he experienced watching that film. He wanted to connect the dots of emotions, and to be inside the minds and bodies of strikingly ordinary yet utterly complex characters. His latest muse? An iconic Black female artist who defines the latter and is the nucleus of his latest masterpiece, The United States vs. Billie Holiday. The story, the music, the imagery, and the style are an ode to women.  "I made this movie for my sister," says Daniels. "I made this movie for my mom. I made this movie for my grandmother. I made it for my daughter. And I made it for women." And they are all celebrated, understood, and adored through his glorious vision of pain, courage, beauty, love, and freedom.
Why did you make this film and why did you want to tell this particular story about Billie Holiday?
Lee Daniels: I've always been intrigued by Billie as an artist that understood addiction. The extent of my perception of her was that she was an addict, she was brilliant, and that she was in and out of jail. Then I read her book [and realized she was so much more]. When I was 13, I saw Lady Sings the Blues which really affected me. That is the reason why I am doing the film today. Diana Ross and Billy Dee Williams were so beautiful. I'd never seen two Black people kiss before on screen. The colors that they were in and just Harlem. I understood everything about it. I understood the number-running. I understood the drugs. I understood the talk. I understood Richard Pryor's humor. I understood the nigga of it all. It spoke to my spirit. It spoke to who I was as a human being. And after seeing this film, I wanted to make people feel the way I felt in that theater. And that set me off to becoming a director, without even understanding that there was a title for director. But that's what I wanted to do with my life. So 40-some-odd years later, I'm telling the real story of Billie Holiday. And I think even though Lady Sings the Blues wasn't the accurate story of Billie, it was what Black people needed at the time because we had never seen ourselves like that on screen. Diana Ross was glamorous one minute, and in the next she was detoxing and she had nappy hair. Well, that was unheard of back in that time to show a Black woman on screen like that. To show us in all of our beauty. Flaws and all.
Andra Day's Golden Globe-winning performance in this film is nothing short of magnificent. Did you always have her in mind for the role?
Lee Daniels: No, not at all. I had a bunch of really talented actors who had come to audition, and they were really great. But I hadn't committed my soul to any of them. I was close to selecting someone, and then my friend, Simone, told me, "You have to see Andra." But I wasn't jumping up and down about taking the meeting. And then I met her and I could see that she really didn't even know whether she could do it. And at the end of the meeting, I found myself talking her into auditioning because she really cherished Billie Holiday. She got emotional talking about her. You could tell that Billie was Andra's idol. She knew more about Billie than I did, and I had done two years of deep research on her. So it made sense to me when she said, "I don't even know whether I could do this. I don't want to let you down, Lee." So, I sent her to my friend who is an acting coach and to a vocal coach, as I ordinarily do when prepping an actor for an audition, especially somebody who has not acted before. And the acting coach, unbeknownst to Andra, put her iPhone up [so that I could see her] and said, "Check her out getting into character." And I saw the birth of Billie Holiday. I saw a transformation that she got from the bowels of her stomach. From her gut. It just erupted. I had never seen that before. And I knew that there was no question that this was my girl. And that I was looking at God. This was God's arm. She wasn't acting. She just wasn't acting. And I understood in that moment why she was so nervous about whether she could play Billie. She knew the importance of Billie's legacy. She just didn't want to mess it up. And I didn't want an impersonation of Billie Holiday. I wanted Andra's interpretation. I wanted Andra to become. And she became.
What were some of the challenging filmmaking moments during the intense scenes in this project?
Lee Daniels: When she got off the bus and was headed to the backyard. That was the hardest scene that I have ever filmed in my career, because it was a single, five-minute shot. Now I fully understand what it's like playing on a team because it wasn't just about the acting. It was about everything being in sync. And if everybody didn't vibe perfectly, we'd have to reshoot the whole thing. The kids had to be crying; the cross had to be lit; the woman had to be hanging in just the right place. Billie had to go into that little shack that was next door and to explore in her head what it was like to see what she saw. Was she high? Did she not see this? She had to go into that labyrinth of crazy and darkness that would give her the courage to come out on stage to sing "Strange Fruit." I suffer from addiction, and that's again what I connected to with Billie. So the first time we see Billie shoot up, that quiet, when she is on the bed shooting up you think, "Whoa, so this is going to be serious. I can't believe that we are sitting here in this dead silence for a minute. Not doing anything but watching her nod." I really wanted to show us what it was like to be high. And for Jimmy to understand what he did to her, and that everybody wasn't born rich. This girl had a difficult life. So in my mind, what really happened was Billie was telling Jimmy what her story was like while they were high. But he was so high that he went on the magic carpet ride in his head, through the brothel, as the young girl walked him through her mind. And then he came out of it. And that's when Billie says, "Don't ever do this again, it will not love you back." And he's so traumatized by it all because he realizes what he did. And he's like, "What the fuck have I done to this woman?" I think that's when he really started to fall in love with her.
How do the ingredients in your films—the rawness, the aesthetic, and the style—seamlessly come together?
Lee Daniels: If you study all of my work as a director you will note that realness is what I picked up from Lady Sings the Blues. That realness exists in Precious, in Monster's Ball, in all of my work. There's a sense of urgency, of being a fly on the wall and watching life unfold in front of you. I picked that up as a kid in that theater in Philadelphia. Tasha Smith [my acting coach] was with me from Empire. And she understands what I want from actors before they get in the room with me. And the same with Tom Jones, who is a vocal coach. He gets it. I have a cinematographer, Andrew Dunn, that I've worked with since Precious. I was obsessed with his work on The Bodyguard with Whitney Houston and I just loved the way it was shot. And of course there are others who have worked with me from Precious, The Butler, and then Empire. I wanted to make this movie look like the pictures of all of my aunts and my grandmom in Philadelphia and in Harlem, back in the day. I just see all these black and white portraits of them, dressed to the nines, and looking beautiful. I know that they didn't have that much money, but I recall the portraits of them being absolutely majestic. I paid homage to my family from the portraits that stuck in my head. And the scenes were really about pictures of my great-grandmother's home, my grandmother's home, and my grandfather's home. Those images and that palate, of my earliest memories of when I was like five, were etched in my head. A great production designer understood it, when he studied the pictures and listened to what I grew up watching as a kid. And he replicated that. Paolo Nieddu, my costumer from Empire, helped me with the vision as well. He really understands how important it is to nail the fashion. I wanted to make sure that these Black people were fabulous without trying. I didn't want to shove it down your throat, but you were going to wonder, at the end of this move, "Wait a minute, who did those costumes?" And I wanted to convey that without being pretentious. So [when it all comes together] the clothes are seamlessly working with the backdrop of the fabric on the wall ... It's a science. 
How did you connect with your executive music producer, Salaam Remi? And what was the process of extracting Andra Day's bone-chilling renditions of Billie Holiday's songs?
Lee Daniels: The music was everything. Absolutely everything. I wanted Billie's music to be honest to the period. But if you close your eyes you find yourself nodding to it in a way that isn't of the period. So it's got a little bit of thump to today's sound. It was very difficult to find the right artist for that. I started studying producers and musicians who understood the sound I wanted. And I asked Salaam—who produced Amy Winehouse's music—for examples, and he gave me what I wanted. He had that thump. That back in the day sound with just a tiny bit, almost subliminal, current-day thump. And with Andra, before we began shooting, I sent her to Salaam to pre-record the songs. Because what I learned from Empire and Star is that you have to pre-record your music so that when you're filming the lip-syncing is on point. So she spent several months in Miami just doing the music. But when it was time to film, she had evolved as Billie even more. The songs that she was singing, like, "Lover Man," [ended up morphing into a whole other thing]. It was written in the script that the guy slaps her. And that was that. Well, that wasn't enough for me. I had to have him throw her up against the mirror. And then I knew Billie wasn't going to take that. So I had her pick up a chair and hit him. And he would retaliate by punching her in the face and then kicking her in the gut. Ultimately, it became a massive scene, which meant that she had to re-do "Lover Man" because the song took on a different meaning when she was singing it out there to Jimmy. She had just got her ass whipped. It was a whole different thing. And the same with the lynching and "Strange Fruit." We didn't know what to expect. Again, this was groundbreaking for all of us. We had no idea that scene was going to affect us the way it did. How Andra would feel seeing that lynching. How we'd all feel when we shot that scene. The kids were crying—they were really crying. It took us all back to what it must have been like to actually witness a lynching. So when Andra sang "Strange Fruit," three months prior to the shoot, it did not match the feeling that she was in during the actual scene. The producers were really upset with me because I had to stop, and I made her sing everything live. So, the reason why you feel the way you do about a lot of that music, is that it's live. It's in the moment. It's what she was feeling at that moment.
Billie Holiday's "Strange Fruit" was one of the songs that fueled the Civil Rights Movement. Do you think that today's artists use their creativity to evoke change?
Lee Daniels: I don't believe that we're doing enough as the people in the forefront. People are too worried about their brands. And I know that's hurt me over the years for not being so concerned about my brand. But I think that we could do more. There are new types of leaders today. These young people, like Kimberly Latrice Jones, are coming out of the blue and standing in the middle of the streets breaking down what's happening in the world. It's not like the old days when Sidney Poitier, Harry Belafonte, and Martin Luther King Jr. were [fighting for social justice]. I think, today, that sense of protecting your brand is more important to some people. Even with this movie, I had to pause and ask myself a few questions: "Do I really want to show her nude? Do I really want to show her shooting up? Do I have to do this?" And I discussed it with Andra, and we prayed about it. And she said, "We cannot do justice to Billie [if we don't tell the story honestly]. Don't worry about what people are going to say about us, because you have to tell the truth. All of this is truthful. You cannot sugar coat this story to protect yourself. They are going to talk about us anyway. So, let them." That's another reason why I hired her. Because she was so fearless.
When present-day public figures push the envelope, do they have more, less, or nothing to lose in comparison to Billie Holiday's era?
Lee Daniels: Well, you have to look at Billie specifically. I think that the reason why she stood out beyond Ella Fitzgerald, who we adore; beyond Sarah Vaughan; and beyond those beautiful talents that were still Black women struggling back in the day is because Billie had nothing to lose. Billie grew up in a whore house. Billie was raped at 10 and then she was sent to a reform school for being raped. She was a prostitute by 12, and she had this crazy relationship with men because of that. So she anesthetized herself because she needed to heal from the pain she was suffering. Addiction is viewed as a bad thing, but people are healing from trauma. She had been traumatized, and so she was healing. And her work was therapeutic to her. That's why she never sang a song the same way twice. You could never capture it again the same way because she was in the moment [of healing and expressing her pain]. The vodka wasn't hitting right, or the cigarette wasn't right, the collard greens didn't hit right. Whatever it was that she was feeling, she was deep in that moment. And you felt it, so you knew there were collard greens on her breath. And you could tell whether she had smoked a reefer or whether she had smoked a cigarette. So unlike many others, she had nothing to lose. She already knew that Black people talked about her. Our people can be the cruelest of all. And I identify with that, deeply. She was kicked out of The Apollo Theater. She was a joke to many. They talked about her because she was high. All of that profoundly affected her because all she wanted to do was to please Black people.
This article originally appeared in the Spring 2021 issue of UPTOWN.