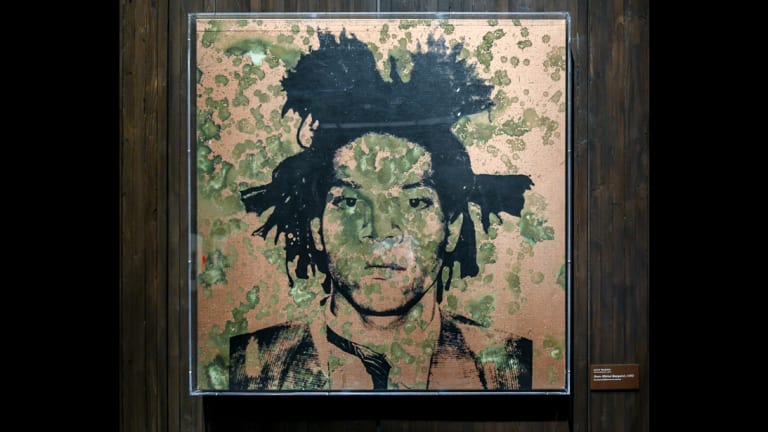 Editor's Pick: These Cocktail Kits Honor Jean-Michel Basquiat's Oeuvre
Bombay Sapphire, spirits partner for the Jean-Michel Basquiat: King Pleasure exhibit, tapped three bartenders to create cocktails inspired by the artist's work.
Bombay Sapphire is helping art lovers and cocktail aficionados bring a bit of the Jean-Michel Basquiat: King Pleasure exhibition home with a trio of special-edition collectible cocktail kits.
Bombay partnered with the Basquiat Estate to be the official spirits partner of the New York City exhibit that is the first-ever family-run showcase of 200 never-before and rarely-seen pieces by Basquiat. To honor Basquiat's oeuvre, the gin brand has launched the "Bombay For Real" cocktail kits from CocktailCourier.com. Bombay took the name for the kits from the incomparable artist's catchphrase "for real," which he used to express his enthusiasm. Each kit features a bartender's cocktail recipe that was inspired by one of Basquiat's exclusive artworks on view at King Pleasure. The kit is accompanied by a notecard that showcases a photo of the original work and a quote from the bartender. Each kit will launch once a month until July.
The first kit, "Birds of Paradise" ($67.99) was released on April 7th and will be available through May 7th. Bartender Cyllan Hicks, from New York City, took inspiration from the cocktail from Basquiat's Charles the First. According to press materials, "Cyllan was moved by the warm colors in the artwork and used apricot and orange flavors, complemented by Bombay Sapphire, to create a bold, ripened stir of tart citrus and sweetened honey." 
After that, the "Basque in the Moonlight" kit ($60.99) will be released on CocktailCourier.com on May 7th. Andra "AJ" Johnson, of Washington, DC, created this cocktail to draw on Basquiat's heritage and harmonized tropical flavors with Bombay Sapphire's worldly botanicals for flavor to shine as bright as the moon depicted in Basquiat's Untitled (Moon).
From June 7th to July 7th, "Sprout in Pisces" ($69.99) will finish off the special collection of cocktail kits. Nigal Vann, from Chicago, crafted this cocktail to evoke the  vibrancy of Basquiat's work Untitled. His choice of herbaceous, seasonal flavors will be perfect for the summer heat.
Bombay Sapphire's trio of cocktail kits, "Bombay for Real," truly celebrate the splendor of Basquiat's art. Get the recipes for each cocktail in the series below.