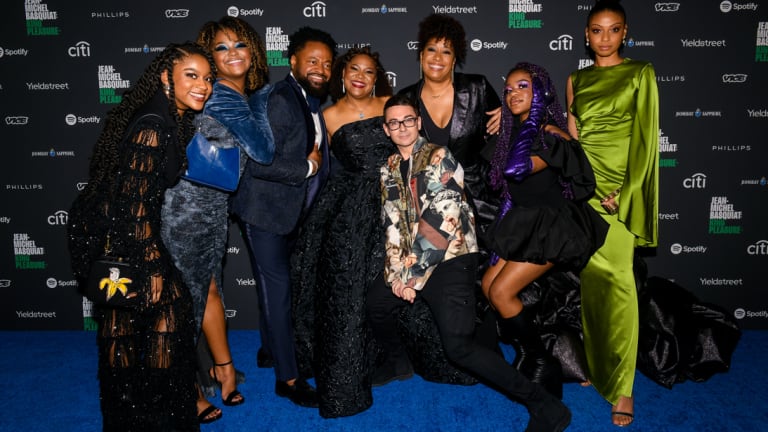 SocietEye: Opening of the 'Jean-Michel Basquiat: King Pleasure' Exhibition
Jean-Michel Basquiat: King Pleasure is the first exhibit showcasing the late artist's work that is run by his family and the Basquiat Estate.
On April 7th, Jean-Michel Basquiat's sisters Lisane Basquiat and Jeanine Heriveaux opened the Jean-Michel Basquiat: King Pleasure exhibition at the Starrett Lehigh Building in New York City. This is the first-ever family-run exhibition to showcase their artist brother's work.
Lisane Basquiat and Heriveaux were joined by actors, directors, musicians, artists, and fashion designers, including Wyclef, Spike Lee, Padma Lakshmi, Anna Wintour, Anna Sui, Marcus Samuelsson, Jeffrey Wright, David Adjaye, Heron Preston, Christian Siriano, Heron Preston, and Telfar Clemens. 
The Basquiat Estate partnered with BOMBAY SAPPHIRE, the world's number one premium gin, to be the "Official Spirits Partner" of the Jean-Michel Basquiat: King Pleasure exhibit that features over 200 never-before-seen pieces and rarely shown paintings of the artist's work. BOMBAY was "inspired by Basquiat's talent for finding creativity all around him and in unexpected moments and bringing together visionaries in his field," according to a press release, and "hopes to help awaken creative expression for people in all walks of life and honor Basquiat through sponsoring the exhibition." BOMBAY honored Basquiat's vision as an artist with the official cocktail of the Jean-Michel Basquiat: King Pleasure exhibit, aptly named "King Meets Queen." The cocktail was inspired by Basquiat's use of bold colors and sharp lines and the gin is complemented by pineapple puree, lemon juice, honey, and tonic.
The crowd enjoyed the official BOMBAY cocktail of the exhibition, the "King Meets Queen," which flowed throughout the evening, leading to a celebration that lasted until the wee hours of the morning. 
Here's some inside scoop from the opening night:
Wyclef and his wife Claudinette Jean showed that their flame is still going strong, taking date night to the "blue carpet." After stepping off the carpet, Wyclef proved to be the textbook Instagram husband, telling his wife to strut her stuff while snapping shots on his iPhone to get her the perfect Insta pic.
Spike Lee showcased his directorial chops, art-directing his wife Tonya Lewis Lee and their children on the carpet to pose for the camera while also picking someone out of the crowd to capture shots of them on a Polaroid.
Iconic fashion designer Anna Sui reminisced about the late artist, saying the event from start to finish was the perfect homage to her dear friend.
Anna Wintour deigned to stop by the exhibition, but rather than staying for the party, true to form, she spent the majority of her time in the gift shop.
Christian Siriano, Project Runway alum and current mentor, designed the entire Basquiat family's outfits and was so proud of his work that he ran across the party to gather the family for a snapshot worthy moment (main pic above).
The evening ended with a bouncing dance floor where in one swoop Lisane Basquiat turned her custom Christian Siriano ballgown into a pantsuit so she could dance the night away.
VICE hosted the afterparty at Mr. Chow in Tribeca in celebration of Basquiat and the exhibit, in which the global multi-platform media company is a participating sponsor. Lisane Basquiat, Heriveaux, and Basquiat's stepmother Nora Fitzpatrick, as well as Erykah Badu, King Princess, A Party Called Rosie Perez, Santigold, and Ash Lauryn joined the revelry. So did VICE executives Jesse Angelo (President Global News/Entertainment), Hozefa Lokhandwala (Chief Strategy Officer), Bruce Dixon (Chief Financial Officer), and Kate Ward (President, VICE Studios).
If you're unable to attend the Jean-Michel Basquiat: King Pleasure exhibition, don't fret because you can still drink like you're there with BOMBAY SAPPHIRE's trio of collectible "Bombay For Real" special-edition cocktail kits on CocktailCourier.com that will launch once a month until July. "As 'for real' was a signature catchphrase Basquiat used to express enthusiasm, each 'Bombay For Real' kit will feature a cocktail recipe from a bartender, inspired by one of Basquiat's exclusive artworks at the exhibit," according to a press release. A notecard that features a photo of the original work and a quote from the bartender will accompany each kit.
See more photos from opening night of the Jean-Michel Basquiat: King Pleasure exhibition below.