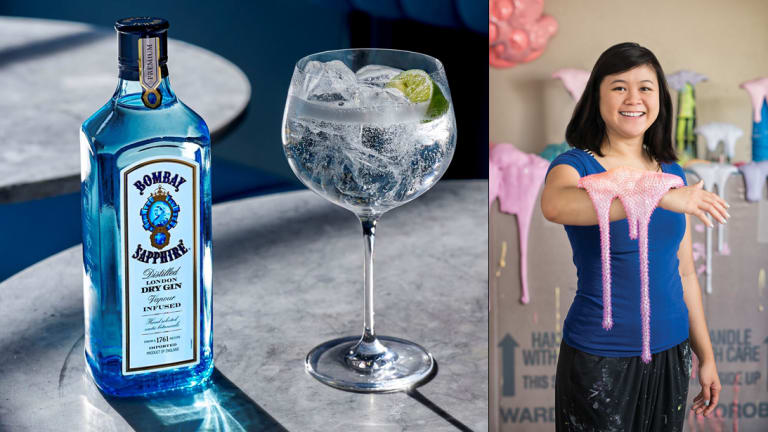 Bombay Sapphire, Sculptor Dan Lam Causing a Stir With First-Ever Sensory Auction
Bombay Sapphire is helping to democratize the art world by creating the first-ever Sensory Auction, in which emotion responses are bids instead of money.
Bombay Sapphire has commissioned renowned sculptor Dan Lam to create a work of art that will be "sold" during the first-ever Sensory Auction, which is meant to upend the art world. 
In an effort to democratize the art world and open the doors to would-be collectors who may not have the dollars to bid in a typical art auction, Bombay Sapphire is holding a sensory auction on International Gin & Tonic Day, Oct. 19th, with a bespoke piece by Dan, who counts Miley Cyrus and Lily Aldridge as fans of her "drippy" sculptures. With the advent of NFTs, online art exhibitions during the pandemic, and sharing art on social media, the art world is more inclusive today than it ever has been, and Bombay is hoping to accelerate this even further with an auction in which sensory response, not money, will be the bids, as part of its "Senses Stirred" campaign.
"When they approached me about it, the idea and the concept is so different and it's not like anything I've ever heard of before, so I was totally interested," Dan said to UPTOWN exclusively. "I'm always looking for opportunities to kind of be outside of the gallery, you know, different ways to experience art. I have a lot of friends who are muralists, and I see that space as being something that's super interesting. It's art for people!"
Dan took her inspiration for her unique art piece from the iconic Bombay & Tonic cocktail, which is appreciated for its vibrant gin flavor, dazzling effervescence, citrus-forward aroma, and unique botanical infusion.
"After speaking with the ambassador, Ryan (Wainwright), and he walked me through the whole process with the distilling the botanicals, all that stuff, I realized there was so much artistry to that process, in and of itself, and how unique and different it is," explained Dan. "So I saw like a bunch of overlaps and opportunities for sources of inspiration to pull from to make the piece."
The artist, who is known for turning blobs, drips, and squishes into beautiful, thought-provoking works of art, employed her usual materials of polyurethane foam, acrylic paint, and resin to make the Bombay Sapphire-inspired sculpture. But her work is best seen, rather than described, she says.
"It's always hard for me to describe my work just because it is pretty different and it's hard to access it without the visuals," Dan, who was born in the Philippines to Vietnamese parents before moving to Texas, explained. "But it's a wall piece … and it's one of my blobs, so it looks very liquid. It looks very flowy. It's blue, which was actually inspired by the Bombay bottle. And it has a lot of texture on it, so it's very tactile. I think people will have a very visceral reaction to it. Yeah, and it's very colorful, as most of my work."
From 9 a.m. to 6 p.m. EST on Oct. 19th, Bombay Sapphire will admit only 25 attendees into the Sensory Auction, where they will place their "bid" with a sensory response to Dan's original sculpture that is valued at $10,000. A neuroscientist-designed device will measure the responses, and the strongest bidder will receive the artwork for free! Bidders can sign up here.
Here's a little more info on the tech that will be used to measure the emotional response, according to a release:
"Each bidder will be fitted with state-of-the-art neuroaesthetic technology to measure their subconscious sensory reactions. Essentially, this technology will engage all the senses to determine the most impassioned bidder. The experience will begin with an electroencephalogram that will measure each person's brain activity from the moment they set eyes on the piece. From there, each person will be fitted with skin galvanic response technologies that will pick up even the most minute of sweat drops to measure their emotional intensity. To finish the sensory collection, eye tracking technology will measure focus and engagement within each participant. With the help of a team of scientists, the data collected after the auction will be translated to scientifically prove who exhibited the strongest, most genuine response to the art—ensuring the piece goes to the person with the strongest sensory reaction."
The goal of the first-ever Sensory Auction is to launch the "Senses Stirred" campaign and showcase the taste experience one has when consuming the signature Bombay & Tonic. But it also is Bombay's way of democratizing art appreciation and collection, dismantling the barriers, like disposable money, that often shut the door to the average person.
Dan is all for making art more accessible and removing some of the gatekeepers.
"I've come from a sort of academic background, and it's always seemed like such a niche world. But once I got on social media, I realized, oh my gosh, there's so many people who appreciate and love visual arts," she said. "There's like these kind of traditional roles or established structures within the art world, like the auction, and something like this really shakes it up it, you know, traditional auctions. A lot of time, the artists aren't even involved in that. It's very much like a secondary market kind of thing, where art is being sold for millions and it's by rich people and auction houses. So even the artist isn't a part of participating in that. (This) gives people access to work that they might not ever think about buying just because it's a certain price range. The concept is really different in that it's about an emotional response versus how much money you have in the bank or whatever. Um, you know, just like just things like that, I think, kind of contributed to this overall conversation of how the art world is structured … like you have to be of a certain level or education or whatever it is in order to understand art or have it or buy it. So I think this really helps break down some of those structures that are in place."
Dan continued, "I've come to realize there's a lot of room for artists, (and) there's a lot of avenues that artists can go down … You don't have to just do gallery shows or aim for museums or whatever. And the more I work with brands, the more I realize there's this desire, like people want to work with artists. … I think (this) could definitely jumpstart a lot of different types of campaigns that fall in line with this, where the artist is commissioned and then the art is accessible to a whole different group of people. I can't say specifically what or how I think that'll unfold, but I think that the effort that's put into this kind of stuff is definitely like the beginnings of democratizing the art world."
It's worth mentioning that this commission with Dan and subsequent Sensory Auction isn't Bombay Sapphire's first foray into facilitating accessible art. The brand has a longstanding history of promoting creativity, as well as championing underrepresented artists through the "Stir Creativity" platform. Just this past summer, it worked with Chef Marcus Samuelsson to tap Harlem-based artists Cey Adams and Dianne Smith to create billboards that brought art to the iconic 125th Street.
If you're unable to attend the Sensory Auction, Dan will be participating in Miami's Art Basel this year, and has upcoming solo shows in Los Angeles and Portland in 2022. In addition, one of her large-scale — think eight-feet tall — sculptures will be installed in Atlanta for an outdoor public display, which may allow spectators to touch, not only see, her highly tactile work.