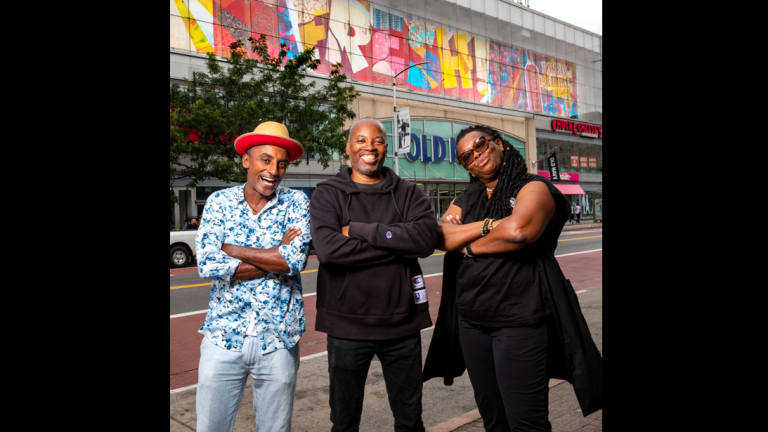 Bombay Bramble Commissions Artists to 'Stir Creativity' on 125th Street
Harlem's 125th Street just got a little more F-R-E-S-H thanks to Bombay Bramble, Marcus Samuelsson, Cey Adams, and Dianne Smith bringing art to advertising.
If you've been on Harlem's 125th Street lately, you probably noticed two vibrantly-colored Bombay Bramble billboards that look more like pieces of art than the staid liquor advertisements we're used to. However, these billboards mean so much more, in terms of community and history, than being an invitation to enjoy a berry-infused cocktail.
No one can deny Chef Marcus Samuelsson's love for Harlem. It is the community that helped gain worldwide attention for his restaurants, after all. And Samuelsson gives back to the community by turning his restaurants, like Red Rooster, into culture hubs that also double as art galleries, of sorts. So when he partnered with Bombay Sapphire as the launch curator for the Bombay Bramble, a blackberry and raspberry-infused gin, Samuelsson knew he wanted to use his platform to highlight the creativity of two of his favorite Harlem-based artists — Cey Adams and Dianne Smith. Bombay Bramble and Samuelsson tasked Adams and Smith with designing billboards that reflect the rich arts heritage of Harlem and it as a local community, in general. The "Stir Creativity" initiative not only commemorated August as Black Business Month, but also celebrated the 100th anniversary of the Harlem Renaissance in 2020.
The billboards are located on W. 125th Street with Adams's being above the Old Navy store and Smith's being located on the corner of the Magic Johnson Theater. Both demonstrate the artistic styles of the artists. Adams's hearkens back to the stylized graffiti writing that was commonplace throughout New York City during the 1980s and '90s. He used punchy colors and patterns to spell out F-R-E-S-H, which is a reminder that Bombay Bramble is infused with real berries (not berry flavoring) and that 125th Street remains one of the "freshest" streets to see and be seen in NYC. In Smith's collage-esque design, a bottle of Bombay Bramble and wording are layered over moody purples, reds, and pinks of blackberries and raspberries, while turquoise, green, and yellow swirls provide contrast. One can almost look past the wording to "dive" right into a pool of berry goodness.
The collaboration between Bombay, Samuelsson, Smith, and Adams has an impact that goes beyond introducing consumers to a new liquor. It proves that artistic expression can be found anywhere, even in an advertisement. It proves that all forms of art, including graffiti, are valuable to the spirit. It also connects the commercialism of 125th Street back to Harlem's history as the cultural epicenter of NYC. And since the artists "signed" their work, these billboards also invite passersby to learn more about Adams and Smith.
While the billboards are a feast for the eyes, the Bombay Bramble is a delight to the taste buds. Here's how to mix up the Bramble 75, which is a play on the French 75, at home.
Bramble 75
Ingredients:
1.5 oz Bombay Bramble

¾ oz lemon juice

¾ oz honey syrup (3 parts honey to 1 part water)

4 oz of Prosecco

Garnish: blackberry or raspberry
Method: Combine all ingredients, except for the Prosecco, into your cocktail shaker with ice and give it a quick, hard shake. Strain the mixture into a chilled flute glass and top with the Prosecco. Add garnish.