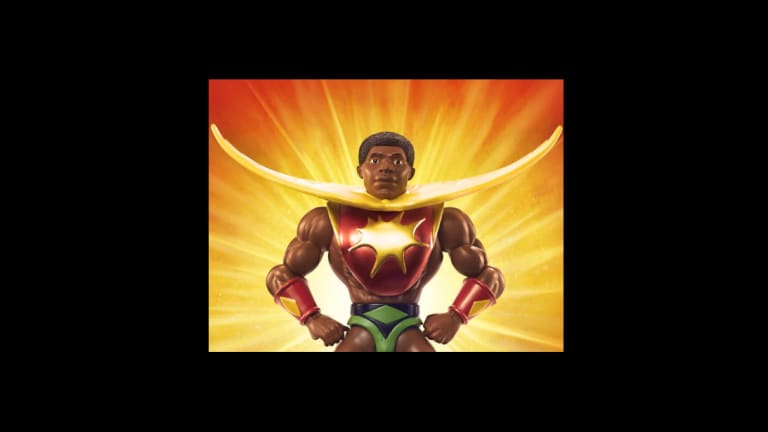 Black Superhero Toy Sun-Man Joins Forces With Mattel & He-Man
Sun-Man is once again helping to fill the void of inclusion among superhero toys now that he's joined forces with He-Man and the Masters of the Universe.
Mattel Creations is rereleasing pioneering Black superhero toy Sun-Man as part of its He-Man and Masters of the Universe collection. The exclusive collectible set was made available for pre-order for $30 today and it has already sold out.
If you were a Black child of the 1980s or raised a Black child in the '80s you're likely (hopefully) familiar with Sun-Man, his backstory, and the lore surrounding this superhero. Back in 1984, Yla Eason got the idea to create Sun-Man because her then-3-year-old son thought he couldn't be a superhero like the very popular He-Man because he wasn't white like He-Man. Eason decided to fill the void in the toy market by developing a Black superhero action figure. She created Olmec Toys so Black and Brown children would have action figures and dolls, including the Imani Doll, that resembled them (much like Dr. Lisa Williams is doing with The Fresh Dolls and Positively Perfect Dolls). Just like He-Man, Sun-Man had a lore attached to him when the toy was released in 1985. He is powered by the sun, which makes his skin impenetrable and impervious to injury. He also has a crew, the Rulers of the Sun, which included Space Sumo, a ninja with telekinesis; Holographo, an Afrofuturistic scientist; and Digitino, a numerical genius. Although Sun-Man and his cohorts were extremely muscular, they used their brains and self-confidence instead of brawn and violence to defeat the evil Pig-Head. Eason grew Olmec Toys to $5 million, reports CNET, and she now teaches at Rutgers Business School.
Mattel licensed Sun-Man from Olmec and designed a premium collectible set of the action figure, bringing it back to market for the first time in decades. SVP, Head of Design at Mattel Ed Duncan contacted Eason to discuss bringing Sun-Man to join forces with He-Man in the Masters of the Universe because her story of promoting inclusivity in regards to toys resonated with him, according to Mattel Creations.
The collectible Masters Of The Universe Origins Sun-Man Action Figure has 16 points of articulation, swappable heads and hands that take him from character figure to ready for battle, and accessories, including removable wings, a shield, and a sword with a special flame effect. In addition, Sun-Man is outfitted in his VUM armor. It comes packaged in a premium box with Sun-Man's story and art on the back. A basic Sun-Man is slated to be released also, reports CNET.
Although the exclusive Sun-Man collectible set sold out the first day pre-ordering was available, Mattel has been known to rerelease very popular Mattel Creations collectibles. Fingers crossed that we children of the '80s will have a Sun-Man under the Christmas tree once again.