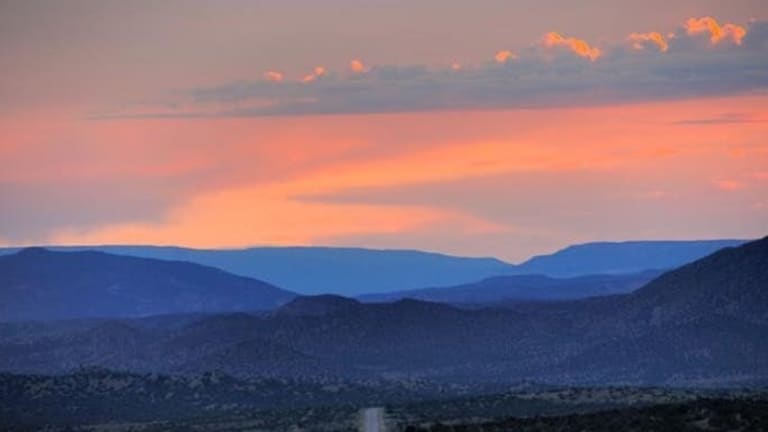 What Santa Fe Is (Not)
Santa Fe, New Mexico is quite different in identity from what you likely assume.
How the West was (not) Young
Imagine a scene of early America. Is it populated with powdered wigs at the signing of the Declaration of Independence, crates of tea being tossed into the harbor in rebellion, or a Christmas Eve crossing of an icy Delaware River? You most likely conjured up images of Philadelphia, Boston, or even Colonial Williamsburg, but probably not of Santa Fe, yet that's where you'll find the oldest house, oldest church, and oldest government office building in America. So why doesn't this New Mexico haven spring to mind when picturing the early days of the nation? Perhaps we're too quick to forget that the land existed before 1776, and though New Mexico wasn't ratified until just over 100 years ago, its Native American, Spanish, and Mexican histories far predate the United States. It was no barren landscape of unexplored territory when it was absorbed, but already boasted a rich tradition of cultures and histories (much of which flourishes today). Santa Fe is more than 400 years old, and the misconception of youth is just one of several that make the city different not just different in spirit, but quite different in identity from what you likely assume. UPTOWN was invited to explore Santa Fe, and here are some of the other assumptions we'd like to upend, along with a few pointers for maximizing a visit.
It's (not) a Desert Out There
Simply put, Santa Fe is too wet to be a desert. There's no lack of vegetation; in fact, there's abundance of flora, including the second-largest aspen stand in the country, plenty of the piñon trees for which New Mexico is well known, and a 1.6 million acre national forest packed with pines. It's more of a small mountain town than the desert city you imagined. At nearly 7,200 feet above sea level, it's the highest state capital in the country and, like the best mountain towns, it's a ski town. Ski Santa Fe's 83 trails, ranging from beginner to expert, take advantage of the mountain's 225 inches of average winter snowfall, and boast spectacular vistas. Between runs, grab a local craft beer at Totemoff's, and take advantage of its weekly live music series while you recharge. Below the mountain, plenty of local hotel partners cater to the ski crowd, including the Drury Plaza Hotel with a surprising history all its own. Local lore holds that at least half of Santa Fe's lifelong residents were born at this property ... when it was still a hospital! Sip a sunset cocktail at the Drury Plaza's rooftop space, Bar Alto, for an alternate view of the mountains and inspiring look at the picturesque city below fiery skies. This is also a great spot to kickoff your journey down the city's Margarita Trail, featuring 30 properties with signature margs begging to be tasted. The more stamps you acquire in your trail passport, the more you'll come to understand that Santa Fe is anything but dry.
Art is (not) Only for the Rich
If you know only one thing about Santa Fe, it's probably that the city is an art mecca, and this is no myth. The city's 250+ galleries help make it the third largest art market in the U.S. with constant openings and events year-round. Not to be missed are Santa Fe's major summer art markets including the Indian Market, the Spanish Market, and the International Folk Art Market, collectively representing more than $150,000,000 in economic impact on the region in just a matter of days. And while plenty of the world's art elite do descend upon the city to procure high-ticket pieces for their collections, many market vendors cater to more traditional budgets, making art accessible to the masses. The Santa Fe Plaza (a National Historic Landmark) is within walking distance of several noteworthy museums, including the New Mexico Museum of Art, and a free shuttle ride to Museum Hill reveals four more exceptional museums just outside the downtown area. Don't miss the Museum of International Folk Art for an immersive dive into the world's largest collection of this eclectic genre.
If you're less interested in the museum and gallery experience but still looking for an art fix, try some studio tours to meet the artists and check out their processes up close. For an even more intimate conversation, chat with an artist in residence at La Fonda on the Plaza (above), the iconic Santa Fe hotel with an impressive art collection and regular artist meet-and-greets. Original art decorates the walls of most rooms, and each has its own hand-painted headboard. There's plenty to explore in the property's public areas too, but for a more detailed look at what hangs throughout, grab a copy of their book, In Every Room: A Story of the Art, and learn more about the romantic history of La Fonda through its connection to the artists who helped create the personality of La Fonda and of Santa Fe itself.
That's (not) a Wrap
History, geography, and art may be among the greatest influences in Santa Fe, but there are plenty of other areas of myth surrounding the Land of Enchantment's capital city. Head to the Santa Fe School of Cooking to learn how Chef Lois Ellen Frank's doctoral dissertation dispelled the previously held belief that there was "no such thing as Native cuisine." Later, take a trip to BODY to rid yourself of the defeatist attitude that "everything causes cancer." This health hub is more comprehensive community center for the wellness-minded than any one particular business, combining spa treatments, fitness classes, eco-conscious clothing, art exhibitions, and a vegan café under one cavernous roof (it used to be a supermarket). You may walk into BODY focused on your, well, body ... but by the time you walk out, it's your mind that'll be most altered. And that's sort of the way of Santa Fe. It doesn't matter what you're focused on when you arrive; something in this city of many heritages will bewitch your mind before you leave. That is, if you leave—to the many who've wandered in and never out, Santa Fe is affectionately referred to as the Land of Entrapment. And they're only partly joking.