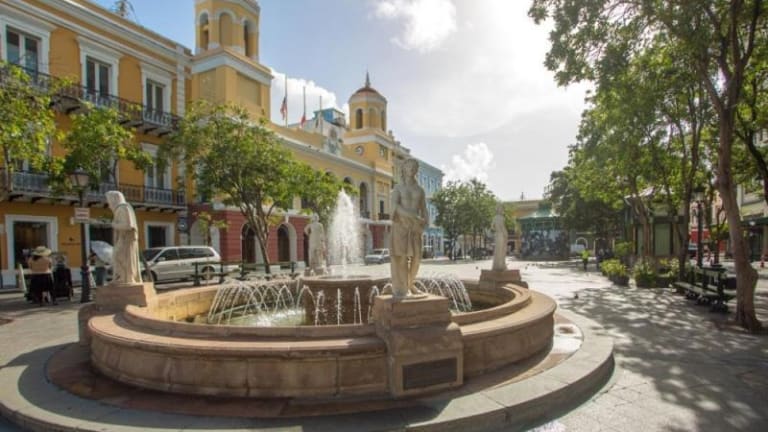 What's New in San Juan, Puerto Rico
San Juan is where sun-and-fun-deprived New Yorkers (and other sun seekers) come to play
Whether you visit often or you're planning your first trip to Puerto Rico's capital city, you're in for a treat, even during the off-season from mid-April to June. Temperatures usually hover around a balmy 80 degrees year-round. And from the vibrant history and colorful charm of Old San Juan, to the scenic white sand beach in Condado and the trendy arts and culinary scene in Santurce, there's much to do and see in this no passport required Caribbean destination. Let us be your guide.
Old San Juan
Typified by cobblestone streets and bright pastel-painted buildings, spending a day sauntering Old San Juan, is a must. Another highlight on your Boriqua sightseeing checklist is exploring the cavernous historic forts, like the 18th century Castillo de San Cristobal (photo below) -- built to protect San Juan against land attacks. Just make sure to bring a hat and sunscreen.
Like any tourist area, dining options are plentiful. But you know the food is good when you see locals chowing down. For huge portions of mofongo (mashed fried green plantains) and seafood stuffed avocado platters complete with tostones, salad, and rice and beans, check out the artsy Café El Punto(105 Calle Fortaleza). Raices(315 Calle Recinto Sur) is also well known for its authentic Puerto Rican fare.
El Yunque
San Juan's terrain is a mix of city, beach, and rainforest. To experience the latter, pack your insect repellant and trek through the flora and fauna of El Yunque(HC-01, Box 13490 Rio Grande), a tropical rainforest in northeastern Puerto Rico about 45 minutes from Condado. Take one of two challenging trails to the breathtaking 35-foot La Mina Waterfall and take a brisk dip. It's worth the hike.
New San Juan
Dubbed the "new San Juan," in Condado you will be lulled to sleep by chirping coquito frogs and awaken to the soothing ebb and flow of Atlantic ocean waves. This upscale residential community located in San Juan's evolving Santurce barrio is home to a strip of designer shops, trendy restaurants, nightclubs, and oceanfront hotels and condos.
Similar to Miami's Wynwood arts district, Santurce is peppered with elaborate graffiti art murals and has a bourgeoning food and culture scene. One of the nabe's newest and hippest eateries, PB Ysla (318 de Diego Avenue, Space #1), is a spin-off of Miami's Pubbelly Group. Helmed by San Juan native Chef Jose Mendin, the eatery offers a diverse menu with elevated traditional Puerto Rican, Asian, and Latin cuisine.
Another festive foodie hangout in the area is the Miramar Food Truck Park(1006 Avenida Juan Ponce de Leon), a trendy spot for drinks, games, and tasty bites like tacos, pizza, mofongo, and more.
If an interactive gastronomic experience sounds intriguing, we recommend a gourmet food and wine-filled cooking demo at Cocina Abierta, an open-kitchen space tucked away inside this modern bar and restaurant in the heart of Condado.
Where to Stay
Centrally located on Condado Beach, the sprawling San Juan Marriott Resort & Stellaris Casino is our cosmopolitan hotel pick.
With 500-plus rooms, the resort boasts two pools (one with a kids-of-all ages- friendly slide), a fitness center, spa services, and five eateries -- including the bustling lobby bar, Red Coral Lounge, where guests nosh on sushi and sip Mojitos, Sangria, and other tropical cocktails; the al fresco La Isla Beach Bar and Grill for salads, burgers, wine and beer; and the poolside Alta Vista, known for its traditional and fusion dishes and ample breakfast and dinner buffets. For treats to go, there's Gelato & Co. and Coffee Merchant. (We love the freshly baked banana and carrot breads and muffins).
The lounge is a hit with locals and hotel guests, alike, for its nightly Latin music and salsa dancing, and both the gambling pro and novice will enjoy doubling down at the 24-hour Stellaris Casino, complete with Caribbean stud poker, blackjack, roulette, craps, baccarat, over four hundred slot machines, and a convenient Chinese noodle bar.
This article was written prior to Hurricane Maria, which rendered most of the island of Puerto Rico powerless in September 2017. Since that time, San Juan has rebounded and is open for business.