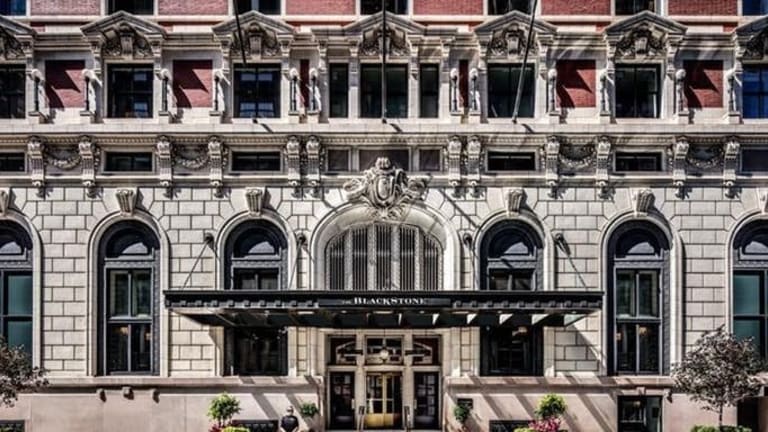 Welcome to Chicago's The Blackstone Hotel
Here's an insider's look at what helped the Windy City become a hotspot worth visiting.
From mobsters and dirty politics to the Great Fire and the World's Fair, Chicago has had no shortage of sensational history. Today, some former first families of Chicago's rise to prominence are no longer household names, but following their paths makes for a unique itinerary with an insider look at what helped the Windy City become a hotspot worth visiting.
Base yourself at the historic [The Blackstone Hotel](http://www.theblackstonehotel.com/ "The Blackstone Hotel") (636 S Michigan Ave.) on the site of the former mansion of businessman and politician Timothy Blackstone, where 12 U.S. presidents have stayed in style. Learn the origin of the political term, "smoke-filled room" as you discover how influential the property has been in national history and local Chicago culture. The well-appointed hotel on Michigan continues to add to Chicago's cultural scene as a patron of local artists, with over 1,600 commissioned artworks on display throughout the property and it's own art hall, hosting regular exhibitions. Downstairs, [Timothy's Hutch](http://www.theblackstonehotel.com/dine/timothys-hutch "Timothy's Hutch"), the hotel's quaint concept bar that pops out nightly from an otherwise inconspicuous hutch in the lobby offers evening cocktails ranging from the Millionaire to the Trainwreck, and is a swanky spot to chat with elegant and mysterious strangers before a night out, or to grab a nightcap before turning in.
The Blackstone is one of 10 hotels deemed "architecturally significant" by the Chicago Architectural Foundation (CAF), and the best way to uncover some of the others is through one of the city's famous architectural river tours. There are tons of boats and operators to choose from, but opt for the CAF's for the most informative and enthusiastic experience. It costs slightly more than some other options, but all of the guides on this boat are dedicated volunteers from the foundation, and they don't accept tips, so you'll even out in the end and learn a lot more (you'll have plenty of fun, too—there's a bar on-board). Here you'll see the architectural remains of many of Chicago's other prominent families, past and present, and come to understand how their industrial prowess made a powerhouse out of this previously overlooked Midwest city. You'll also find out how Chicago managed to reverse the direction of an entire river to send its pollution away from its lake, and how St. Louis reacted to receiving Chicago's wastewater.
Make a pitstop at the [Art Institute of Chicago](http://www.artic.edu/ "Art Institute of Chicago") (111 S Michigan Ave.) to uncover more Blackstone influence. On display is Dutch painter Jan Steen's The Family Concert (1666), an acquisition funded by the Blackstone family to develop the museum's world-class collection. While the Art Institute's massive inventory has helped it become ranked a "#1 museum in the world by Trip Advisor," if you're only taking a quick look, be sure to hit the new Renaissance art, arms, and armor galleries dedicated by Deering family, another industrial family that has contributed widely to Chicago's cultural scene.
Take some time out for a drink. [Koval Distillery](http://www.koval-distillery.com/newsite/ "Koval Distillery") (5121 N Ravenswood Ave.), an organic distillery making whiskey from scratch using local ingredients, is protective of its carefully crafted spirits, allowing only particular hotels, bars, and restaurants to carry its five whiskeys, two gins, and line of liqueurs. The Blackstone has its own barrel of Koval on-site, containing a whiskey developed exclusively for the hotel. Koval is an eco-friendly distillery whose owners have also had a political impact on the city, helping to bring mandatory paid sick leave to Chicago's workers. For a taste of the Blackstone's exclusive whiskey you'll have to head to the hotel itself, but to sample Koval's other offerings, take a $10 tour offered Wednesday night and hourly throughout the weekend. Tip: Be sure to sample the millet whiskey—Koval is the only millet distiller in the U.S.!
Don't leave the city without grabbing a bite at [The Gage](https://www.thegagechicago.com/ "The Gage") (24 S Michigan Ave.). Named for the Gage Brothers, milliners who were world-famous in the early 20th Century for their spectacular hats worn by society women everywhere. The restaurant presents rustic American with an innovative twist in an upscale setting that sets it apart from more touristy spots on Michigan Ave. Start with the vindaloo mussels and a Scotch egg, and try Katie's smoked salmon BLT or the Gage venison burger for a taste of The Gage's signature dishes. At the very least, pop in for a drink at The Gage's bar, the source of the restaurant's famed drink program, helping it become a go-to spot for a chic meal or well-earned sip since opening 10 years ago.​