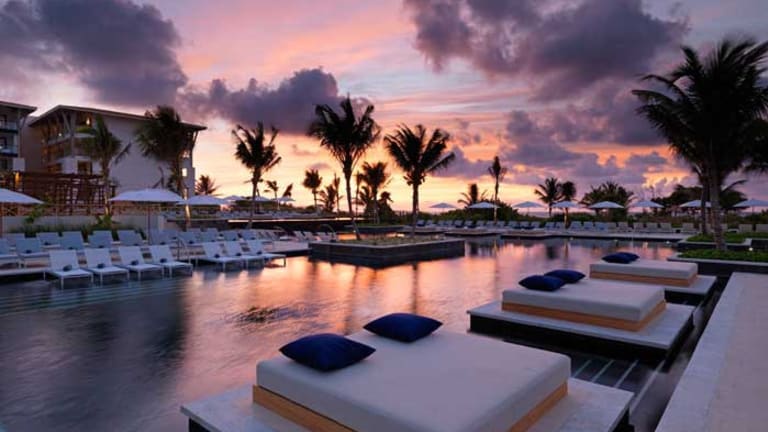 UNICO 20°87° Bridges the All-Inclusive Gap Between Luxury and Local Culture
Here were our favorite ways Riviera Maya's UNICO 20°87° stands out from more traditional all-inclusive resorts.
All-inclusive resorts are polarizing, and whether you love them or hate them almost invariably comes down to one factor, whether you're a vacationer or you're a traveler. Vacationers typically want to unwind in a lush environment with stunning views and no stress (yay, all-inclusive resort!) and travelers are often looking for adventure, hidden treasures, and interaction with local culture (boo, all-inclusive resort!). Traditionally, it's been difficult to satisfy the rare person, or opposites-attract couple, looking for both, but UNICO 20°87° has risen to the challenge, creating an all-inclusive property dripping in relaxed luxury, but so distinctly rooted in its location that it incorporated the latitude and longitude into its name.
The two-year-old resort in Riviera Maya, about an hour from Cancun, looks little like other all-inclusive resorts you've visited. Monumental public spaces are decorated so meticulously with the work of local artisans, from furniture makers to sculptors and weavers, that the vibe is anything but generic and mass-produced. Restaurants, though international in offering, lack the amusement park feel of most all-inclusive dining options, and instead provide lux environments showcasing thoughtful and inventive dishes, with UNICO 20°87°'s Mexican restaurant, Cueva Siete, featuring a rotating lineup of celebrity chefs. These are five true restaurants that feel a world away from any resort.
Whether you book the ground floor with a personal swim-up pool, or any other floor with an ocean view (that's right, every room has either a pool or the perfect vista), you'll have a hard time leaving your sleek, well-appointed accommodation, especially with your personalized minibar stocked daily, 24-hour room service, and Netflix, but do get out and explore everything the chic hotel offers. UPTOWN was recently invited to explore UNICO 20°87° and here were our favorite ways the resort stood out from more traditional all-inclusives.
The App
Many high-end all-inclusives provide 24-hour butlers, at least for its club-level guests, but UNICO 20°87° goes a digital step further. There is an old school version of this service here, with a "local host" who is available by text, phone call, or in person to make reservations, unpack your luggage, and draw you a bath in your balcony Jacuzzi with ocean views, but there's an app for just about anything you could want onsite, too. Download the app as soon as you arrive for obvious conveniences like checking the day's schedule and pop-up events, booking appointments at the salon, or choosing something more personally perfect from the pillow menu, but take advantage of its cooler functions, like poolside service for delivery of drinks and light bites to your exact lounge chair (don't worry, they're numbered). Our favorite app feature was choosing the exact time of housekeeping on a moment's notice—bye bye, days of finding a stranger in your room when you dash back to change into your swimsuit or grab a quick nap.
The Drinks
It's all-inclusive, so you already know they're free, but the cocktail program at UNICO 20°87° isn't your typical mix of frozen margarita machines and questionable blue drinks. Bar Balam and Palmera Lounge offer dangerously deliciously craft cocktail menus that should be more than just sampled. (We did our best to work our way through the whole list in a few sittings). Feel the warmth and mystery of Mayan tradition with a pre-dinner drink on the leather sofas at Bar Balam and, later, step back into 1940s Cuba for a night of dancing at Palmera Lounge. By day, look out for tequila tastings and mixology classes between laps around the swim up bar. We also loved the wine bar, La Botella, where you can pop in for a tasting, or select a bottle to bring to dinner at any of the restaurants.
The Excursions
Excursions are another common resort staple, but they're often crowded and they're never included. Not so at UNICO 20°87°. Taking all-inclusive to the next level, six signature excursions are included in a stay at this property for a 25 percent service charge, and they're not your typical city tours and bike rides, either. Scheduled during carefully chosen time slots to avoid crowds and bring a rare feeling of exclusivity in such a popular destination, signature excursions include sunset sails, visits to Mayan villages, explorations of ruins, and plenty more. We were obsessed with our afternoon spent swimming in magical blue and green cenotes (underground natural pools, often exposed when the ground above caved in, and all connected by the world's longest underground river), jumping off cliffs into the water below, and zip lining over (and into) the mystical waters that played a heavy role in Mayan tradition (they were believed to be entrances to the underworld). Every moment was picture perfect, and we only encountered two other people, once.
The Spa
Esencia Spa is UNICO 20°87°'s can't miss feature. The nearly 18,000-square-foot facility includes both a full-service beauty salon and barbershop, and possibly the sexiest gym in Mexico, but it's the spa treatments and hydrotherapy circuits that will appeal to just about everyone. And guess what—signature treatments are included for a 25 percent service fee. We enjoyed the 80-minute four-handed massage after hydrotherapy, and were in love with the outdoor relaxation lounge, complete with plunge pools, swinging nest chairs, and highly Instagrammable tile work.
Don't forget to check out the Beauty Bar's where you can make personalized selections of soaps and bath salts for your guestroom. Once back in your room, be sure to try on your bathrobe. These aren't your traditional white, fluffy robes, but heather gray hoodie robes complete with sweatshirt-style cuffs and, of course, a drawstring hood. We don't think a cozier robe exists. Pro tip: Buy one, and take it to the monogram shop in the lobby for personalization. It's the perfect piece of UNICO 20°87° to take home with you.