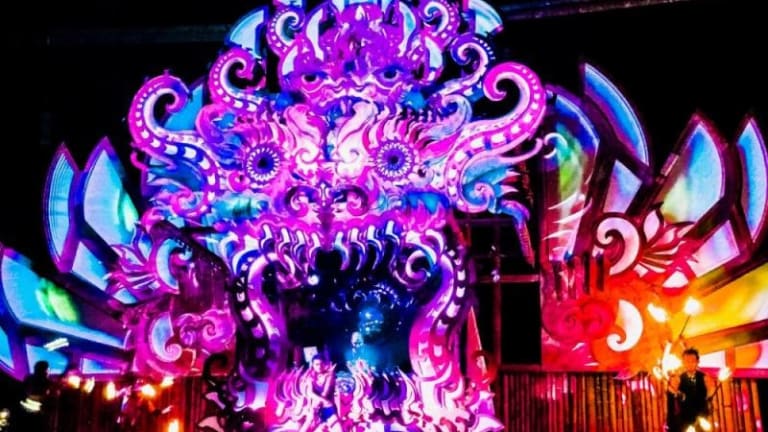 Transformative Travel: Costa Rica's Envision Festival
Transformative Travel: Costa Rica's Envision Festival
By Noel Cymone Walker
Society today is full of technology that enhances careers and makes business easy, but steadily gets in the way of reality and deeper connections on a more meaningful level. Therefore, when one wants to unplug the first idea may be to escape -- take a trip or vacation. But even that is now plagued with the shallow luxuries of all-inclusive resort packages in a foreign land where you lie poolside and maybe venture out for a zip lining excursions with fellow foreign travelers. Transformative travel, however, is the newest wave of travel that focuses on three pillars: Traveling with intention, openness, and mindfulness; engaging in challenging physical and/or cultural experiences; and taking time for personal reflection and meaning-making.
For me, an easy way to make sure I thoroughly immerse myself on a trip is to take a transformative travel journey, where I travel to a foreign locale when there is a cultural event or festival taking place, so I am forced to learn about cultural influences and interact with people.
In dire need to get away from the throes of everyday city life, I chose to take a journey to Costa Rica where Envision Festival was taking place on an unforgettable voyage.
Envision is a four-day festival held on the southern Pacific coast of Uvita, where Costa Rica has committed to awakening human potential in a regenerative community. The purpose of the gathering is collective participation in yoga, art, spirituality, dance, music, performance, education, and regenerative strategies to connect with nature.
My intention was none other than to travel and be, well, open. I'd never been to Costa Rica and really didn't know what to expect. Yet I was mindful of where I was traveling—a festival that looked like the jungle outskirts version of Burning Man. There was a heavy handle on surfing and yoga activities, and other regenerative practices—yes, that means no trash, no plastic plates, or red cups, but eating on substances like banana leaves and drinking from reusable canteen bottles. I was also aware that attendees camp there in bamboo bungalows or in traditional tent canvas. There would be spoken word workshops, which I was looking forward to, herbal elixir bars serving CBD-infused teas, village witches performing invigorating reiki and akashic record readings, talented paint slayers, and nighttime beach jungle Funktion-One sound system celebrations. I did as much research before boarding my Jet Blue flight, which also came from a conscious decision after recognizing the airline's efforts—fully accommodating ground transportation and airfare to and from Florida, for victims families of the Marjory Stoneman Douglas High School shooting in Parkland, Florida, that took the lives of 17 people this past Valentine's Day.
I'd like to think I was on the right path—fully prepared with bug spray, sunscreen, a camera, and as much tequila as I could endure on the flight. However, realistically, I was dubious to the real journey.
Since this was my first trek to a festival of these circumstances, I opted for a boutique hotel, Golden Pineapple Villas, which is owned by a sweet Canadian couple and is atop a hill in Uvita, about 20 minutes from festival grounds. The villa presented major luxury feels, with a personal in-room infinity pool, outdoor soaking tub and shower, ocean views from the bed, and a la carte breakfast. Very different from the heat and itchiness I would soon feel at the festival. (After staying there for two days, I moved on to another, Villas Santerras in Ojochal, which was less luxurious, but more suitable for this journey in which I had to find my own way to food, drinks, and the festival. At night it was an eerie, bumpy long ride.)
Finally arriving at the festival, night one, around 10 p.m., it was a scene. By that time the beach was closed, yoga classes, workshops, and readings concluded too. The night was dedicated to the four different stages of musical acts with some rad feel-good vibes, might I add. Luckily, and to my surprise, tequila was indeed being served on the grounds at a full-service bar with other various cocktails. There were amazing food options from wasabi tuna burgers to curry green beans and fried plantains. I started to dig the vibes, and after some dancing in the mud—I have a handy pair of painted festival boots I know to wear to every festival because the chance of rainfall, mud, or paint is up the ranks—I headed to my new home. I did, however, feel for the campers in the tents. Everything they had got ruined, saturated in deep mud and rain. By 3 a.m., I, however, was fully enjoying the luxuries of Golden Pineapple, took a nice hot outdoor shower, peeking at my very own disco light infinity pool, and thought, "Thank God I made this decision."
On day two, I headed down to the festivities around 11 a.m. because I wanted a full day to explore the festival grounds and not miss an opportunity to do anything. Unfortunately once I arrived at noon, I realized I was overdressed as all the hot surfers and yoga babes walked around showing off their super lean bodies with eight- to 10-pack abs. (Yes, odd, but that seemed to be the standard here. I guess when you surf and do yoga, you tap into muscles hidden from the rest of us not-so flexible people.) I also soon realized I lost my favorite Lack of Colors Teak Rancher hat I got from Revolve the year prior. Flustered and bombarded by unwavering heat, I thought to myself, this can't be what this festival is about. I'm already off track.
By the time I found my hat—a cab driver picked it up on his way into the festival, and luckily some staff members saw him and were able to call him and retrieve it—I was dripping in sweat. Scurrying fast to the beach connected to the festival, I thought, "Great. I'll start my day with some surf lessons on how to get those abs."
Arriving at the dark sand beach, I obviously expected to see a vast array of breakers, but to no avail, they were not visible. After checking out the water and relaxing at an entrance bar, a fella examining my disappointment in what I saw had me x-ray the scene. "You see there's no tide right now, that's why there are no surfers" he explained. "They tend to come out closer to dawn and in the evening at sunset. That's when they will be back." So after a shot or two, I headed to the next nearby yoga class.
I don't practice yoga, so I was a bit apprehensive to join rather than just watch. But as an integral part of transformative travel, I needed to tackle a challenging physical cultural experience, so although worried I wouldn't be able to get in the groove, I joined the Primal Flow yoga workshop class. Resting on my mat, I listened to the instructor, Anton Mackey, guide the class into a deep relaxation, one in which I haven't felt before. I was surprised at how in-tune I felt. Usually, my mind is racing always thinking of creative pitches, deadlines, and all of the other nonsense freelancers have to be on top of. However in this setting, in the jungle, at this festival surrounded by only like-minded soul-searching revelers, I was finally at ease.
Moving along from there, I tried my first cannabidiol-infused hibiscus tea—it tasted like the smell of nail polish remover—exchanged energies with some fellow strangers using some kinetic force, ate vegan chocolate chip flavored ice cream, and conversed with a musical performer about rituals. (He was adamant about incorporating meditation into my everyday morning ritual so reactions to worldly oppositions get fine-tuned). I shot some photos of the little kiddies running around, explored the campsite—I will definitely camp next time so I can fully immerse—lounged, stretched, and napped on a sunken coach with strangers, and just had a darn good time.
Day three of the festival was the actual day I moved to my second villa, Villa Santerras, so after meeting some of my neighbors, I opted to go to dinner with a fellow guest and performer, The Librarian, who put on an awesome set the night before at the festival Luna stage. (Costa Rican food is delicious, btw.)
Later that night, after taking a 5-Hour Energy shot, I danced (actually twerked) the night away to great beats at the Luna stage with the rest of the festival-goers. I was finally in bliss and actually didn't sleep much that night. I was having too much fun in the zone.
By day four, the last actual day of the festival, I took some time out to make sense of it all and reflect on the meaning-making. Albeit I had a fantastic time, I realized that most of the festival-goers had a more meaningful, spiritual experience because they fully engaged in the culture. And by engaging I mean they camped, took only naps so they can get up for the next yoga class, workshop, treatment, surf lesson, or what have you. They ate on traditional regenerative items all day every day, embraced the mud or rain, bathed with biodegradable soap using only little spouts of water, got dirty, and all of that sort of thing. I realized I not only cheated by not fully embracing the culture by retreating to luxury villas and eating at nearby restaurants. But I also ultimately cheated myself out of the experience for which I traveled far and wide.
A great deal of the attendees were well-off travelers from Europe and Canada, in the 30 to 50 age range. Most folks I spoke to were very in tune with life, purpose, and vowed to live it out the way they desired. Perhaps because I was a little younger, I showcased my optimism in what I want to be and how I want to live my life, but I clearly have a long way to go and that was a lesson for me.
Next time I decide to do something, I should fully embrace what comes with it whether that be on a trip, at work, or in relationships. If I'm looking at the terms and conditions beforehand, I have to make the decision to either give it a full shot or not. Then from there, who knows what I will discover.
Noel Cymone Walker is a travel, beauty, and fashion writer/editor based in New York City, whose work appears on Glamour.com, Ebony.com, InStyle.com, and more. You can find original blog posts on her websiteTheFurstNoel.comand her Instagram@thefurstnoel.
​