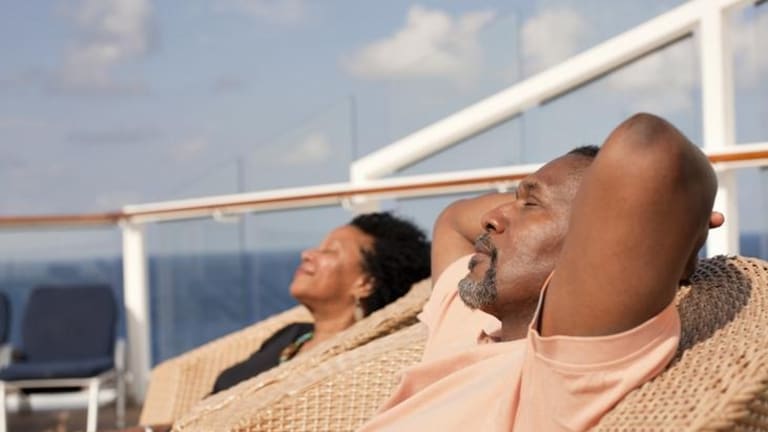 Top-Secret Cruise Line Tips Every Savvy Traveler Should Know
Cruises offer some of the best options when it comes to vacation.
Not only can you travel to exotic and breathtaking locales, you can also do so in the lap of luxury.
Still your trip can be all the more luxurious if you're in the know. There are several tips and tricks that you won't hear from the cruise line that can help your getaway be all the more grand. Before you start planning your next (or first!) cruise, check out this list and make your trip is the savviest one ever!
1. Save On Booze By Bringing Your Own
Vacation is a time to enjoy yourself, but partaking of alcoholic treats on the ship can get expensive. The colorful and sweet drink deals-of-the-day may be tempting but there's a better way to get your drink on!
Depending on the cruise line, there are specific rules allowing guests to bring spirits and wine on the boat. As long as it meets the guidelines, employees will check the alcohol for you and deliver it to your stateroom. You can then enjoy your libations in your room or while dining. You'll also get much cheaper prices on drinks once in port, so if you're looking to score a deal on alcoholic beverages, try a restaurant or bar on land and drink with the locals!
2. All-You-Can-Eat Really Means ALL
Dining on cruise ships offer guests food from around the world but sometimes the dishes are so tempting, it's hard to pick just one. Luckily for cruisers, you don't have to!
Besides the buffets, you can also eat in the main dining room for some upscale cuisine. Here you can order as much as you want! Say you want the lobster, flat-iron steak, AND the lasagna. You can have it all! You can also order off menu if one of your favorite dishes isn't featured that night. Just make sure you leave room for dessert!
3. Save Big On Souvenirs
No trip would be complete without a keepsake to help you remember it by, but all that shopping can be pricey— especially if you're looking to score souvenirs for your whole crew back home! Thankfully, there are ways to stock up on your swag without blowing your cruise budget.
The on-ship gift shops offer cool keepsakes, but they are typically pretty expensive. Shops in ports will have many of the same options that the on-ship shops do and with the same benefit of being tax and duty free. Also, towards the end of your cruise, those same products from the ship's gift shops will be drastically reduced so that is the best time to swoop in and get your souvenirs.
4. Check Out The Hidden Space On Your Ship
Cruise ships can get crowded, especially if it's during the cruising peak season. If you're looking for a little privacy but want somewhere else to occupy besides your cabin, there are hidden treasures to discover among the decks of your ship.
Lower decks and areas in the back of the cruiser are often less crowded and are the perfect areas to check out for some privacy. Sunbathe on the Veranda or relax in one of the lounges during the daytime and you'll find the quiet you're looking for. Also, you may just find a secret corner that's perfect for a romantic rendezvous with your boo.
5. Avoid The Mini Fridge Trap
Each cabin on the ship comes equipped with a fully stocked mini fridge but anyone who's snacked on the contents of these fridges knows that the drinks and treats are a definite money pit. Avoid temptation by having your room's steward remove the items all together.
Once empty, you can stock the fridge with your own goodies since cruise lines allow food and drinks to be brought on board as long as they are within the guidelines. Also, if you feel the need to nosh in your room, you can order from room service for free on pretty much every cruise line. Pizza in bed is much better than anything you'll find in a mini fridge!
6. Always Book Through An Agent
Though the internet makes it easier to book things online, cruises are best booked with the help of agents. Whether it's an individual agent, a trip adviser from a large firm, or a personal cruise planner with the cruise line, they can help you find better deals for a better cruise.
Large firms usually book rooms in bulk so they can offer discounts that you wouldn't typically get from booking by yourself. If you book through an agent with your cruise company, they have insider deals that can offer discounts and upgrades, especially if you're a return cruiser. When it comes to locking down your cruise, relax and let someone else do the work!
Keep these tips in mind the next time you take to the sea and you'll be the savviest cruiser on your vacay! Bon voyage!