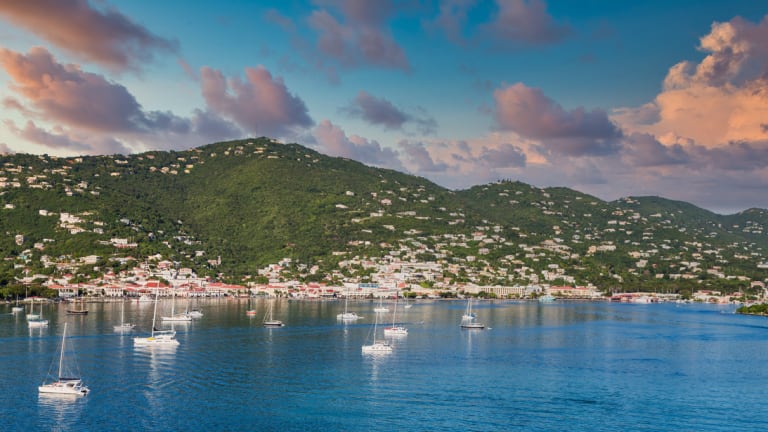 The Resilient U.S. Virgin Islands
After experiencing hurricanes and a global pandemic that shutdown tourism, the U.S. Virgin Islands is reclaiming its place as a standout Caribbean destination.
The past four years have been quite a historic and challenging period for the U.S. Virgin Islands (USVI). In September 2017, St. Thomas and St. John experienced the devastating Hurricane Irma, and then, Hurricane Maria hit St. Croix. The islands spent 2018 and 2019 recovering, but then the COVID-19 pandemic completely shut down tourism throughout the world in 2020.
I visited St. Croix, and the USVI, for the first time in 2017, before the hurricanes. The culture, spirit of community, and hospitality instantly hooked me. Since then, I have visited in 2018 and May 2021. And you know what? With all that the USVI has endured in the last four years, it is very clear that the people are determined, undaunted, and focused on once again being a standout Caribbean destination, even in a post-COVID world.
Here's what to look forward to in St. Thomas, St. John, and St. Croix in the months ahead.
St. Thomas
Without a doubt, St. Thomas is known as a key Caribbean cruise port-of-call with tons of great shopping. However, a land-based vacation on this island will impress you even more, as the locale seamlessly blends culture with sophistication.
This year, the St. Thomas International Regatta brought eight teams together for a three-day competition, in which the skills of seasoned sailors were tested. I was left in awe as I watched the teams race each other and work dutifully to position their spinnaker sails to achieve sharp turns at buoy points along the course. While some may consider a regatta as an activity for the wealthy, the St. Thomas Yacht Club dispels that myth by making sailing accessible through its foundation, which offers scholarships and sailing programs to the youth. This year's race consisted of eight teams, but future regattas are certain to be exponentially larger. This event can't be missed!
Even if you're only witnessing the regatta, you'll work up an appetite. An epic culinary experience can be enjoyed at Chef David Benjamin's Blue 11 restaurant. Chef Benji, as he's affectionately known, has been cooking since the age of 10 and fine tuned his skills at restaurants throughout USVI, including the two at the stunning Ritz-Carlton St. Thomas. The focus at Blue 11 is on fine local ingredients, so the 11-course tasting menu is a must! Everything is extremely flavorful, from the callaloo dish which includes a pan seared scallop; to the mahi mahi, mussels and a slice of ripe plantain on top a purée of spinach, dasheen leaf, and okra with coconut milk; to the pan seared Caribbean lobster tail that is topped with annatto butter and served with pumpkin purée and pickled red cabbage; to the jerked chicken with plantain gnocchi. You will quickly realize that Blue 11 is not a dull gastronomic experience.
St. John
If you're staying on St. Thomas, you'll want to plan a day trip to St. John. After a quick 45-minute ferry ride from St. Thomas, you'll arrive on St. John where a visit to Honeymoon Beach will afford you wonderful views and opportunities to snorkel, canoe, and partake in other aquatic offerings in a beach resort environment.
One thing that is unmistakable about St. John is its natural beauty, and this is intentional. The Virgin Islands National Park takes up two-thirds of the island. Within that beauty lies a raw and horrible aspect of history: Enslavement. Sugar and cotton plantations are the lasting remnants of a bygone era. The cliffs of the Annaberg Estate are especially haunting because enslaved people picked cotton adjacent to the natural beauty of Watermelon Bay, and most escaped their oppressors by jumping off the cliff to their deaths as a result. Although this aspect of our history is gut-wrenching, we owe it to our ancestors to never forget.
St. Croix
As the largest of the three main U.S. Virgin Islands, St. Croix can be best described as the island of history and cuisine. Frandelle Gerard of Crucian Heritage and Nature Tourism (CHANT) in Frederiksted provides very sobering and insightful history tours of St. Croix. One interesting fact: The July 3, 1848 slave revolt precipitated the end of enslavement throughout the Danish West Indies (currently, the USVI). Keep in mind that an additional 17 years passed before enslavement was abolished in the United States.
St. Croix boasts some of the best culinary offerings in the Caribbean. The quirkily-designed Caroline's St. Croix serves traditional breakfast fare all-day, including very tasty blueberry pancakes and a delicious Crab Benedict. You will also want to experience breakfast at Chef Todd Manley's TOAST Diner, which specializes in authentic Venezuelan and American cuisine. While there, you should enjoy a Bistec Y Queso Arepa along with a hash brown casserole. For lunch, you can't go wrong with authentic Crucian cuisine, so be sure to visit Cast Iron Pot Restaurant and Bar to experience the authentic Caribbean pot fish, conch in a lemon butter sauce, oxtails, or grilled lobster. In addition, a visit to the island isn't complete without a stop at La Reine Chicken Shack for some of the best roasted chicken in the western hemisphere. For dinner, Chef Charles Mereday's culinary offerings at The Galleon Steaks & Seafood are extremely delicious and decadent. In fact, you'll be praying for forgiveness after enjoying your meal of palate-tantalizing crab cakes, shrimp with plantains, and surf and turf.
Vodka isn't usually a spirit distilled in the Caribbean, but Chef Manley of TOAST Diner has uses a unique main ingredient for his MUTINY Island Vodka: Breadfruit! MUTINY's use of breadfruit is purposeful because it is exponentially environmentally beneficial and sustainable. A vodka tasting and a tour of the distillery, which used to be a dairy processing facility, is a great way to spend an afternoon.
The U.S. Virgin Islands are open for business, and if these activities aren't enticing enough, citizens of the United States don't need a passport to visit.