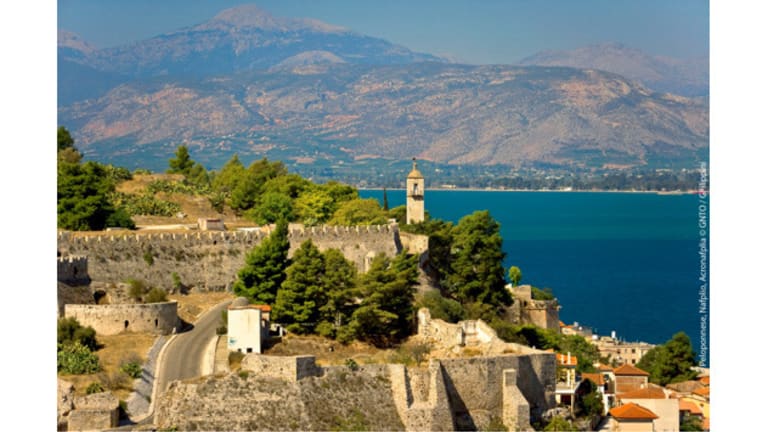 The Passion of Peloponnese
Here's where to eat, play, and love in Peloponnese.
By Sheryl Wesley
In movies I've seen many times where people relive an experience by being snatched back into the past in a time capsule to a foreign land. I have seen these characters transformed to suddenly appear in an unknown year, place, or planet. They stand in awe, finding their bearings, being still, afraid, and yet amazed about this new environment. Having this enigma suddenly engaging all their senses, holding space hostage, forcing them to reckon with the present, honor the past, and labor the birth of the future. This place in time I speak of is the enchanting Peloponnese of Greece.
While visiting The Acropolis, I could only imagine sitting on the elevated ground -- the highest point of the land and the highest point of awareness physically and figuratively -- listening and learning from scholars and philosophers. I'd soak in their accounts of travels to other continents, worlds, and cultures, and then applying my learned discoveries and lessons to my own daily life, my own walk in this journey. And wanting more, desiring evidence, creating and feeding this stirring addiction called wanderlust.
As my daydream came to a close, I began to hear murmurs growing stronger and the clashing sounds of glass. I felt a warm breeze and the sun on my face, my vision started to become clearer. I wasn't imaging sitting on the Acropolis of Athens, this was not déjà vu, this was no time capsule, I was looking straight at the ruins from the rooftop of the Hotel Grande Bretagne. As I turned to look up, my blurred vision began to focus on what I would consider to be a Greek goddess, asking me in her sweet and soft accent, with her neat braid of her brown hair cascading over her shoulder, if I needed more coffee. This was real, I was here, I was present, this was tangible, and this was Greece. Let's eat. Let's play. Let's love and Let's go … because I was so late for my group tour!
EAT
XENON Inn Hotel Cafe's famous Loukoumades, bite-size fluffy sweet honey puffs, will have you gather your whole entire life together! Loukoumades are deep-fried to golden and crispy perfection. You can find this piece of heaven a bit off the path, hidden in the Xenon Inn Hotel located at Syntagma Square Old Town of Nafplio which is a beautiful little city on the sea. It's worth the stop!
The Island Club & Restaurant is perched on a cliff over the sea and is comprised of sprawling grounds divided into several event spaces surrounded by blooming trees. There's even an ocean-side dance floor. The crowd is glamorous, the music is excellent, and the Mediterranean food entices all your senses. If you're lucky, you can catch fireworks off the shore. Dinner starts at 9 p.m., but no one gets there before 10. Hire a car service.
Skouras Winery will have you asking, "Wine not?" Expect to be greeted with a wonderful knowledgeable staff who will guide you on a whirlwind of a tour. If you're lucky the gracious owner, Domaine Skouras, may even be present to share a few notes with you. During a wine tasting, you are not just discovering the vineyard's unique terroir, culture, and heritage, but you will also get a taste and a glimpse of what makes Greeks exciting people and dedicated wine-makers. Everything is open here, including transparency, air, minds, and bottles!
PLAY
If you are going to play straight into someone's hands might, as well be in good hands! In your travels, make sure you start off first with Nikos Mageris of ChrisCrossing VIP Travel Services. The team, with extensive experience of traveling around the world, aims to contribute to the age-old human need: Transport. Indulge the desire to reach farther, see new places, and learn about other societies. ChrisCrossing -- with your best interest and desires at heart -- can drive and escort you to reveal the secret gems anywhere in Greece. They can show you the ancient secrets fraught with precious beauty, the hidden corners and secret hiding places, along with major attractions and desired tourist destinations.
The old Monemvasia town lies on a small island connected to land by a small bridge. The big surprise comes as you enter the town gates. A whole town of the preserved castles, mansions, cobble streets, squares, and churches unfolds before your eyes. After enjoying a meal or drinks at a quaint pub or delighting yourself with shopping, you can end your day by lodging inside a castle at Casa Felicia, a rare treasure of an experience.
LOVE
The Fortress of Palamidi is situated on the summit of the Palamidi hill and offers panoramic views of the city of Nafplio. Built by the Venetians, the fortress fell into Ottoman hands before its completion. Nafplio was once considered by the Venetians to be the "Naples of the East," and it was the first capital of Greece.
With its postcard like scenery, the Kinsterna Hotel is worth a vacation in its own right. The manor house is on a huge site that includes a farm, gardens, two pools, and various houses that form a luxurious world of its own. There is a secluded feel within the property and it is a great place for a romantic or a family stay.
Peloponnese is a very beautiful part of Greece, full of picturesque towns, archaeological sites, incredible nature, and unique beaches. If you would like to discover the real Greece, you should take a trip to Peloponnese for a balance between worldly enjoyment and divine transcendence.
This story has been published in paid partnership with the Greek National Tourism Organization and VisitGreece.gr.