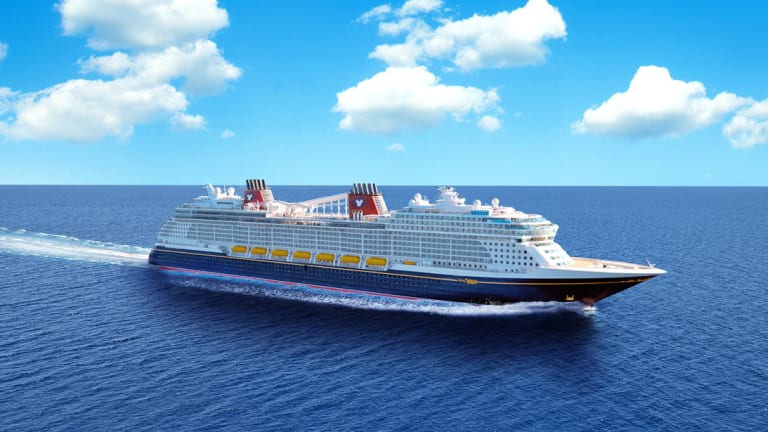 The New Disney Wish Cruise Ship Is Innovation at Sea
Experiential storytelling and themes from the imaginative minds of Disney, Pixar, Marvel, and Star Wars take center stage onboard the Disney Wish.
Visits to Disney Parks & Resorts worldwide are always unique and magical. Combine this with high-end amenities and services, add sea cruising, and then you have an experience that is a feast for the senses.
Recently, I experienced an exclusive behind-the-scenes look at some of the unique features that are coming to the brand-new Disney Wish cruise ship, which is expected to set sail June 9, 2022. I have been sworn to secrecy for the past two weeks, but I am now able to share the immersive experience you can expect aboard the Disney Wish soon.
Star Wars: Hyperspace Lounge
Every evening, adults entering the Star Wars: Hyperspace Lounge will be transported from the high seas to a galaxy far, far away! Guests aboard the Disney Wish will have the opportunity to embark on a space-jumping tour of the Star Wars galaxy via a high-end bar styled as a luxurious yacht-class spaceship. While taking in the ambiance, guests will also enjoy interactive tasting experiences and signature beverages inspired by the Star Wars films.
Worlds of Marvel
As the first-ever Marvel Cinematic Universe dining adventure, Worlds of Marvel allows guests to play an interactive role in an action-packed Avengers mission that unfolds around them. This special upscale restaurant-meets-technology experience, complete with a menu inspired by the MCU and featuring cuisine from across the globe, redefines the traditional "dinner and a show" concept. Worlds of Marvel will feature an original storyline starring fan-favorite Avengers and an infamous foe. The debut of Avengers: Quantum Encounter will assemble some of Earth's mightiest — and tiniest — superheroes in a larger-than-life showcase of revolutionary quantum technology and world-class cuisine.
AquaMouse
Billed as the first-ever Disney attraction at sea, AquaMouse is a 760-foot wild water ride that will take riders through winding tubes suspended high above the upper decks of the Disney Wish. This unique attraction includes animated scenes and themes from The Wonderful World of Mickey Mouse that's perfectly synced to original musical scores by Emmy-nominated composer Christopher Willis. Lighting, special effects, and "splashtacular" surprises abound throughout this unique attraction at sea.
Disney's Oceaneer Club
Aboard the Disney Wish, the fun begins when parents check their children into the Grand Hall on deck three and then send them "down the rabbit hole" via a twisting slide that lands directly and securely into the central hub of Disney's Oceaneer Club. This is a place where kids (ages 3-12) get to be the heroes of their own Disney stories within three separate immersive experiences:
Fairytale Hall is a royal trio of activity rooms where princesses and princes will let their creativity shine at Rapunzel's Art Studio, read and act out stories at Belle's Library, and test newfound icy powers at Anna and Elsa's Sommerhaus.
At the Walt Disney Imagineering Lab, kids can discover the secrets of world-renowned Disney Imagineers — the creative masterminds behind Disney theme parks, resorts, and cruise ships — with hands-on activities and inventive experiments. One of the most exciting things Imagineers get to do is design rollercoasters. At the Ride Studio, kids will create a coaster along the lines of Big Thunder Mountain Railroad, Space Mountain, or Matterhorn Bobsleds, and then climb into a capsule where they will virtually ride their imaginative masterpiece.
The Marvel Super Hero Academy is a high-tech Avengers headquarters where young "recruits" will train to be the next generation of superheroes, with the help of their own real-life heroes, like Spider-Man, Black Panther, Ant-Man, and the Wasp.
Disney Uncharted Adventure
With a combination of imagination, technology, and the magic of wishing on a star, Disney Uncharted Adventure will take guests on a multidimensional voyage into the worlds of iconic Disney and Pixar characters. Designed for families to play together, this fantasy will be a brand-new way to explore and experience the enchantment of the Disney Wish, even before they set sail!