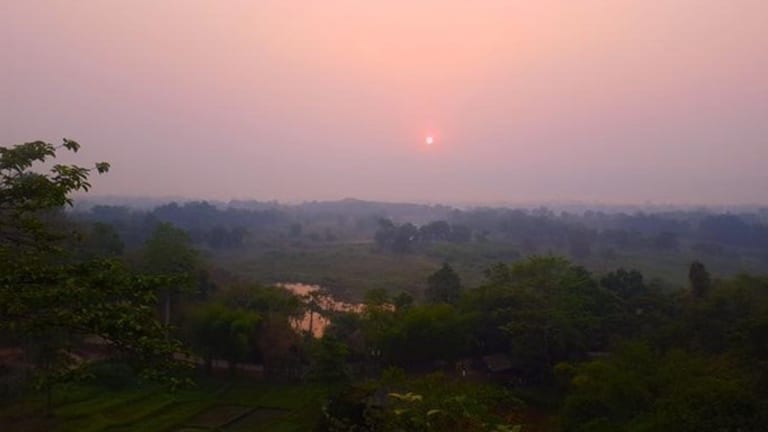 Thailand: The Doorway to Southeast Asia's Romance, Gastronomy & Temples
Thailand's advances in tourism have helped increase its popularity and open the doors to its ASEAN network neighbors.
The 10 members of the Association of Southeast Asian Nations (ASEAN) may be relatively small in size, but they're home to more than 640,000,000 people and a trove of cultural, religious, and political history that have left behind massive monuments, countless traditional arts, and a food scene coveted worldwide. Not to mention the endless pristine beaches that consistently rank among the world's best and inspire films and fantasy getaways. The region hasn't been historically easy for Americans to reach with few (and costly) flights options, less developed (and sometimes undeveloped) infrastructure, and confusing entry requirements, but Thailand's advances in tourism have helped it soar to record heights of popularity and have helped open the doors to its neighboring nations in the ASEAN network: Brunei, Cambodia, Indonesia, Laos, Malaysia, Myanmar, Philippines, Singapore, and Vietnam.
Flights to Bangkok, Thailand, are frequent from the U.S., and the host of international airports around the nation make all of its regions, from the elephant-packed jungles of the north to the drool-worthy islands of the south, easily accessible. With more modern conveniences, stronger infrastructure, and an almost obsessive commitment to superior hospitality, it's no surprise that Thailand is the most visited of the ASEAN nations (more than 32 million international visitors last year), but the region is making a concerted effort to draw visitors into neighboring nations, too. ASEAN and the Tourism Authority of Thailand (TAT) recently teamed up to create four spectacular itineraries that enter through Thailand while dabbling in the wonders surrounding the popular nation. Each itinerary highlights a unique aspect of the region's offerings and offers just a hint of what's possible to explore in the ASEAN nations. They're a fabulous resource for sparking your imagination and inspiring your own Southeast Asian adventure, and the more particular explorer can easily adapt them to their own specific interests for a fully-immersive experience, while the casual traveler can simply follow one of the pre-planned outlines for a smooth introduction to some of the world's most spectacular wonders.
​
​
Romantic Treasures – Thailand, Cambodia, Vietnam
Start in one of Thailand's countless perfect islands to ease yourself into your romantic adventure. Try Koh Samet in the Rayong province for a more tranquil experience than the heavily visited Phi Phi Islands near Phuket. Fly to Siem Reap, Cambodia and get a good night's sleep before rising early to catch a mind-blowing sunrise at Angkor Wat, the world's largest religious monument, and a hauntingly beautiful, fully-explorable ruin once the sun's light floods it's endless corridors. Continue to Vietnam with a visit to Ho Chi Minh City (formerly Saigon) and marvel at French colonial architecture, while hunting for the best bowl of Pho in town. Don't miss one of the city's famous markets for a stimulus overload of color and sound, and a charmingly chaotic peek into the whatever-it-takes life of the Vietnamese. Leave the bustle of the city behind and travel onward to the white-sand island of Phu Quoc where a national park of jungles, mountains, and wildlife covers nearly half the island, before returning to Thailand to sample some more of its own islands, where you'll decompress before heading home.
​
​
Gastronomic Experience – Thailand, Malaysia
Start in Ayutthaya, a bit north of Bangkok, in the riverside garden house that has been converted into the Baan Watcharachai restaurant for a filling meal of all things Thai from spicy soup to mango chili, with special emphasis on showcasing fresh river prawns. Visit Wat Phanan Choeng for a peek at the temple's 19-meter gilded Buddha dating to the 14th Century and explore the Ayutthaya Historical Park ruins that have been under restoration since the 1960s and are now a Unesco World Heritage Site. Fly to Kuala Lumpur, Malaysia, and head to the colonial city of Malacca, where foodies worldwide flock for a taste of unique dishes found only here. Don't leave without trying the famous chicken rice balls. Two hours north by car is Bangsar, where the Fierce Curry House invites spice-fiends to top-notch meals inspired by North Indian cuisine. Return to Kuala Lumpur to marvel at the Petronas Twin Towers—the one-time tallest buildings in the world, and the current tallest twin towers--before heading back to Bangkok. Don't forget to grab at least one street meal in Bangkok before returning home.
​
​
Kingdom Journey – Thailand, Myanmar
Explore the ruins of great kingdoms, beginning in Chiang Mai with Wat Phra That Hariphunchai, which boasts components dating to the 9th Century when a single hair of Buddha needed a proper resting place. Continue to Wat Cham Thui the 13th Century monument commemorating victory over the Khmer regime, and learn more about the power struggles that shaped the current region over centuries. Pop over to Chiang Mai for enough sparkling temples to satisfy any history buff before flying to Mandalay, Myanmar, the golden land, so named by Marco Polo to describe the countless gold pagodas. Explore the former capital of Amarapura and visit the holiest temple in Mandalay within the Maha Myat Muni Monastery. Take a silk weaving workshop for a taste of an industry that continues to drive Mandalay's economy, and try your hand at a gold-leafing workshop to better understand the intricate process that has covered a nation in glittering gold. Before departing, head to the Mya Thein Tan Pagoda, constructed according to the description of a mythical Buddhist mountain when a king's wife died in childbirth. The massive, all white structure was funded by the barter of 100,000 emeralds, and a climb to the top reveals a worthwhile view.
​
​
World Heritage Cities – Thailand, Laos
Start in Sukhothia, the first capital of Thailand, exploring the ruins of the Old City then continue on to Wat Maha That, one of Thailand's oldest temples, containing over 200 structures. Between other temple visits, explore Thailand's foray into organic agriculture, then visit the Thai Elephant Conservation Center, where 50-plus elephants are cared for in a beautiful forest outside of Chiang Mai. Fly to Laos to explore Buddhist temples in Luang Prabang and cap the day with a longboat dinner cruise on the Nava Mekong, a floating restaurant that supports the village whose children perform traditional dances as the boat passes through, keeping local heritage alive and cementing cultural pride in another generation of Laotians. Visit the Pak Ou Caves to discover more than 4,000 Buddhas throughout the inspiring landscape and explore Luang Prabang's glowing evening market before leaving this world heritage city.
​
​
Through Thailand, visiting the diverse nations of Southeast Asia has become considerably easier in recent decades, and itinerary opportunities that combine countries and themes are endless. As winter temperatures are arriving in the States, what better time is there to plan your own exotic getaway to a region at the top of many a bucket list? Thanks to Thailand, it's easier than you think.