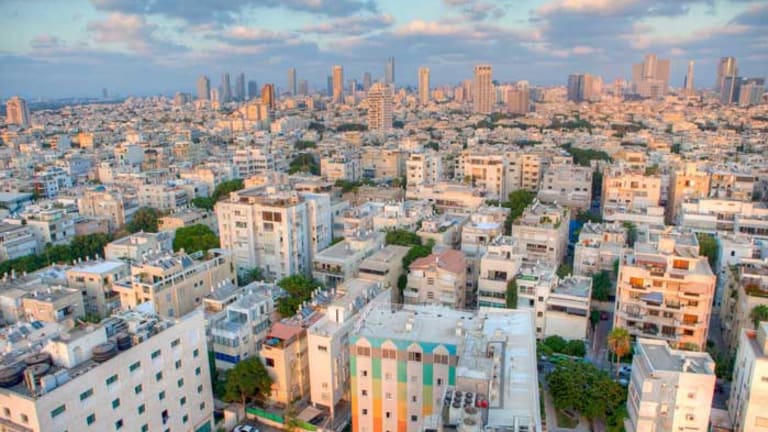 Tel Aviv, the Other City That Never Sleeps
Tel Aviv manages to marry nightlife, history, culture, cuisine, and art, making it a bucket-list destination.
Written by Sheryl Nance-Nash
Israel is the land of history and mystery. A trip to Tel Aviv, the country's second largest city, is a bucket-list locale for many people. Spend any time there and you'll know why. Like New York, Tel Aviv is called "the city that never sleeps." It earns that moniker with its vibrant nightlife, but Tel Aviv is much more than party central. It's art, history, culture, creative cuisine, and amazing architecture, especially the Bauhaus buildings.
One neighborhood you don't want to miss is Neve Tzedek. This hipster hangout is all about the bistros, boutiques, and art galleries. The street art is 'Gram-worthy, and you'll find live jazz in cafes at night. For all its trendiness, modernity is right beside historic architecture. It works and is part of the appeal.
You can't visit Tel Aviv without a dip in one of the more than a dozen, white-sand beaches. Go ahead, and rent a bike. You'll always remember the views of the Mediterranean Sea while riding down the boardwalk alongside Metzitzim beach.
All that fun in the sun may stir your appetite. No worries, Tel Aviv takes pride in its culinary scene.
Ha'Achim serves up classic Israeli dishes with a twist, lots of grilled veggies, kebabs, and more. The vibe is lively and friendly because everyone's working hard to make you feel at home. Vicky Cristina, a tapas and wine bar, is another favorite. Treat yourself to patatas bravas, fried potatoes with spicy tomato, pepper sauce, chipotle aioli, cheese, and bacon chips if you like. You won't go wrong with Chiparones a la plancha, seared purple calamari with red onions, chili oil, herbs, and lemon, or Hongos con Manchego, a seared mushroom mix with porcini and truffle broth topped with Manchego cheese on half a bun.
For a walk back in time, head to Old Jaffa, the ancient seaport that has become a haven for artists. You'll love the winding alleyways, art galleries, and a few sites you probably learned about in Sunday school.
Israel is known for its markets. For fruits, nuts, pastries, and just about anything in between, make your way to the Carmel Market. There are vendors as far as the eye can see. While you're in the shopping mood, continue to the Arts & Craft Fair in Nachlat Binyamin that showcases Tel Aviv's creative talent, paintings, jewelry, purses, glasswork, scarves, and more. It will be tough not to buy something.
If you're traveling with kids, they will especially enjoy Mini Israel, it's a short drive to Latourn from Tel Aviv. It's an outdoor theme park of sorts with hundreds of miniature models of the country's key architectural, historical, archaeological, religious, and social sites. The story of Israel is told in an interactive, engaging way.
Get the spirit of Ancient Israel at the Neot Kedumim Biblical Preserve. Take a guided hike, but first get into the mood by putting on traditional Hebrew clothing from centuries ago. Learn to draw water from a well and experience first-hand what it's like to herd sheep. (Warning: It's not easy until you figure it out.) Perhaps most moving, as you comb the rugged landscape, is that you'll have the opportunity to plant a sapling, helping to replant the forest trees that covered Israel's hills in ancient times.
From there, go to Holon to The Israel Children's Museum. This isn't just for kids. For an experience you'll never forget, participate in the "Dialogue in the Dark." Glasses are removed, and you and a small group are led through a series of rooms in complete darkness to live what it is like to be blind for an hour. What makes it really interesting is that a blind person guides you. If it sounds crazy, it is. You have to learn to trust, to feel your way. You may go around in circles, bump into walls, but amazingly, the guide always knows where you are. The purpose of the exhibit is to shatter social patterns and prejudices.
No trip to Tel Aviv is complete without venturing for a couple of days to Jerusalem, Israel's largest city. Whether you're religious or not, the capital is a special place. Visit the Western Wall and walk the Stations of the Cross that lead to the Church of the Holy Sepulcher.
You can get a panoramic view of Jerusalem from the Mount of Olives that overlooks the Old City. The must-see market is Mahane Yehuda fruit and vegetable market. Another highlight is the "Night Spectacular" sound and light show of Jerusalem's 3,000-year history at the Citadel. Plan to spend time at The Israel Museum, the country's largest cultural institution that is ranked among the world's leading art and archaeology museums. You'll see encyclopedic collections, including works dating from prehistory to present day, and the most extensive holdings of biblical and Holy Land archaeology in the world.
One more necessary stop is the Dead Sea Region. Do venture to Masada and take the cable car to see excavations of the fortress and palace built by King Herod. You can take a two-hour Jeep tour in the Judean Desert in the salt region of Mount Sedom. Finish off your time in the Dead Sea region at Neve Midbar beach on the northern shore. You might get invited to hop on a camel for a short ride. But the main attraction is the water. Go ahead and get in and just float.
You'll need at least a week for this a mini tour of Israel with a focus on Tel Aviv, but the impression will last forever.