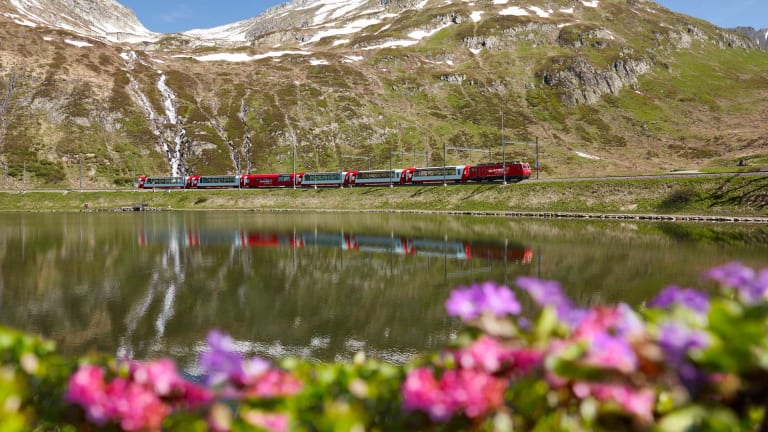 Taking a Luxury Rail Trip Through Switzerland
There's a reason the quality of life enjoyed by the Swiss is envied by much of the world. Here's how to add a lot of luxury to your trip to Switzerland.
Of all the countries to vacation in Europe, Switzerland is one of the most idyllic places that any person could ever visit. Just about everywhere you look, you'll find something that has some sort of storybook quality to the destination: The majestic Swiss Alps, its calm and pristine lakes, and its delightfully happy cows are all emblematic of a nation that graciously embraces nature, serenity, and sustainability. To be clear, the people of Switzerland are fierce in protecting their way of life, and rightfully so.
Landlocked by Germany to its north, Italy to its South, Liechtenstein and Austria to its east, and Italy to its west, the culture of Switzerland is, understandably, a product of its surroundings. This is why you'll find Cantons, or districts, throughout Switzerland that are decidedly French, German, or Italian, in language, customs, and cuisine.
St. Moritz is a place many associate with being a getaway destination that is frequented by celebrities and aristocrats. While this is the case, it is so much more. St. Moritz's amazing alpine setting is only matched by its activity offerings. During summer months, travelers visit St. Moritz for the region's sailing, windsurfing, golf, and horseback riding. However, winter months bring skiing and other snow-centric activities. Of note, St. Moritz is a well-positioned destination for skiing as it sits at the highest vacation destination in Switzerland. One of the most interesting things to do in St. Moritz during the winter is to experience a jaunt down the world's only natural bobsled run, where sleds reach speeds over 80 mph. After enjoying your activities around St. Moritz, a stay in the historic and five-star Suvretta House is highly recommended. With its serene environs, spacious accommodations, and international cuisine you'll quickly understand why Suvretta House is ideal to recharge your batteries before another day of adventure in St. Moritz.
With over 3,200 miles of railway, it's safe to say that Switzerland has mastered train travel. One of the best ways to experience Switzerland by rail is aboard the Glacier Express, a seven-hour journey through 91 tunnels and traversing 291 bridges. You can either start or end your journey aboard the Glacier Express in the very posh enclave of St. Moritz or in the Alpine village of Zermatt. Either way, passengers are treated to an experience that is unlike any in Europe or the world for that matter. Guests traveling in first and second classes aboard the Glacier Express enjoy stunning panoramic views throughout their journey from the confines of their spacious surroundings. However, the ultimate in luxury can be found in the Glacier Express's Excellence Class. Guests experience an elevated journey with more space, massive seats, and exquisite gastronomic offerings that rival a Michelin-rated restaurant.
As we continue onwards, we arrive in the village of Zermatt, which is where we bid the Glacier Express adieu. Zermatt is famously known as the home to the majestic Matterhorn. Well known for being a bastion for skiing, Zermatt is suited to handle the whims and wishes of all types of skiers. As such, there are numerous ski lodges and hotels in this unique carless village. But a very fantastical experience awaits just a funicular ride away to the Riffelalp Resort. Chocked full of lore and history, this resort offers its guests an experience that combines all the amenities of a full-service luxury resort with humous art pieces. You'll be in awe seeing a herd of faux Valais Blacknose sheep standing at attention within this property. And you may even find a massive Rubber Duck just sitting aimlessly in the distance, amongst the trees and foliage, as if some wandering giant left it there after bathing!
From there, we continue our journey to Andermatt with our Swiss Travel Pass, which provides unlimited access on the network of the Swiss Travel System. Additionally, the Swiss Travel Pass is sold in 3-, 4-, 8-, and 15-day pass increments, and each pass provides complimentary entry to over 480 museums and exhibitions. For sake of space and serenity, you'll want to purchase the first class option for your Swiss Travel Pass.
Once you arrive in Andermatt, you'll quickly realize that it is a very walkable village. However, you'll want to take a gondola ride to the Gütsch where you can experience amazing views of the Urseren Valley. Of all of the unique hotels and resorts in Switzerland, The Chedi Andermatt is one that is certain to impress. This spacious hotel is very zen and seamlessly presents an Asian aesthetic in an alpine location. All accommodations are well-appointed with high-end amenities, Acqua di Parma toiletries, and a copious amount of tech wizardry throughout. The Chedi's delicious culinary offerings include traditional Western and Japanese fare. And its spa is a dream, offering treatments such as The Chedi Deep Tissue Massage and The Chedi Pantha Jama Massage, which is designed to promote blood circulation. Assuredly, all the stress you brought with you, will quickly depart during your treatment.
One of our last Swiss Rail stops will be to a Swiss destination that has been a closely guarded secret for many. Formed January 2017, Crans-Montana came as a result of the former municipalities Chermignon, Mollens, Montana, and Randogne merging. In addition to its vast ski offerings, picturesque environs, and placid lakes and ponds, Crans-Montana is also a place where you can experience golf in these surroundings. Guarda Golf Hotel & Residences is perfectly located adjacent to the 9-hole, par-35 Jack Nicklaus golf course. This five-star luxury hotel only has 23 rooms and junior suites, seven apartments, and 18 private residences. And its cuisine is decadent.
Most international travelers arriving in Switzerland arrive via a SWISS International Airlines flight, which makes perfect sense as passengers will be immersed in Swiss hospitality and cuisine throughout their journey, especially in business and first classes, before arriving in Switzerland's primary hub city of Zurich. On that note: A visit to this unique European metropolis is not something to miss. From its fashionable high-end shopping on Bahnhoffstrasse to strolling along the banks of Lake Zurich, you will see how this city has managed to balance its history as a business and finance center with a quality of life that is, for many, the envy of the world. And when staying in Zurich, you should consider staying at either The Dolder Grand, which is a historic and high-end city resort, or the fashionable and very upscale La Réserve Eden au Lac, which sits directly across from Lake Zurich.