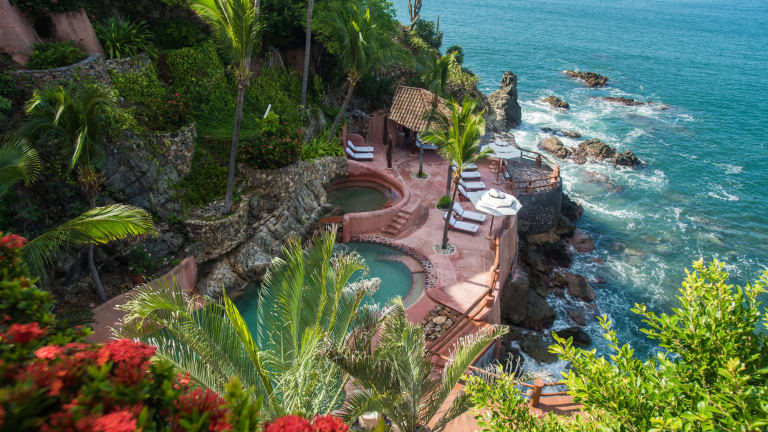 Step Up Your Mexican Getaway Game with an Exclusive Stay at La Casa Que Canta
Escape to Zihuatanejo for an authentic Mexican experience with La Casa Que Canta, a five-star boutique hotel.
Mexican party beaches of indulgence and convenience have their merits (we're looking at you, Cabo and Cancun), but when you're seeking a more refined seaside escape that's actually Mexican, head to Zihuatanejo, where La Casa Que Canta takes full advantage of its unspoiled location. From fresh Mexican cuisine to a staggering collection of traditional art with hacienda-style service at every turn, this five-star boutique property will immerse you in Mexican hospitality like no mega resort can. Named "the house that sings," La Casa Que Canta truly delivers on personalized service that connects guests to staff as family, emanating a warmth and comfort that can generally only be found at home. UPTOWN was recently invited to experience La Casa Que Canta's authentic flair and exclusive luxury, and these were our favorite highlights from the world's most romantic hotel.
The Location
Often overlooked by first-time visitors to Mexico, Zihuatanejo is on Mexico's southern Pacific Coast between Puerto Vallarta and Acapulco, and because it's a tad bit further from the U.S., it's less inundated by American tourists and still very much a Mexican town. Carved into the cliff overlooking Zihuatanejo Bay, La Casa Que Canta's 25 suites and two villas all have spectacular ocean views, but perhaps most remarkable is what can't be seen. Thanks to its genius design and lush landscaping, not only can you rarely see another suite or person from your private outdoor spaces, but no one else can you see you either. Below the property, Playa La Ropa is a shimmering beach just a five-minute walk from La Casa Que Canta's gate, and it's frequented far more by Mexican families than by margarita-sipping jet-setters or beer-guzzling spring breakers (you won't really find any of those here). A 10-minute walk in the opposite direction takes you to the seaside promenade of Paseo del Pescador along Playa La Madera, which leads to Zihuatanejo's colorful market area filled with shops and restaurants. If you do decide to indulge in more resort-style vacationing for a night, nearby Ixtapa, about 20 minutes away by car, has what you're looking for.
The Art
Just about every boutique hotel thinks it's an art boutique today, but La Casa Que Canta's staggering collection defines its experience from start to finish. Not only does original art collected from across Mexico enhance every public space, but countless pieces of ceramics, textiles, paintings, carvings, and more give each suite a unique ambiance, turning the entire property into a private cultural museum begging to be explored. With each suite individually designed and furnished, it's only fitting that they are also decorated with one-of-a-kind pieces that complement each space. Our only regret from our time here was that we couldn't barge into every single suite to check out all the layouts, furniture, and art pieces, but we easily consoled ourselves with Coronitas from the complimentary minibar while unwinding in our private plunge pool overlooking the bay.
The Pools
Speaking of pools, the plunges located in 11 of the suites are well-worth indulging in this room category, but the two public pools are each as special. The upper level infinity pool sits alongside the bar servicing La Casa Que Canta's signature restaurant, Mar y Cielo—a favorite in the region, serving fresh catches of the day, custom salsas prepared table-side, and sophisticated menus that change daily with locally available ingredients—but you won't be bombarded by a crazy party scene at this bar-side pool. Instead, expect attentive, in-water bar service with dreamy views, and multiple secluded rest areas with small clusters of lounge chairs, creating one of the most private public pools in the country. A short walk down the cliff (honestly, it's short) reveals a saltwater pool fed naturally by the sea below, complete with a picturesque waterfall. We were obsessed with the pair of loungers just below the saltwater pool, where the crashing waves from the sea a few feet beyond provided a gloriously restful soundtrack for a lazy afternoon.
The Spa
It's hard to imagine that anyone could feel the need for more relaxation in such a tranquil environment, but vacation isn't about need. Book a treatment at Spa by Clarins, the only one in the country, for signature Clarins massages or unique La Casa Que Canta massages using exclusive Clarins products. Consider the Mexican Body Wrap, aimed at reducing cellulite and featuring prickly pear cactus (don't worry—no prickles involved), or go for a Hydrating Clarins Massage to combat that Mexican sun and all those poolside cocktails. Like every other hour you spend at La Casa Que Canta, you won't regret it.