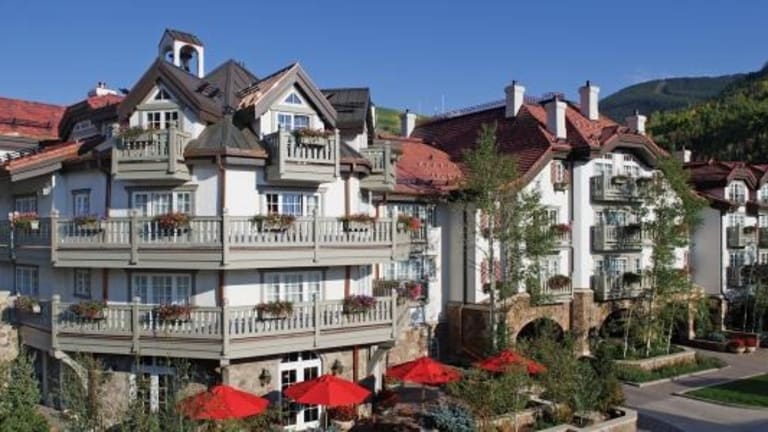 Sonnenalp Hotel Proves Vail Has More to Offer than Winter Sports
Sonnenalp Hotel Proves Vail Has More to Offer than Winter Sports
The Sonnenalp Hotel Meadow Drive view The Sonnenalp Hotel and Wild Wellness Travel are giving picturesque Vail, Colorado a new reputation by providing mind, body, and soul healing during the summer and fall months.
The resort partnered with Wild Wellness Travel to offer exclusive, four-day holistic living retreats curated by the health and wellness industries' leading experts. The themes for the retreats range from creative writing to relationship building and self-empowerment. Along with working on your mind and soul, each retreat allows visitors to take full advantage of The Sonnenalp Hotel's facilities, which have Vail's beautiful mountains as its backdrop.
There are breathtaking hiking trails, horseback riding, stand-up paddle boarding, biking, and a gorgeous golf course. Yoga classes will be given in Sonnenalp's state of the art studio, and the exquisite Sonnenalp Spa offers all the pampering necessary after a day of reviving the body and mind. At the end of each day, the guest rooms and suites at The Sonnenalp Hotel, which was awarded the No. 4 spot for Top 10 Best Resorts in the West in *Travel + Leisure'*s 2016 World's Best Awards, provide the luxury to recharge for the next day's itinerary. With health-focused guests in mind, Wild Wellness Travel has curated retreat programs that include signature workouts, nutrition menus, and health-conscious guided activities. The 2017 retreat schedule includes:
Creative Writing Retreat, June 1-4, 2017:

Reconnect with your body, your creative spirit and your joy through yoga classes, hands-on healing workshops, daily creative writing, pampering body treatments, and amazing cleansing food with this creative writing retreat. This exciting program provides a sanctuary to recharge, reconnect, and return home feeling renewed. Led by experts Sophie Jaffe and Kathryn Stull, learn essential self-healing practices, hike and explore medicinal plants of the Mountain West, eat beautiful meals, and find creative voices in an intimate and encouraging atmosphere. As this retreat falls so close to Mother's Day, it is a wonderful chance for moms and daughters to celebrate or reconnect in a gentle, supportive space.
IGNTD Nourish Your Soul, August 10-13, 2017:

The IGNTD Nourish Your Soul Retreat encourages participants to celebrate body and mind by participating in yoga, movement, nutrition, coaching, and meaningful and provocative dialogue. The itinerary includes spa treatments, superfood workshops, meditations, and yoga sessions in addition to free time to enjoy beautiful Vail and Sonnenalp's amenities.
IGNTD Women, September 28-October 1, 2017:

With expert leaders, Sophie Jaffe and Caley Alyssa, find the clarity to realize your dreams with The IGNTD Women Retreat. This program will focus on removing obstacles standing in the way of reaching your full potential. This transformational weekend will be further enhanced with group meditations, yoga practices, and a Philosophie Mama Superfood workshop.
IGNTD Couples Retreat, November 16-19, 2017:

Led by husband and wife team, Adi Jaffe, PH.D and Sophie, this retreat focuses on utilizing expertise of physical and mental health, nutrition, exercise, neuroscience and self-actualization to positively impact individual's relationships, career, and well-being. Using varied approaches such as cognitive behavioral education, mindfulness techniques and the latest in biofeedback and neurofeedback, Dr. Jaffe is known for changing lives. Itinerary highlights include daily activities such as yoga and hiking, an introduction to biofeedback, meditation, and stargazing.
Prices for retreats range between $2,600 and $5,200 based on occupancy. To book a retreat or for more information, Sonnenalp.com.