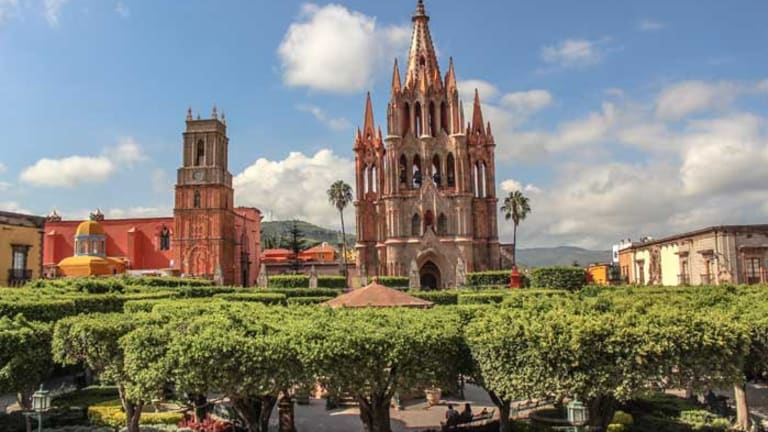 San Miguel de Allende – An Artful Adventure
Here are our favorite ways of dipping into the cultural charms of this central Mexican city.
Many a medieval city has fallen by the wayside after war or sickness ravaged the population, crumbling over time as it transitioned from bustling hub to ghost town to ruin. San Miguel de Allende, originally a Chichimeca village, became an important Spanish colonial city in the 16th Century and developed a deep Mexican history central to the nation's ultimate independence, but it, too, nearly met the same fate as so many others after an influenza outbreak in the early 20th Century. Left behind was a sea of abandoned baroque and neoclassical architecture along cobblestone streets rambling up and down the city's slopes. Fortunately, the central Mexican city was rediscovered by expat artists who founded a respected creative community that quickly drew international attention, revitalizing a city that now tops many a bucket list. UPTOWN was recently invited to visit San Miguel de Allende, and here were our favorite ways to dip into the city's cultural charms.
Stay at Hacienda El Santuario
Housed in a historic mansion just a short walk from the city's main square, Hacienda El Santuario is a boutique hotel of unique suites (in four categories ranging from petite to grand master) nestled among courtyards and gardens overflowing with lush vegetation and brightly colored flowers, all bedecked in a museum-size collection of Mexican folk art covering every surface. Exploring the curious corners and quirky curves of the boutique hotel's winding walkways in search of hidden treasures is an afternoon adventure all on its own. Suites are spacious and comfortable, and we were particularly in love with the landscaped rooftop veranda outside of ours, presenting panoramic views of sculpted gardens and La Parroquia, the city's famous pink-spired church dating back to the 17th Century.
Have Dinner on a Roof
Or a drink. Just go upstairs. The streets are endlessly endearing and the hubbub of the city's main square (Jardín Principal) is amusing, but the real action in San Miguel de Allende is on the rooftops. Hotels tend beautiful gardens, homes and business throw parties, and restaurants and bars offer their best seating from these lofty perches overlooking the city and its surrounding countryside. Listen to the bells clang from centrally located restaurants like Quince, just across from La Parroquia, or head a little further uphill to Antonia Bistro for a bird's eye view of the entire region. We caught an impressive fireworks display from here, illuminating the best of SMA below.
Celebrate a Festival
If you can plan your visit during a holiday or festival, do it. San Miguel de Allende understands celebration better than just about anywhere, and it's possible that no city is more obsessed with fireworks and other pyrotechnics. We visited during the Feast of San Miguel (just after Mexican Independence Day, so silk flags were still draped over every balcony, and the national colors flowed absolutely everywhere), and the parades and music lasted for nearly three straight days, with multiple fireworks displays every night, and a nonstop bonus hour of chaotic fireworks somewhere around 4 in the morning the first two nights. Look out for mojigangas, the traditional, larger-than-life puppets that parade around town and whirl devilishly to Mexican banda music. Some top out over 15 feet tall and weigh nearly 50 pounds, stacked on the shoulders of the agile dancers who animate them, and all are beloved in San Miguel de Allende and beyond. The traditional art form is being kept alive by just a couple of prestigious studios in SMA, and they're a highlight of any celebration.
Start Your Own Collection
After even a day in San Miguel de Allende, surrounded by such a rich heritage of art and artisan craft, you're going to want to take some of it home. Visit the Mercado de Artesanias where you'll find everything from handmade jewelry and clothing to art, dishware, and textiles in a sunken corridor of stalls and shops. Even if you're not interested in shopping, the colors and commotion are worth the experience (but trust us, you'll buy something, even if it's just a tasty snack!).
Get Out of Town
The old world charm of San Miguel de Allende may not seem like the natural setting for ATVs, but you'd be surprised how well they go together. The city's narrow streets weren't designed for heavy car traffic, and the steep hills can become exhausting for the legs, so ATVs have become an increasingly common alternative mode of transportation for locals carting themselves and their groceries around town. For visitors, several adventure companies offer guided ATV tours of both the city and its surroundings for an adventurous alternative to a traditional walking tour. We took a whirwind zip with Bicentenario Todo Terreno to get outside the city center and checkout some of the history and authenticity of local life outside the more touristic areas, and highly recommend taking this adventure yourself.