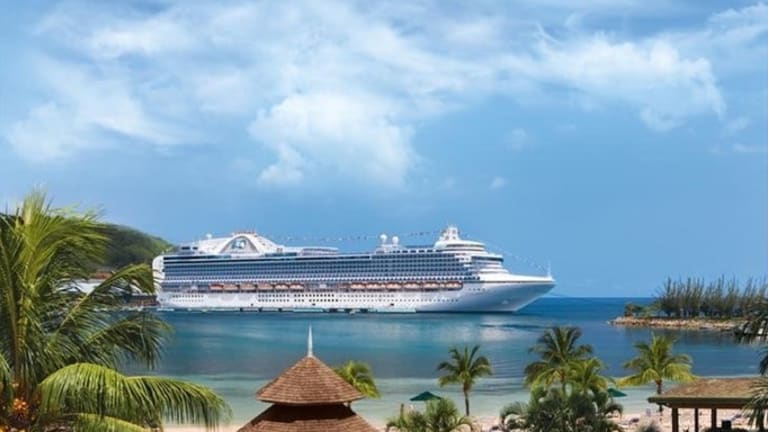 Princess Cruises: The Caribbean is Open!
After a devastating double punch from hurricanes in the Caribbean last fall, Princess Cruises has an important message.
After a devastating double punch from Hurricanes Irma and Maria in the Caribbean last fall, Princess Cruises has an important message for anyone wondering about the condition of the battered eastern islands: The Caribbean is open. Earlier this month, the Crown Princess resumed full service to its popular Eastern Caribbean itinerary, including a call at St. Thomas for the first time since the hurricanes tore through the idyllic island. For many on St. Thomas, power and water had been fully restored just days before the Crown Princess arrived, but island residents couldn't have been more excited to see the return of its passengers. For islands like these, tourism is the number one industry, and an absence of tourists makes continued recovery next to impossible. UPTOWN was invited on this first full return to the Eastern Caribbean itinerary, and we spoke with locals, tour operators, and business owners in each port who overwhelmingly echoed the same sentiment: It's time to come back.
​
After any natural disaster, quick recovery is important to both locals and cruise lines, who each depend on each other to support the business that keeps island economies afloat. Recognizing this symbiotic relationship, several cruise lines, including Princess Cruises, teamed up to send a labor force of 200 to St. Thomas to assist in recovery efforts. Cruise employees lived in the same temporary shelters as islanders, without modern facilities or amenities, as they worked to rebuild. Before resuming service to any affected island, Princess sent teams of inspectors to assess not just the appearance of the islands but, much more importantly, the safety and functionality of the regions from basic sanitation to quality of land excursions, which are a highlight for passengers and an important revenue source for cruise lines. While many resorts in the Eastern Caribbean are still rebuilding, island infrastructures are sound and the tourism industry is otherwise up to speed, so now is an ideal time to visit by ship—floating resorts that weren't affected by hurricanes.
​
​
Princess Cruises departs for the Eastern Caribbean from Fort Lauderdale, Florida, for an eight-day itinerary that begins with two days at sea before calling at St. Kitts, Antigua, St. Thomas, and Grand Turk. Following the whirlwind visit to four islands, a final sea day provides some needed rest before returning to the US. Aboard the ship, there's plenty more to explore than unlimited buffets and drinks by the pool. Of course, the customary trivia, bingo, and karaoke are regularly available, but programs like Voice of the Ocean set Princess apart. In partnership with the international megahit The Voice, Princess hosts on-board auditions followed by week-long mentorships with entertainment staff before a live finale in the ship's theater, complete with the iconic spinning judges' chairs and voting devices for each audience member.
All jokes about cruise ship buffets aside, Princess dining is no laughing matter. Yes, buffets are available throughout the day (and there's actually good food and surprising variety dished up daily), along with a pizza shop, ice cream counter, and burger-and-fries joint that are typically open (and included) until 11 p.m. most days, as well as restaurants ranging from upscale steakhouse to classic Italian available for a small up-charge. But the crowning experience of Princess dining is the chef's table. Make reservations on-board and experience a behind-the-scenes tour of the ship's massive galley to see how thousands of guests are simultaneously served individually prepared meals of superior quality. Then meet the executive chef at an intimate table within the galley to sample some exquisite amuse-bouches with champagne. For the main event, head to your private table in the dining room for a formal chef's tasting menu of seemingly endless courses, much of which is prepared tableside with the help of your personal staff as you are informed and entertained by your host. The exclusive menu, available nowhere else on-board, is designed and prepared nightly by the executive chef especially for the chef's table guests, and can be inspired by anything from a holiday to the local haul of ingredients from the day's port of call.
​
​
On shore days, excursions are the way to go. Ranging in price from about $50 to $250, excursion options run the gamut from casual driving tours and luxurious catamaran trips to rain forest zip lining, scuba diving, snorkeling, horseback riding in the ocean, kayaking, and beyond. Cruise vacations aren't exactly famous for immersive local experiences, but excursions are your key to getting to know locals in the form of guides who are more than willing to talk candidly about island life. Most island ports have a nearly identical menagerie of tourist shops, jewelry shops, and bars, but stray a few streets past and real life is bustling within reach. Here you'll see the colorful houses you imagined, find the food islanders eat, and chat with people in parks as you experience a little bit of local life. Don't be afraid to Google some local hot spots for a meal or a drink, and if you need to take a car to a sweet find, discuss the fare upfront and never accept the first offer—negotiate and aim low! Pro Tip: Don't forget to book an excursion at your final port of call, Fort Lauderdale. Take an airboat ride through the everglades and end the adventure at the airport in time for your flight, letting Princess take care of your luggage throughout the day; it's an awesome transition that beats rushing off the ship early in the morning to abruptly smash your vacay spirit by waiting around in an airport all day.
​
​
2018 brings a return to year-round Caribbean sailing for Princess Cruises. In recent years, the ships haven't visited the region during the summer months, but strong demand has brought the popular destination back into Princess's year-round offerings. There's never been a better time to book a cruise to the Caribbean where, by merely visiting, you're boosting small economies that are depending now more than ever on tourism for survival. The islands are open, safe, and ready, and Princess Cruises will get you there in style.