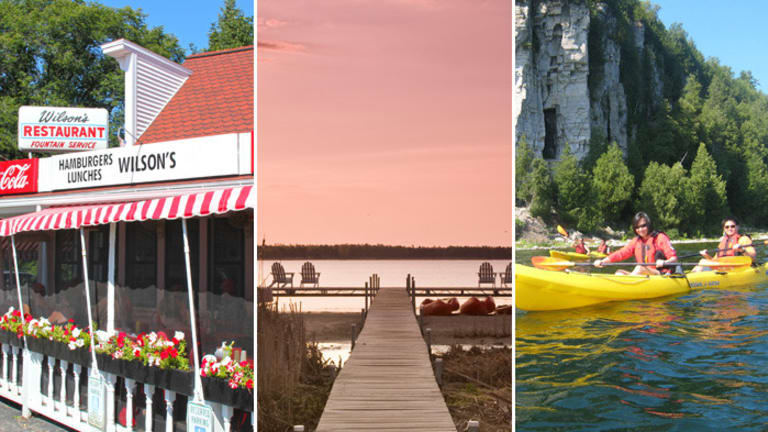 Pack On the Pounds and Burn Them Right Back Off in Door County, Wisconsin
Wisconsin's famous cheese curds aren't the only item on the menu at eateries throughout the quaint county.
Named for Death's Door, the strait that separates Green Bay from the rest of Lake Michigan, Door County, Wisconsin may sound like a perilous destination but the only thing likely to die here is your diet. It's not just the famous Wisconsin cheese curds (almost always fried in Door County) that will ensnare you in cycles of endless gorging, but a colossal collection of must-have meals and snacks spread throughout the county's many quaint villages. UPTOWN was invited to explore the Door County and these are our recommendations for where to pack on the pounds and how to burn them right back off again (so you can eat more).
Eat: Start your mornings with a cup of Door County Coffee. Made exclusively from class 1 Arabica beans, only the best brew is offered by this local powerhouse that produces coffee for all 50 states and beyond. While here, take a crash course at Coffee College to learn what a "class 1" bean even is, how flavored coffee can still be top quality (from most places it isn't, but here it is), and just how obsessed Door County is with its eponymous coffee. Double up on your caffeine intake and enjoy an indulgent breakfast at the café here; you'll need the energy.
Do: Door County is home to a series of tranquil villages and none of them is more than a stone's throw from the lake, so it's no surprise that kayaking and stand up paddleboarding are common activities here. What is surprising to some is the intensity of waves that can be found during rough conditions—you might see bigger waves here than you've found at some ocean beaches—but equipment renters and guides will advise, and most days on the lake are idyllic. Don't miss Cave Point, where relentless wind and waves have eroded caves into the sides of limestone cliffs best appreciated by kayak. Try Door County Adventure Center for a full day of lake (and lakeside) appreciation, spending the afternoon on kayaks and standup paddleboards, and taking a dip in the refreshing freshwater, before air-drying on four zip lines among the woods just offshore. The course here is relatively low-key, so it's great for beginners, families, and the casually curious, too.
Eat: On site is Rowleys Bay Restaurant, home to the most entertaining fish boil in Door County. Fish boils are a long tradition in the county, and Rowleys Bay presents theirs four nights per week from Memorial Day through mid-October, narrated by a comically cantankerous actor delivering history and quips as the master boiler prepares the meal, culminating in explosive style sure to please any pyromaniac. Move indoors to enjoy the feast buffet-style (meat and vegetarian options are also available) along with desserts baked on-site.
Do: For the lake lover who'd rather swoon than sweat, Door County offers experiences for all adrenaline levels. For the most chill, try a bay excursion with Sister Bay Scenic Boat Tours. Sip local Wisconsin brews and take in the surprising scenery while enjoying live music and insights from local experts. If you're looking for a bit more wind in your hair, try Door Country Adventure Rafting's high-speed boat tour to catch some of the lake's picturesque shorelines, shipwrecks, and lighthouses (the county has 11 of the state's 55). And, for the daredevil in the group, Soar Door County offers bird's eye views through parasailing packages.
Eat: After another day on the lake, head to Wild Tomato for a wood-fired pizza experience that will satisfy your stomach, your curiosity, and your conscience. Traditional pizzas are available (and delicious) here, but most come for innovative creations like the Green and Gold (with chicken, bacon, broccoli, and cheese curds) and the Fun Guy (it's a mushroom pizza—get it?—with five types of mushrooms and more on a garlic cream cheese bed). The salads are especially strong here, too (try the watermelon and feta or the sesame tuna), and sandwiches, pastas, and the plenty of apps are all available. Wild Tomato is a local business with a social mission and you can assist their efforts just by stuffing your face with the Donation Creation of the month, benefiting a range of local causes.
Do: Despite its spectacular lakeside setting on both the east and west borders, there's adventure to be had on land, too. A 10-mile bike ride along the Sunset Trail at Peninsula State Park is a tranquil trip through an array of picture-perfect landscapes including woods and shoreline. It's a comfortable ride (all paved) for any skill level, and Edge of Park has bike (and moped!) rentals for all interests, including mountain, road, tandem, toddler tagalongs, and even dog carts. Kids' bikes and adaptive bikes for special needs are also available.
Eat:Wilson's Restaurant & Ice Cream Parlor in Ephraim is the next-level dessert experience of your ice cream dreams. You can eat a full meal here, but you'd be doing your inner-child a serious disservice. Save all your stomach space for multiple ice cream treats. Wilson's, dishing out desserts since 1906, has a mind-boggling assortment of ice cream specialties with tantalizing names like Dark Secret, Three Kings, and Wilson's Banquet, which claims you'll need a friend to finish. Consider it a challenge. More than 20 ice cream flavors are available and, while sundaes are served with the traditional cherry on top, it's the jellybean on the bottom that has kept patrons returning for more than a century.
Stay: With all the eating and adventuring to be had in Door County, you'll need to recharge somewhere, and Blacksmith Inn on the Shore, with lake-view balconies, fireplaces, and whirlpools in all 15 guestrooms, is the ideal combination of all of the county's best qualities. This charming B&B offers a modern cabin feel; bikes, kayaks, sleds, and snowshoes; unmissable cherry oatmeal cookies all day; and a healthy breakfast to jump-start each morning. Exuding the charm, adventure, and deliciousness of the region, it's a symbol of Door County itself.
​