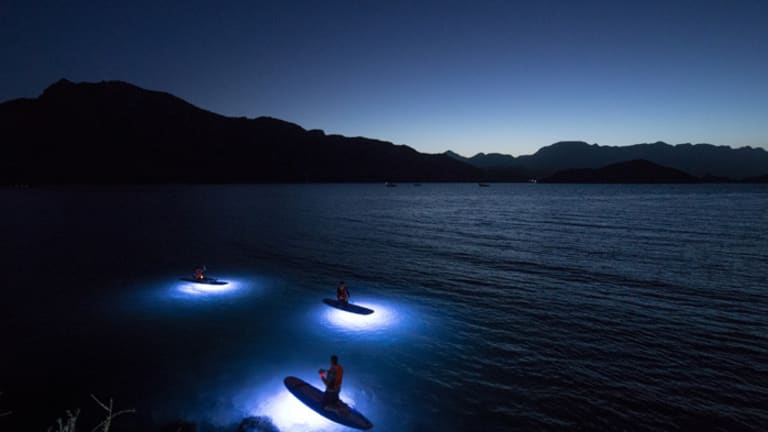 Natural Escape in Loreto, Mexico
Experience untouched splendor and luxury at Villa del Palmar Beach Resort & Spa Resort at the Islands of Loreto.
Los Cabos bills itself as a natural wonderland of stunning waters teeming with thrilling wildlife, and it is, but it's also a well-discovered getaway frequently packed with partiers of the spring break or girls' getaway variety. If you're looking for a more subdued Mexican escape on the southern Baja California peninsula, head about 350 miles north to Loreto and its pristine islands protected by Bahía de Loreto National Park. UPTOWN was recently invited to Villa del Palmar Beach Resort & Spa Resort at the Islands of Loreto to explore the region's untouched splendor without sacrificing luxury, and here were the highlights.
The Suites
Villa del Palmar's suites are spacious, but the oversize terraces are simply sprawling. Our one-bedroom suite was equipped with a full kitchen, living room, dining area, decadent bathroom and dressing area with whirlpool tub, a second full bathroom, and even a laundry room, but nothing could compare to the wrap-around terrace with enough space for a small banquet and views of both the Sea of Cortez and the property's TPC Danzante Bay golf course. It's the type of suite that inspires fantasies of running away to Mexico forever, and the type of terrace that almost makes you forget to get out and explore.
The Sea
Departing from Villa del Palmar's private Ensanada Blanca beach, take a boat tour of the surrounding islands and explore uninhabited (by humans) rock-scapes with sweeping views of sparkling waters. Grab a snorkel and swim amid a million sardines shimmering around you as far as the eye can see, before discovering colorful species darting in and out of crevices and larger, more curious fish who seem largely unfazed by human presence. The true showstoppers here are the dolphins, living in abundance and insatiably playful. During our morning tour of the islands, we encountered upwards of 70 dolphins (at one time!) that couldn't get enough of racing our small speedboat, leaping in every direction, often just an arm's length from our seats. It's an up-close, all-natural dolphin experience hard to find anywhere else, and because there are no other resorts along this protected park, there are also no crowds. We only saw one other boat during our half-day adventure, and it was a small fishing boat. Other beach activities offered include diving, kayaking, and LED SUP paddleboarding at twilight.
The Spa
After a day at sea, visit Sabila Spa back at Villa del Palmar. The 39,000-square-foot facility offers more than 75 treatments from both the traditional (Classic Swedish Massage) and hyper-specific (Fisherman's Special) to the truly sumptuous (Wine Therapy treatment or Chocolate Delight Massage), and comes complete with expansive hydrotherapy suites including sauna, cold plunge, warm plunge, hot tub, and spa valets to ensure ultimate pampering. We tried a simple back, neck, and shoulder rub after completing the hydrotherapy circuit, and were just too relaxed to bother with the fitness center next door.
The Shuttle
Don't forget to visit the actual town of Loreto. The tiny village is just a short shuttle ride from Villa del Palmar and shuttles run daily in the afternoon and evening. In town, shop for souvenirs like brightly-painted alebrijes (the fantastical spirit animals made famous by Disney's Coco) and luchador wrestling masks, explore the sleepy corridors and chapels of Mission Loreto (founded in 1697), and sip margaritas by the sea after strolling the town's quaint main drag until it dead-ends at the sea.
The Scene
While Villa del Palmar hosts plenty of daily and nightly entertainment, the hilltop disco yurt is a unique experience not to be missed, if for no other reason than you're unlikely ever to find another one. The small circular structure, complete with bar, is reached by the resort's free shuttle (it's a super quick drive uphill) and can be surprisingly lively for a cozy "club" overlooking the bay in the middle of the Mexican mountains. It's a tiny slice of magic far from the world outside, like Villa del Palmar itself.