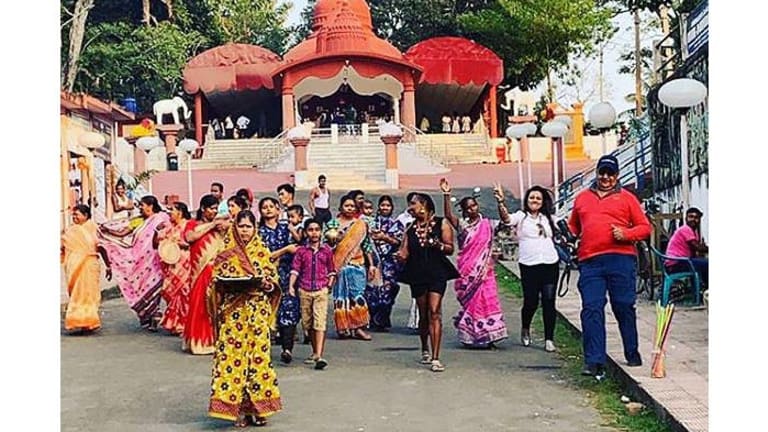 Mesmerizing Meghalaya: Abode of the Clouds
One does not discover new lands without consenting to lose sight of the shore for a very long time — André Gide.
By Sheryl Wesley
Besides a brief stay in Tripura for the North East Travel Expo, I felt like I was a solo contestant on the show Amazing Race, except there was no million-dollar prize at the end. Honestly, there is no greater reward for me than the gift of an experience, memories that money can never buy, encounters to savor that are considered once in a lifetime that no one can ever take from you.
To be honest, India was not (high) on my to-do list. However, just like looking at a menu for the first time, India suddenly looked savory and I instantly became ravenous for this rarity of an encounter.
Consumption, that is what this was. I wanted to be greedy and full, I wanted to be used and dissected. I wanted to take and give. I waited for the land to speak to me, the hills to swallow me, the enchanted forest to feel my presence as I did theirs, and for us both to mime each other in movement where there was a cool breeze without wind, where there was a language without words, to feel without touching, to share without interpretation, to float without gravity. I was in Meghalaya, the abode of the clouds. It's the wettest place on earth where I became drenched but not by water, I was soaked with evidence and existence, I was exposed and outside, outside of my comfort zone, on top of the world, on top of mountains, trekking hills and valleys. I was an innocent abroad willingly taken advantage of. I was entrenched in the womb of #IncredibleIndia.
Chilling in Shillong
If your idea of a perfect vacation is to be a full week on the beach with the beaming sun and ample mojitos, you may want to reconsider Shillong as your destination. This is for the adventure in you. A happening destination for the well-heeled traveler who wants to see and experience something new and offbeat. Traveling to Shillong is for the cool in you! If I had to start a story of my travels to Shillong, it would begin with "You just had to be there."
Keep your eyes on this! I'm about to show you my explicit tryst with this land above the clouds.
Eat
Just as we left a magical place (I'll get into that later), it was hard to imagine something even more mystical to enter into right after! The Betelnut Restaurant compelled us immediately into a trance. The restaurant is named after the areca nut, the fruit of the areca palm, that grows in much of the tropical Pacific (Melanesia and Micronesia), Southeast and South Asia, and parts of east Africa. It is commonly referred to as betel nut. The areca nut is not a true nut, but rather a fruit categorized as a berry. But enough about that let's talk about the views which had to make the food taste better.
This tiny piece of Heaven on Earth is located on the Betelnut Resort located at Shnongpdeng village near Dawki. This exclusive resort is set up in a Betelnut plantation forest near the river Umngot, which is famous for its crystal-clear waters.
Play
Riding in the Umngot River is the most beautiful experience. A paradise in the hills, if ever there was one, spellbound by the crystal-clear river water, so transparent it seems like an aquarium where you can see fish in the deepest of water. The color is so amazing it needs its own Pantone. It flows through Dawki, a small but busy town in the East Jaintia Hills district near the Indo-Bangladeshi border.
Dawki suspension bridge connects two hillocks and was built by the British back in 1932. There are packages for tent stay overnight at Dawki. From the river you can see Indo-Bangladeshi border as well. Here is where you can camp overnight right along the peaceful river, kayak, and zip-line. It's great for couples and families. The amazing views will mesmerize you. This is a hidden gem of Meghalaya tourism.
Love
From the outside, Mawphlang Sacred Grove or The Enchanted Forest looks like a huge dry field with an undefined entry to what looked like just a cluster of trees. This is where we met our guide who did his very best at speaking English as his second (third, or maybe fourth) language to convey to us the seriousness of our forthcoming trek. I personally missed an extensive part of the presentation due to my untactful observation of a small swarm of mosquitoes ready to usher us into the forest to perhaps meet up with their counterparts. Hence, I was spraying my repellent head to toe, zipping up my jacket until I felt the hardware from my zipper touch the edge of my chin, and preparing my scarf around my head as if I had a hijab, because I, like the rest of the world, do not like to get bitten.
It is a must-visit place for the lovers of nature and mysticism. According to local tribal beliefs, a deity known as Labasa inhabits the forest. It takes on the form of a tiger or leopard and protects the community. This place is nothing but nature in its true essence. The entire tour of the forest takes around one hour.
Other Faves and Must Dos
Neermahal is the floating wonder of Agartala. Neermahal (meaning "Water Palace") is a former royal palace built by King of Tripura Bir Bikram Kishore Manikya Bahadur.
A walk in the clouds to India's highest waterfall, Nohkalikai Falls to one of the most photogenic spots in the Indian state of Meghalaya.
Polo Orchid Resort is a part of the prestigious Hotel Polo Towers Group. This resort has a rustic-style in a tranquil setting of lush green hills and stunning views.
Don Bosco Centre for Indigenous Cultures is known as one the finest museums in Asia that is focused on the promotion of indigenous and tribal cultures.
Thangkharang Park is one of the main attractions of Cherrapunji. Lying next to the Khoh Ramhah rock, this park offers a nice view of Bangladesh. You can also treat your eyes to the lovely views of the Kynrem falls that gush down in three levels.
Cherrapunji is known as one of the wettest places on Earth and is famous for its living bridges. Cherrapunji is complete with many tourist attractions to explore.
Halwa is a aromatic sweet pudding made from cereals, fruits, or vegetables.
A main attraction of Nohwet, is the famous Living Root Bridge, a marvelous feat of human ingenuity, nurtured by nature herself, and is now a shining example of symbiosis between humanity and Mother Nature.
​
​