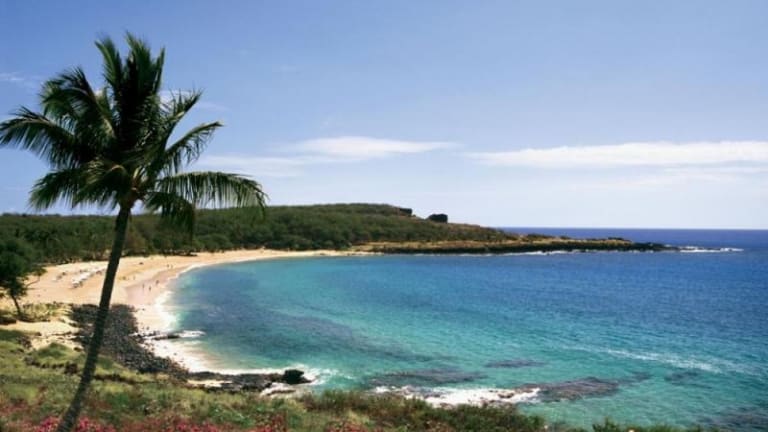 Luxurious Leisure in Lanai, Hawaii
Luxurious Leisure in Lanai, Hawaii
Lanai probably isn't the first Hawaiian island you can recall (if you even know it's an island at all), but if luxury leisure pursuits in utopian settings top your summer agenda, you should get to know this oft-overlooked island a few miles west of Maui. Far less crowded than those islands you can name, Lanai boasts just one quaint town (amusingly named Lanai City, despite a noticeable lack of tall buildings, traffic jams, or even traffic lights) and many roads outside of this central hub are unpaved trails that can only be explored in four-wheel-drive vehicles. It's an intentionally underdeveloped island—a lesser-touched paradise—that encourages a lifestyle of quiet quality for a more discreet traveler. This isn't a place to be discovered, but an island to discover, where treasures with alluring names like Shipwreck Beach and Garden of the Gods can only be found by traversing unnamed roads that evolve with the weather. Because Lanai is 97 percent owned by Larry Ellison, cofounder or Oracle, it's essentially a private island open to the discerning public, all but guaranteeing this former pineapple plantation will forever maintain its notable aura of exclusivity and serenity.
Lanai's unique brand of relaxed adventure is best experienced with a stay at the Four Seasons Resort Lanai, conveniently situated above the island's most pristine beach, Manele Bay. Aside from the unrivaled view, its position at a lower elevation than Lanai City (home to the island's only other resort, The Lodge at Koele, also a Four Seasons property), provides warmer weather and less precipitation than in the town above—not that there's a bad location anywhere on Lanai. Set in Hawaiian botanical gardens that envelope the property's 213 rooms and suites in lush vegetation enhancing the resort's private-residence-feel, the glimmering pools (including a family-friendly pool and an adults-only pool complete with a grotto and waterfall, all surrounded by intimate, secluded pool decks separated by near jungle-like flora) aren't the only ocean-side wonders here. Manele Golf Course, a top draw for guests to the island, sits over black lava outcroppings and boasts three holes along craggy cliffs, including hole 12 with no fairway, just 200 yards of ocean between cliffs, where Bill and Melinda Gates held their lavish wedding in 1994. This Jack Nicklaus-designed course is among the most visually stunning anywhere and, with its five-tee concept, it's a comfortable yet invigorating play for all skill levels. A variety of specialty golf events, including the Sunset Nine, the Rock 'N' Range, and Juniors offerings for the kids, invite all resort guests to experience the course.
Between hikes with spectacular vistas, otherworldly encounters with endless boulder fields, snorkeling and diving in the protected marine preserve of Hulopoe Bay (adjacent to Manele Bay), clay shooting, archery, and horseback riding, Lanai is a playground of upscale adult summer-camp-style activity. Though transfer service is available to several of these experiences, they're all best reached by Jeeps, available at Four Seasons Lanai. Driving the spectacularly unfinished "roads" of Lanai is possibly the greatest adventure around, so do rent a sparkling white Jeep for at least a day and enjoy sloshing through mud, barreling over rocky hills, sidling through sand mere feet from crashing coastlines, and navigating dense overgrowth on routes so narrow you'll wonder what would happen if someone were to approach from the opposite direction.
Between exertions, refuel at one of the Four Seasons Resort Lanai's top-tier restaurants, including Nobu Lanai. To unwind, book a treatment at Hawanawana Spa (on property) and if you can't choose from among the myriad unique offerings, opt for the Signature Hawanawana treatment, incorporating ancient Hawaiian traditions in a multicultural blend of techniques. Spa facilities are complimentary for all resort guests, including the saunas and steam rooms.
However you choose to pass your idyllic days, the world-class lifestyle of the Four Seasons Resort Lanai extends throughout the island for an experience of seamless sophistication from start to finish. It's the fantasy island you didn't know was real.
​