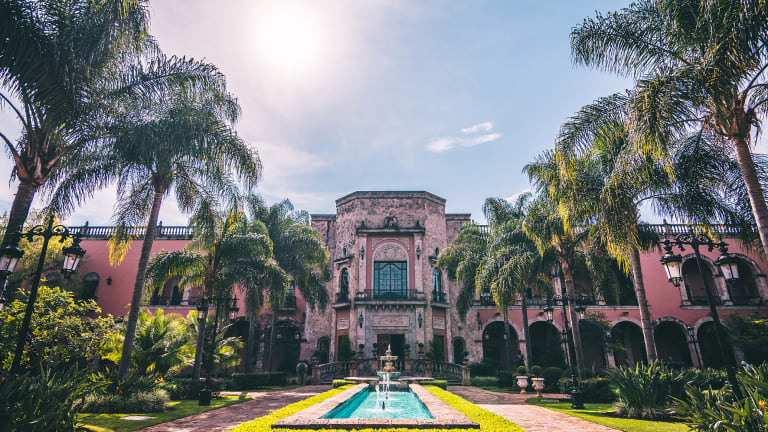 Inside Patrón's Exclusive, Invite-Only Hacienda
Hacienda Patrón -- yes, that Patrón -- is so exclusive, you can't visit without receiving an invitation.
Visiting wineries will never go out of style and craft beer distilleries may have cemented their place in the tourism hall of fame over the past decade, too, but spirit distilleries are finally starting to carve a considerable chunk of their own from the alcohol tourism mountain. Outside of Kentucky, few places are as strongly associated with a single spirit as Mexico is with tequila, and for that you can thank appellation of origin. These are the rules mandating that certain products only be named for a place if they actually come from that place, like Champagne. Tequila is one of these specially protected products, so anything branded as tequila must come from the Mexican state ofJalisco, where there is actually a town named Tequila, or one of a very small number of neighboring municipalities. Thanks to the relatively recent spike in spirit distillery tourism, Jalisco is an increasingly popular Mexican destination for curious (and thirsty) travelers, but there's one premium tequila producer whose facilities are so exclusive you can't visit without an invitation, and that means everyone wants one. UPTOWN recently scored an invite to Hacienda Patrón for a behind-the-scenes look at one of the world's best-selling tequilas, and here's what we discovered.
​
You'd probably move into the factory if you could
The first building you see when you get through the gates is a spectacular Spanish Colonial-style palace, but it's not actually a house at all. It's the distillery. Despite the 45-foot high domed entrance and the handmade doors, windows, and stones throughout, not to mention the art collected from around the world or the auditorium, dining rooms, and chapel within, the primary function of this stunner is the production of Patrón. Inside, you'll see many of the brand's nearly 2,000 employees meticulously crafting Patrón, from cooking the agave and extracting the sugars to fermenting, distilling and eventually bottling, all by hand—a total process that requires an average of 62 pairs of hands touch every single bottle of Patrón before it reaches you in a store. Despite the labor-intensive process of producing the tequila, the most exhilarating room in the Hacienda's distinguished distillery is the bottling room, which can be witnessed from a viewing platform above. We felt like we were getting a peek inside Willy Wonka's factory as we tried to take in the sight of hundreds of hands sticking labels, numbering, stuffing, and wrapping the constantly clanking bottles into beautiful boxes, sending them out with love.
You'd definitely move into the guesthouse if you could
Beyond the distillery/factory itself, there are several other impressive buildings on the Hacienda Patrón property, but none is quite as luxe as La Casona ("the mansion"), the 20-room guesthouse that is decidedly not a hotel. You won't find this one on any booking websites because you can't book it; you can only be invited to La Casona and that means you're truly a guest when you're here. Not only can't you pay or even tip here, but its indulgently-appointed guest rooms are outfitted with sky-high ceilings, extra large beds (6" longer than traditional hotel beds), outlets galore for all your devices, and a bathroom suite fit for A-listers, which is how all guests of La Casona are treated. In the public and private rooms surrounding La Casona's manicured central courtyard, you'll also find a restaurant, café, bar, and speakeasy, all of which are complimentary. It's the all-inclusive resort with boutique service and quality that money can't buy. Because there are only 20 rooms, there's an intimacy about the sprawling mansion that exudes the "mi casa es su casa" experience of the brand's hospitality at every turn, and we were particularly enamored of two traditions at La Casona: Each night, the free buses that shuttle Patrón's employees home to various towns in the region drive by the mansion's bar, and the employees wave goodnight to the guests with their lit cellphones as guests wave goodnight back to them; and each guest invited to Hacienda Patrón receives an engraved copper bee, the brand's logo, to hang on the family trees in the courtyard before leaving.
It's not just handmade, it's tradition
Nothing drives home how obsessively handmade each bottle of Patrón tequila is like witnessing the entire production process in person, but the most traditional step may be the one that takes place offsite in the agave fields that supply the brand with its blue Weber agave (the only species of agave out of roughly 200 that can be used for tequila). Here, jimadors harvest and chop the leaves from each agave plant before loading them on donkeys and sending them to the trucks. The leaf chopping ("trimming") is an art form for any jimador, but Patrón is especially particular about the quality of its agave trim, requiring extra work (and therefore extra time) on every single plant, so only the best jimadors will be able to, well, cut it. For this, Patrón pays a premium to its suppliers, who don't work on a schedule, but on a quota; the day is done when the 20-ton-capacity truck is full. Jimadors are beloved in Jalisco, where the harvesting and trimming process has remained virtually unchanged since the 1600s, and most jimadors were trained by their fathers, who were trained by their fathers, and so on in a centuries' old line of tradition. After watching the speed and precision of one of Patrón's contracted jimadors, we can't help but thinking of all the heritage behind each sip of tequila we take now.
Patrón cares about more than tequila
It's clear that Patrón cares immensely about its product and its employees, but it also cares about its local community and the global community with which it does business. Working toward sustainability, Hacienda Patrón built and operates its own reverse-osmosis plant to take all of its liquid waste from tequila production and convert it into usable water for everything from watering the grounds to filling the cooling towers. It also produces its own compost from the heaps of leftover agave fibers that fill an airplane hangar-sized facility onsite and donates (free) this composted fertilizer to its agave farmers and others (including employees) who can use it. And to help its local community more directly, Patrón and its employees are regularly involved with local charities that assist with orphaned children, the elderly, and the underprivileged, while also funding important town initiatives like the restoration of a 250-year-old church. While in town, we participated in a day of service with Patrón by filling cases at a food bank warehouse in the morning and delivering them to recipients in the afternoon, and appreciated how directly Patrón works not just with its own employees but with the surrounding communities, many of which depend on the socially and environmentally conscious brand.