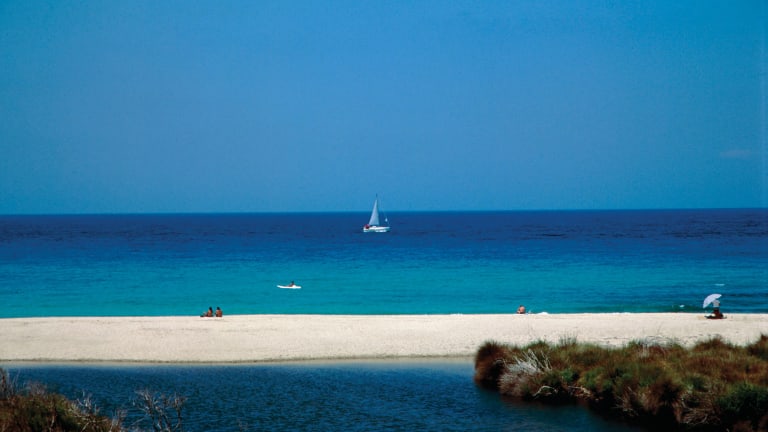 Ikaria: The Island of Longevity and Surf
Let the Ikarians of Greece teach you how to live a long, abundant life.
"I was dancing until one hour ago, and I am just about to go and check on my goats," says 84-year-old grandfather Ioannis Kavouras. It is 8 a.m., and we are sipping a tarry Greek coffee at a kafenio (or traditional Greek coffee shop) with other partygoers who are starting their day, or rather, ending their night here. On the island of Ikaria in the northeast Aegean Sea, age is not a limit when it comes to dancing raucously until dawn.
A two-hour ferry journey from Mykonos, Ikaria is known as the island of longevity and a registered "Blue Zone." Here people are several times more likely to live to a ripe old age than anywhere else on the planet. This vitality is what makes Ikaria unlike any other Greek island.
So laid-back is the lifestyle that you can expect to find no one to serve you in the morning at the local village bakery. Instead, the owners of the establishment prefer that you leave a coin on the countertop and help yourself with the fresh bread they finished baking only hours before. Job done. Ikarians have a higher life expectancy because of low levels of cortisol, and living life here means doing as Ioannis did last night, dancing alongside teenagers until sunrise at the local panigiri (or festival) regardless of your age.
It may well be the landscape that instills this sense of vitality -- rugged mountains that jut into romantic wisps of clouds at their peak, crashing waves powered by the Aegean's famous northern wind lapping over winding coastal roads, and the meltemi winds, and white sand beaches with turquoise waters -- like the aptly named Seychelles Beach -- could be mistaken for shores in the tropics. The villages, like Raches, way up in the tree-dense mountains are buzzing with activity. Locals play backgammon for hours under the dappled shade of the trees at a local coffee shop. The young crowd that is beginning to make Ikaria a scene for surfing rub shoulders with older mustached locals, who happily welcome the young blood to the island.
As laid-back as it might be, Ikaria is very much alive. Even on winding mountain passes, far from the whitewashed villages and settlements along the coast, hordes of goats crowd the road. Driving from the airport to the northern side of the island, I meet a family of goats who bleat defiantly at me. They refuse to budge until I unfasten my seatbelt and tentatively step out of the car to move them along on my own.
It was here that the mythological Ikarus plunged to his death into the wild waves off the coast, after attempting to fly to the heavens with the make-shift wings his father Daedalus had made for him. And the island is just as wild, with crashing waves that now attract a lively surf scene. MesaktiBeach is more akin to a party beach in Goa, with its chilled-out surf crowd spilling out of a beach bar and onto the white sand. Tie-dyed sheets billow in the breeze above make-shift camps that surfers from all over Greece call home during the summer months.
"Where I'm from in Byron Bay, there's a real competitive energy, and it's not very welcoming to new surfers, but here it's a total free for all," says Australian surfer Phoebe Tunis, who has roots in Ikaria and returns every summer to catch waves and take a break from big city life. On just one beach, I met surfers from Bali, Germany, Italy, and Turkey. All of them first learned to surf on this very beach at the Ikaria Surf School. The establishment is credited for bringing countless newcomers to the island, specifically Mesakti beach in the past decade.
Further along from Mesakti Beach is the old port of Armenistis, where those not so keen on catching waves can instead catch the rays. After a long morning swim, I escape the midday heat to venture to a local restaurant. I enjoy hearty lobster linguine and a colorful Greek salad spiked with multi-colored cherry tomatoes, that tasted of sunshine, and was topped with a hefty wedge of feta cheese. I save room for dessert and indulge in creamy goat milk ice cream. There are so many goats on Ikaria, it seems like the most obvious choice.
I also visited the rocky bay with its freshwater pool at Nas Beach before winding around hairpin bends to reach the almost empty Trapalou Beach. The beach is serviced only by a single (and sometimes tricky) dirt road but worth the perseverance for its turquoise waters and tranquil atmosphere.
During the summer, the island comes alive at night during the seemingly endless local festival celebrations. The panigiri in Ikaria is perhaps the most famous and highly regarded in all of Greece. It is at these parties, which are usually held in a village square in celebration of a saint's day, that the entire island gathers. Rhythmic folk dancing in a circle to the accompaniment of drums, violin, and other string instruments characterizes the Ikarian Panigiri. Both young and old come together to join hands and whirl endlessly to the beat of the drum. Around them, villagers indulge in souvlaki kebabs, slow-braised goat in rich tomato stew, and saccharine loukoumades (the Greek's version of a doughnut), all swilled down with copious amounts of local wine.
It is here that I understand what it truly means to be from the island of longevity. It is not just the art of living a long life that the Ikarians have managed to perfect, it is living an abundant life that they do so well.