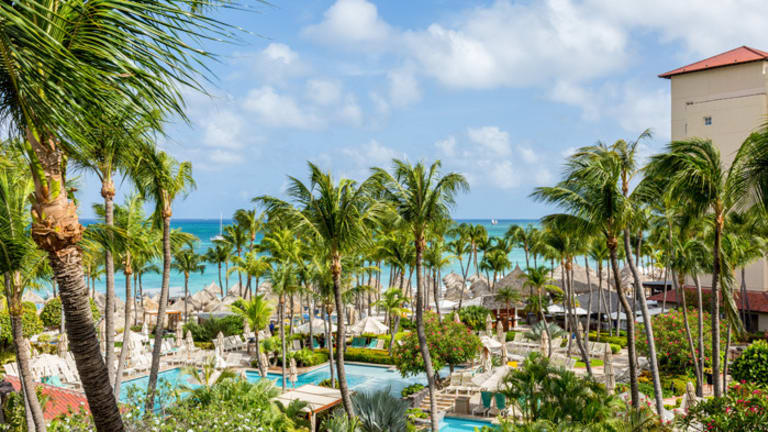 Hyatt Regency Aruba: One Happening Hotel on One Happy Island
The question isn't whether to go, but where to stay on this "one happy island," as the locals like to call it.
Aruba maybe one the furthest Caribbean islands from most points in the U.S., but it's also one of the most visited. Only 15 miles from Venezuela, the small island with idyllic beaches of pillowy white sand (made from crushed coral that doesn't hold heat, so toes are never burned) attracts nearly 2 million tourists annually and roughly 80 percent of them are American. There's no denying that Aruba's phenomenal beaches, impressive marine life, and world-famous population of, perhaps, the happiest people on Earth are impossible to resist, so the question isn't whether to go, but where to stay on this "one happy island," as the locals like to call it.
Recently completing a multimillion-dollar renovation of its 359 guest rooms and suites (and club-level lounge), the Hyatt Regency Aruba Resort Spa and Casino was already considered a top resort on the island and now is even more attractive to discerning vacationers. The new design brings the luxurious tranquility of the resort's waterfalls-and-palm-trees vibe inward, with bright rooms featuring a palette of sandy creams and whites, accentuated by ocean turquoise blues on plush surfaces amid the sleek ambiance of a modern beach house. Larger, updated bathrooms include quartz countertops, oak vanities, and backlit mirrors featuring integrated digital clocks, add to the overall comfort and appeal of the newly designed rooms. UPTOWN was recently invited to visit the Hyatt Regency Aruba to discover the top reasons it's such a fan-favorite, and here were our favorite features, other than the updated accommodations themselves.
ZoiA Spa
While Dutch is the official language of the island, most Arubans also speak Papiamento (and English and Spanish!), a Southern Caribbean language that combines several others. In Papiamento, "zoya" means "balance," and it's from this word that ZoiA Spa draws it name and overall inspiration. The 5,200-foot facility includes eight treatment rooms (several with indoor/outdoor functionality) offering both traditional and innovative treatments that incorporate Aruba's natural botanical bounty, especially aloe (Aruba is the world's leading producer of this soothing wonder). We tried the jet lag treatment and were transported by the 75-minute combination of relaxing full-body massage, reflexology, and aromatherapy.
Pools
Every great warm-weather resort needs an even greater pool, but Hyatt Regency Aruba takes its pool system to another level—three levels, actually. The 8,000-square-foot pool complex spans three tiers and includes family and adult pools, two hot tub whirlpools secluded in quiet corners of the tropical garden setting, waterfalls, and our favorite feature, the three-story water slide. We tried it more times than we care to admit, and encourage you to do the same. Stay tuned for yet another major upgrade onsite: The Hyatt Regency will soon unveil an entirely separate adult pool in an alternate location for a more complete moment of respite.
Beach
The Hyatt Regency is nestled along Palm Beach, home to most of Aruba's top properties, and while all of Aruba's stunning beaches are public property, the Hyatt's proprietary perks for guests make it one of the best access points around. The Aruban sun is intense, so grab a palapa as your beach-day-base (free, but they disappear fast, so you may want to pay a fee to reserve one in advance) and lounge in the shade on the soft sands of the shoreline. Perhaps more coveted than the thatched palapas are the floating mats for lounging idly on the surface of the calm Caribbean. These simple floats disappear moments after the beach hut opens at 9 a.m. and are rarely returned before closing, so be on time to score one of these elusive gems—they're worth it. Our favorite beach offering was Piet's Pier, where we enjoyed sunset cocktails at the tip of the boards, and also where we departed with Red Sail Sports on a catamaran bound for a half-day snorkeling adventure. From a plethora of shimmering swimmers to a shipwrecked WWII vessel only 12 feet from the surface at the closest point, Aruba offered some of the most memorable snorkeling we've found anywhere.
Juice Bar
Beaches and bars go hand-in-hand, and Hyatt Regency Aruba has no shortage of those in close proximity to both the coastline and its impressive pool complex, but the Kadushi Juice Bar is the unsung hero of Hyatt's bar program. Bolstering the brand's dedication to mindfulness and wellness, the beachfront juice bar serves freshly-pressed juices, customizable smoothies, and hit-the-spot acai bowls in a convenient central location amid all the outdoor action the property offers. It's the perfect pairing to the island's ever-present breeze on a sunny afternoon, and serves as a healthier breakfast alternative for an al fresco moment of early morning zen. We were partial to the blueberry banana smoothie (with added strawberries) for breakfast, and strongly recommend the gourmet gelato pops all day long.