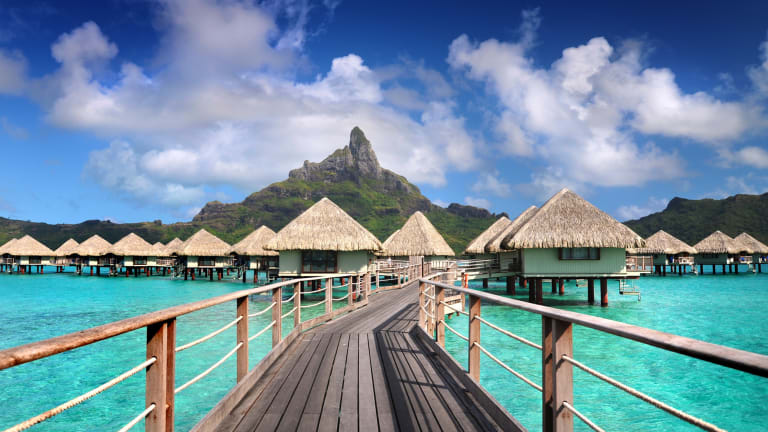 How to Make Your Bora Bora Fantasy a Reality
Here's how to make a visit to Bora Bora, the "Pearl of the Pacific," an epic island escape.
It's not exactly around the corner (from anywhere), but Bora Bora's remote location is precisely why it's one of the most pristinely picturesque and unspoiled island destinations in the world, making it a top choice for ultimate honeymoons and glamorous getaways. Here, on one of French Polynesia's most enchanting islands, over-water bungalows populate luxury resorts ringing Bora Bora's central island, and they're all accessed by boat from what may be the world's most relaxed airport. Though only a couple of hours further than Hawaii, the Society Islands (of which Bora Bora and Tahiti are the most popular) receive fewer visitors in a year than Hawaii does in 10 days, solidifying a vibe so stunningly tranquil that even the sharks are serene. UPTOWN was recently invited to indulge in an ultimate getaway to the "Pearl of the Pacific" with Marriott and these are our suggestions for how to make the most of your own epic island escape.
Getting There
Flying doesn't typically top the list of most people's favorite vacation moments, and Bora Bora isn't going to be a short trip for anyone other than Hawaiians, but Air Tahiti Nui makes the journey far more enjoyable than you'd think, especially if you spring for Moana Premium class tickets. It's not business class, so you won't break the bank with this, but it's considerably fancier and far more comfortable than the premium economy seats you've seen on major airlines in the United States. Moana seats, in their own dedicated cabin, are not only larger—on par with some other airlines' business class seats—but they recline to cradle your body in a cocoon of coziness (with adjustable head and leg rests) that will help even the most fidgety flier get some rest. On your return through Tahiti, you'll enjoy regionally-inspired meals and snacks prepared with fresh, local ingredients picked up from the islands to continue your holiday on the way home. We were particular fans of the airline's French wine selection.
Arriving
If the plane experience is generally low on most people's list of vacation highlights, airports will be even lower, except in paradise. Bora Bora Airport, on its own islet called a motu, is what you might imagine your personal private airport to be like ... if you had one of those. Arriving passengers descend from the plane mere feet away from the hypnotizing waters that make Bora Bora famous. The indoor/outdoor airport, more of a large hut by a runway, delivers luggage by wagon and is surrounded by glamorous little boats waiting to whisk you off to your hotel. Have your camera ready at all times here. By the way, when it's time to leave, there's no security process. We loved experiencing travel the way it used to be in the romantic glory days of flying.
Over-water Bungalows
You're here for the enchanting blues of Bora Bora's protected lagoon surrounding Mount Otemanu on the main island of Vaitape, and ringed almost completely by reefs and motus, so be sure to stay in an over-water bungalow at a resort that gives you the best possible views at all times. We started our getaway at Le Méridien Bora Bora, where our bungalows came complete with glass floors (with underwater lighting for fish-spotting after dark) and a private deck with ladder access to the glittering lagoon. The super-chic brand exudes classic travel glamour with a jet-set vibe that is decidedly southern European and brings retro romance to the modern day without sacrificing any of its fashionable French inspo.
Parting ways with those giant glass floors wasn't easy when it was time to leave a few days later, but just a short boat ride away on the motu next door was the St. Regis Bora Bora Resort, home to the largest over-water villas in all of French Polynesia. Recently renovated, our airy premier suite villa couldn't have been more water-focused with its glass-bottom coffee table in the sprawling living room (from which we saw rays settling in around the underwater light each night); glass-floor peep-hole in the am-I-dreaming bathroom suite so large a New Yorker might think it was an entire apartment; and villa-length deck outfitted with hot tub, lounging area, covered outdoor dining area, and private dock on the lagoon—all with uninterrupted views of iconic Mount Otemanu.
Pro Tip: Cash in on some St.-Regis-specific perks, including a $100 credit for spending onsite and generous points multipliers for spending at both Le Méridien and St. Regis, by using the Marriott Bonvoy Brilliant American Express Card to rack up some serious points and take advantage of well-deserved credits that only come with this card.
Dramatic Dining
If you're into dramatic dining—not the table-flipping, reality television kind, but the breathtaking, ooh-la-la kind—meals at Le Méridien and St. Regis are going to be serious highlights of your trip. Aside from a Jean-Georges restaurant (with glass floors and sharks swimming underneath) and a make-your-own Bloody Mary bar at weekend brunches at St. Regis (the brand that originated the drink in 1934 at the St. Regis New York), or a summertime rosé bar and must-see tuna-infused cocktails at Le Méridien, there are dining experiences here that you're unlikely to match anywhere elsewhere. At both properties, breakfast can be delivered by canoe to your private dock and spread elaborately on your deck or in your bungalow. Both properties also offer romantic or festive dinners on the beach, surrounded by torchlight and often including live music. Or, for the truly unique, ask about Le Méridien's lunch in the lagoon, a by-request service that sinks a table into the shallow sea, setting the scene for a partially submerge meal that has to be seen (and felt) to be believed.
Getting Wild
Getting up close and personal with marine life is a major draw for visitors to this largely untouched eco-escape, where nature is just about the only thing around. In the lagoon waters surrounding the resorts, you'll most likely find only the occasional lazy fish during the day, but book a half-day snorkeling and feeding excursion to encounter scads of docile blacktip reef sharks in somewhat deeper water (you can swim with them without fear of approach) and dozens of curious rays in shallower waters where you will certainly feel the slippery touch of these silky creatures investigating your feet. Back at the hotels, we fell in love with the recovering sea turtles at the sanctuary at Le Méridien, where we learned to care for the injured turtles rehabilitating onsite until ready for re-release. We strongly recommend booking the guided scuba experience in the property's small but heavily populated lagoonarium, where you'll swim with all manner of wildlife, including any turtles well enough to be preparing for their re-release.
Speaking of lagoonariums, don't miss the massive beauty at St. Regis Bora Bora, featuring countless quirky fish and fluorescent mollusks throughout its meandering waterways. You can snorkel here any time, but we even loved just walking along its shores and across its footbridges. Finally, you won't see much in the way of wildlife during this one, but don't leave St. Regis without taking the jet ski tour of the lagoon. It's a no-risk adrenaline rush that will take you to private beaches and orient you to your location among the neighboring motus and main island. Though this isn't typically an animal-spotting adventure, we did see a couple of rays gliding below during our time speeding across the surface of the vibrant lagoon, but we weren't surprised—natural beauty is impossible to miss in Bora Bora.