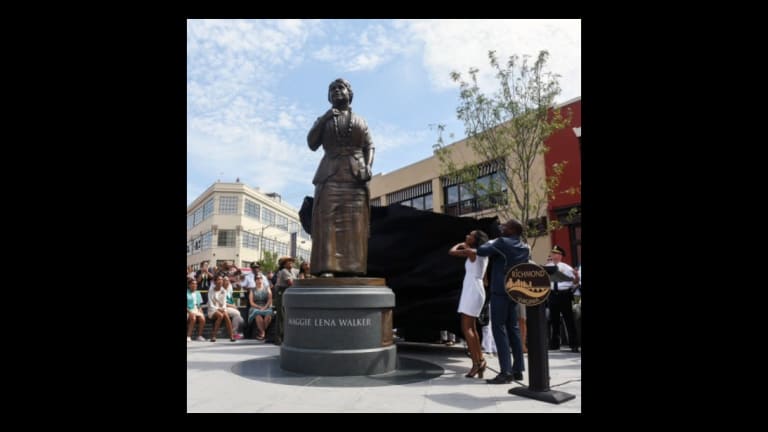 How to Celebrate Juneteenth in Richmond
Making last-minute Juneteenth plans? Here's how to celebrate Juneteenth with revelry and reverence in Richmond, Virginia.
Richmond, VA is an easy driving distance from much of the East Coast, which makes it a perfect place to commemorate Juneteenth if traveling to Galveston, TX isn't feasible. From a block party and festivals to Black-owned restaurants to historical sites, here's how to celebrate Juneteenth in Richmond.
We wouldn't blame you if you're asking yourself, "Richmond? Wasn't that the capital of the Confederacy? Juneteenth, how?" And that's because we used to think the same thing about the city that is positioned between the North and the South until we visited. Richmond has played an important role in American History beyond being the capital of the Confederacy. Before the Civil War, Richmond's Jackson Ward neighborhood was a diverse area that was home to free Black people, enslaved Africans, European immigrants, and Jews. It earned its nicknames of the "Harlem of the South" and the "Black Wall Street" after the Civil War when it became a center of Black life, culture, entertainment, and commerce. Bill "Bojangles" Robinson and Maggie L. Walker, the first woman president of a bank in the country, called Jackson Ward home. Although a lot has changed in Jackson Ward (ahem, gentrification), the community is working hard to share their pride for the area, educate visitors on the neighborhood's role in American History, and continue its legacy of Black entrepreneurship and self-determination. Like our beloved Harlem, NY, Jackson Ward feels good to the soul, and the Juneteenth goings-on are spreading those vibes across Richmond.
Juneteenth events in Richmond:
Juneteenth Block Party Festival. The Black Village of Richmond is bringing back this festival for its second year on June 19th. The day will include a variety of live music, food, spoken word performances, games, and more. Alongside the support of over 100 Black-owned businesses, the festival will showcase the city's Black excellence to commemorate the community's legacy.
Juneteenth Festival, Celebrating Fathers. This year, Juneteenth and Father's Day fall on the same weekend, so the NAACP Hanover Branch is commemorating both with a special celebration on June 19th. Families can celebrate the fathers of the Black community with a day filled with music, food trucks, vendors, wine tastings, and more!
Juneteenth, A Freedom Celebration. On June 26th, the Elegba Folklore Society will be hosting its annual Juneteenth celebration that features live performances, the Freedom Market, and ancestral homage at Richmond's African Burial Ground. Prior to the celebration, visitors can also take part in the Torch Lit Night Walk to share the history of Enslaved Africans through stories and song.
Where to eat while visiting Richmond:
Lillie Pearl. One of Richmond's most beloved businesses, this Black-owned restaurant combines the classic flavors of West African ingredients with Southern African-American recipes to create a global feast with modern flair. Visitors can treat themselves to a taste of Black culture this Juneteenth with a few of Chef Michael Lindsey's classic dishes such as the "Obe Ata Braised Beef Short Ribs with Jollof Rice," which is a barbecue favorite with a healthy twist.
BRUN. One of the newest Black-owned businesses in Richmond is serving as a restaurant, cigar, and whiskey lounge rolled into one. Chef David Gyapong Jr. creates a menu filled with Southern favorites that come with a touch of fine dining in each bite. Visitors who stop in for Juneteenth can experience dishes such as the "Seared Scallops" served with risotto and sauteed squash or the "Carrot Souffle" for dessert.
Jubilee. Another restaurant created by Chef Michael Lindsey, Jubilee creates quaint, revitalized dinners with upscale flair. Each dish is served with modern New American ingredients paired with modern cooking techniques and local sources. Visitors can treat themselves to delicious, hearty meals like "West African Seafood Pot" and "Pan Roasted BEET Steak."
Richmond's Historical Sites that honor Black History
Maggie L. Walker National Historical Site. Maggie L. Walker is a prominent name in Richmond's history as a progressive Black American from the post-Civil War era. She was the first female founder and president of a chartered bank in the United States, and her home is free for visitors to explore so they can learn about her impact in the community.
Black History Museum and Cultural Center of Virginia. Visitors can learn more about Black History not only in Richmond but also throughout the state when they step inside this museum. The Black History Timeline and Emancipation Oak inspire all who visit, and there are also exhibits on prominent figures such as Tuskegee Airman Lt. Col. Howard L. Baugh.
Virginia Museum of Fine Arts. One of the most comprehensive collections of African and African-American artwork is found inside this iconic museum. Visitors can find masks, textiles, ritual objects, and more on display that span more than 100 African cultures, and each one showcases the creativity and history of the Black community on both a local and global scale. Be sure to take in world renowned artist Kehinde Wiley's Rumors of War that welcomes visitors to the museum.
If you're not able to travel to Richmond in time for Juneteenth, don't fret because Black History is highlighted every day there, and we're sure the city will be a place you'll want to visit repeatedly.